Looking for home and garden inspiration?!? You should definitely tour P. Allen Smith's Home and Garden, you'll love it! Bill and I just returned from Arkansas where we had the privilege of touring the home and gardens of P. Allen Smith at Moss Mountain Farm. Today I'm sharing six reasons you'll love the home and garden tour at Moss Mountain Farm.
P. Allen Smith's estate is located in Roland, Arkansas along the Arkansas River and is about 30 minutes outside Little Rock, Arkansas.
I came home with so many ideas for not only my garden, but also my home. The home and garden tour was spectacular and I'm sharing six reasons you'll love it. Enjoy!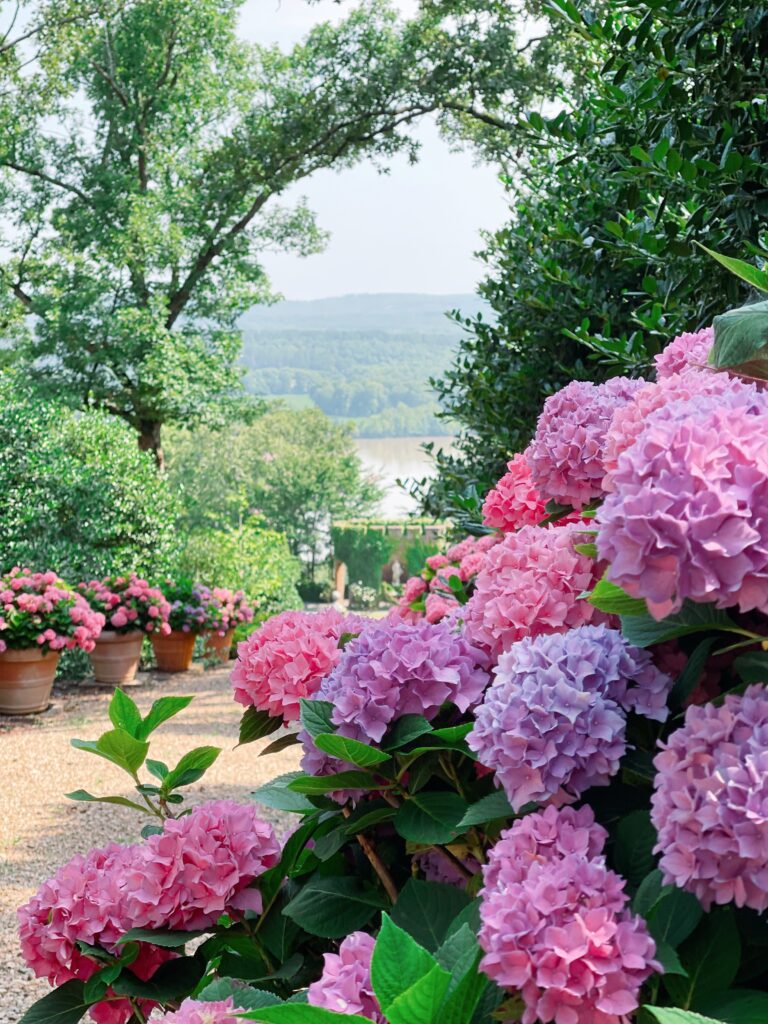 Six Reasons You'll Love the Home and Garden Tour
Reason 1. The Sister Oak Tree
The home and garden tour started at the Sister Oak Tree in front of the home of P. Allen Smith. Our tour guide stood on the steps of P. Allen Smith's home and told us a bit about the home's history, the architectural style that guided the design and how this big beautiful oak tree influenced P. Allen Smith's decision to purchase the 650-acre estate.
As the tour guide was diving into the history of the estate, I began wandering around the 300+ year old oak tree trying to capture the tree in one single photo.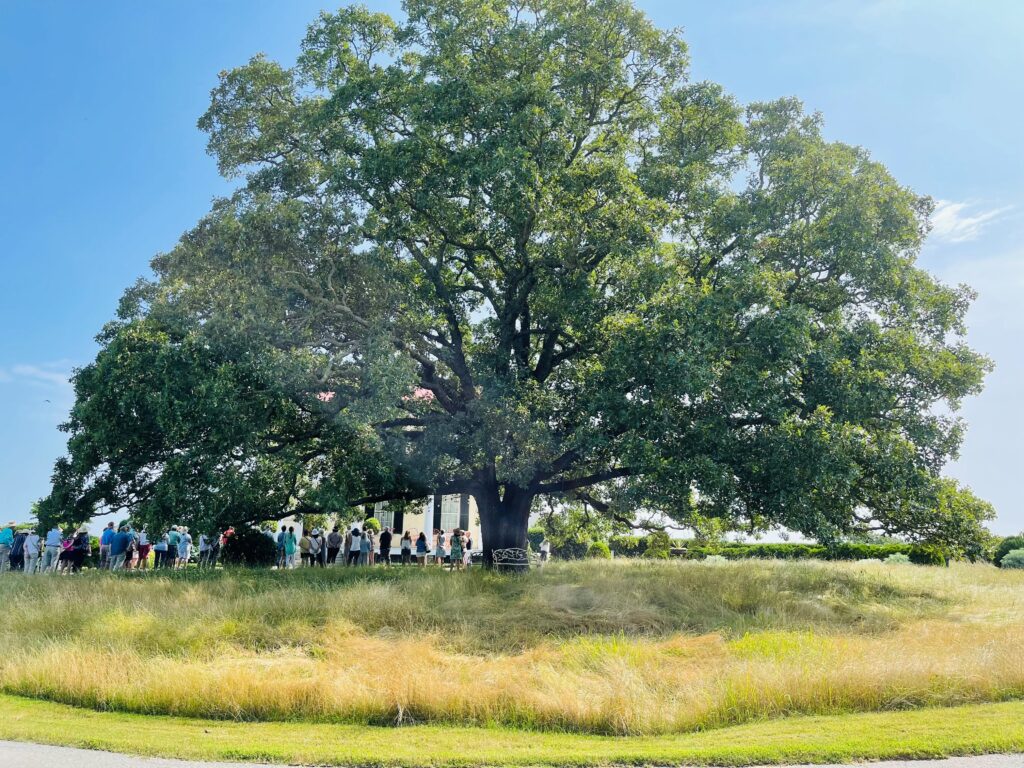 The Garden Tour
Reason 2. Inspirational Gardens & Hardscaping
The group (about 80 in size) broke up into 3 smaller groups each with their own tour guide. Our group began the walking tour and headed over to the vegetable garden followed by a tour of the rose garden. It was everything I expected and more. The garden was in full summer swing and filled with variety of offerings.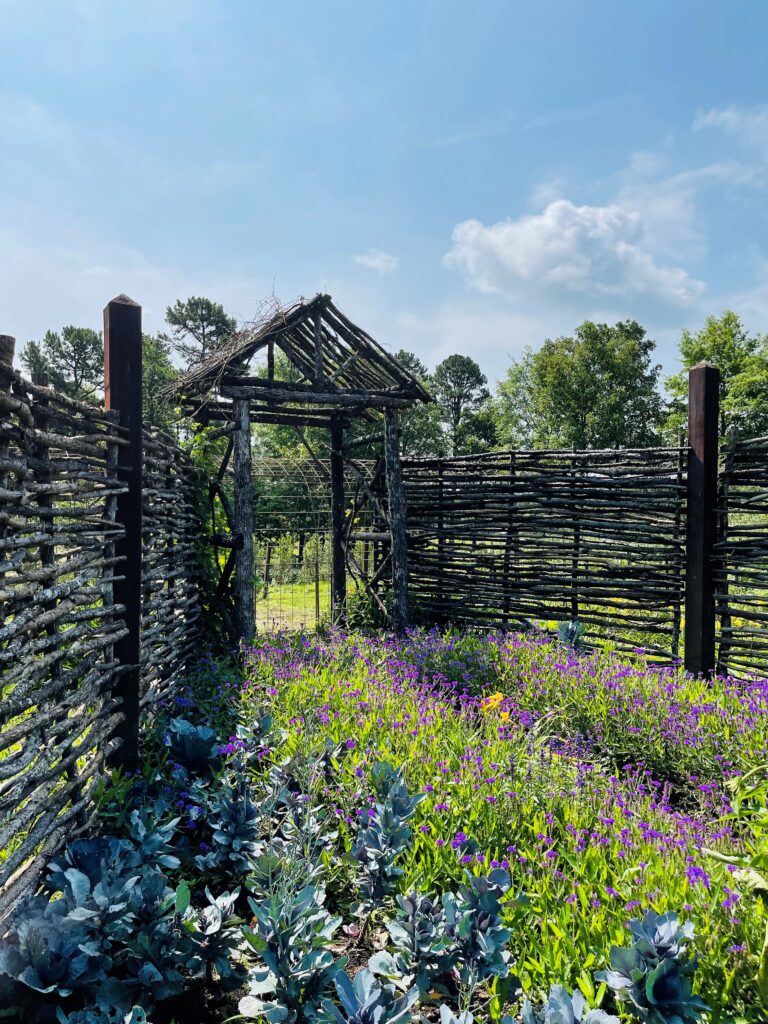 I was most impressed with the hardscaping found in the gardens throughout Moss Mountain Farm. The inspiration was endless, I came home with a list of ideas to add trellis, brick walls, garden paths and other structures to the garden.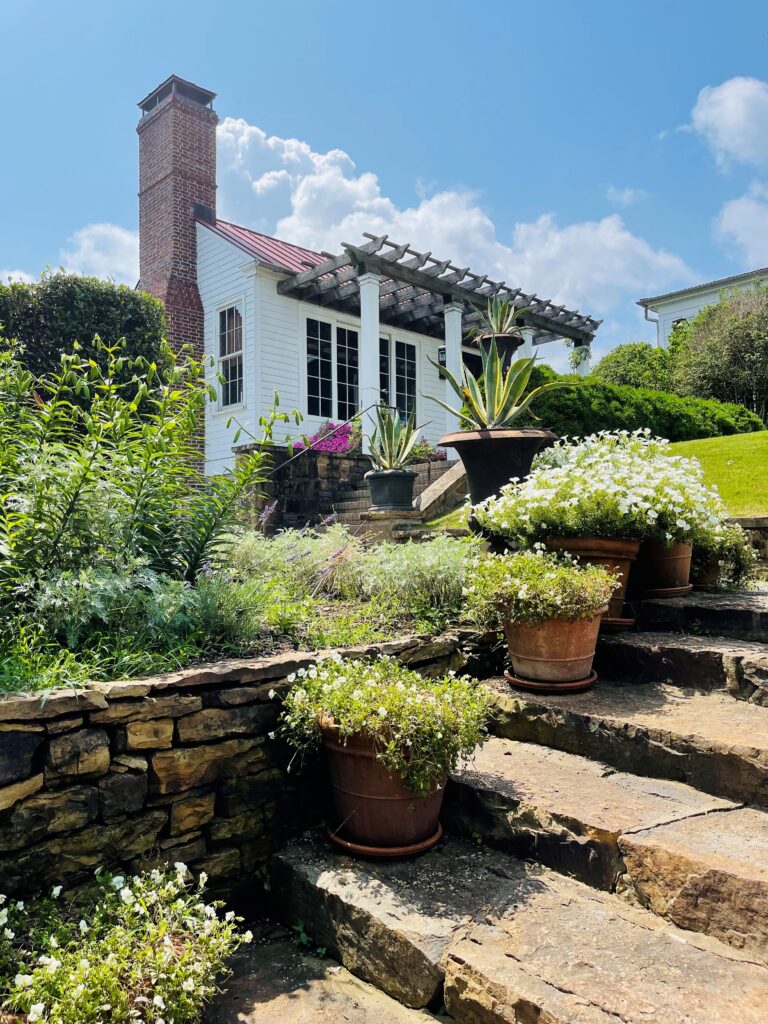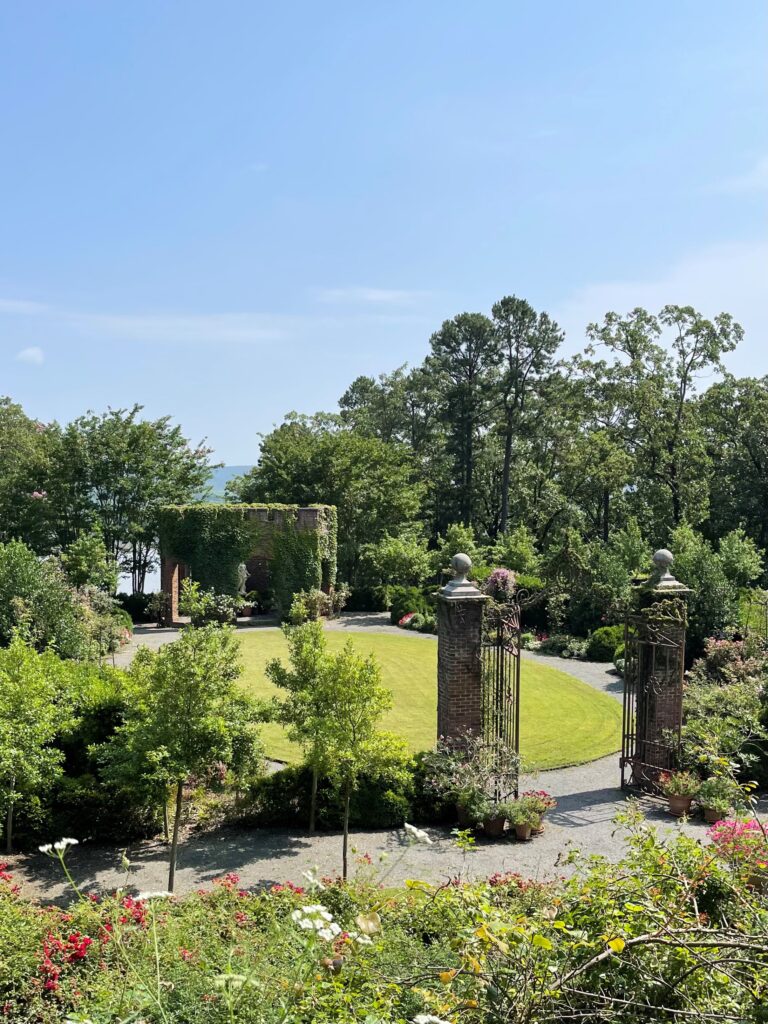 Reason 3. The Hydrangeas are Incredible
A few weeks before heading to Arkansas for the tour, I watched a YouTube video linked here in which P. Allen Smith charismatically shared his love for hydrangeas. It is filled with his best tips and growing advice.
So, I was anticipating a beautiful show from the hydrangeas.
Oh my goodness! They hydrangeas were incredible and more than surpassed my expectations.
Bill and I are still scheming, trying to figure out how we can come close to replicating the hydrangea beauty on our property.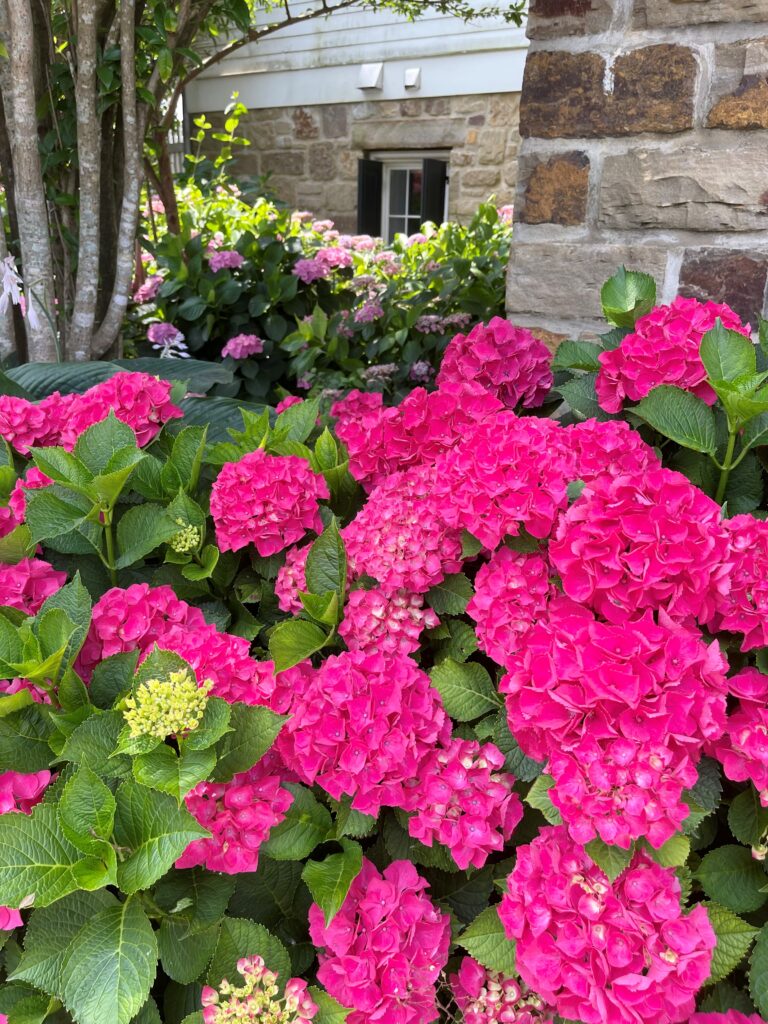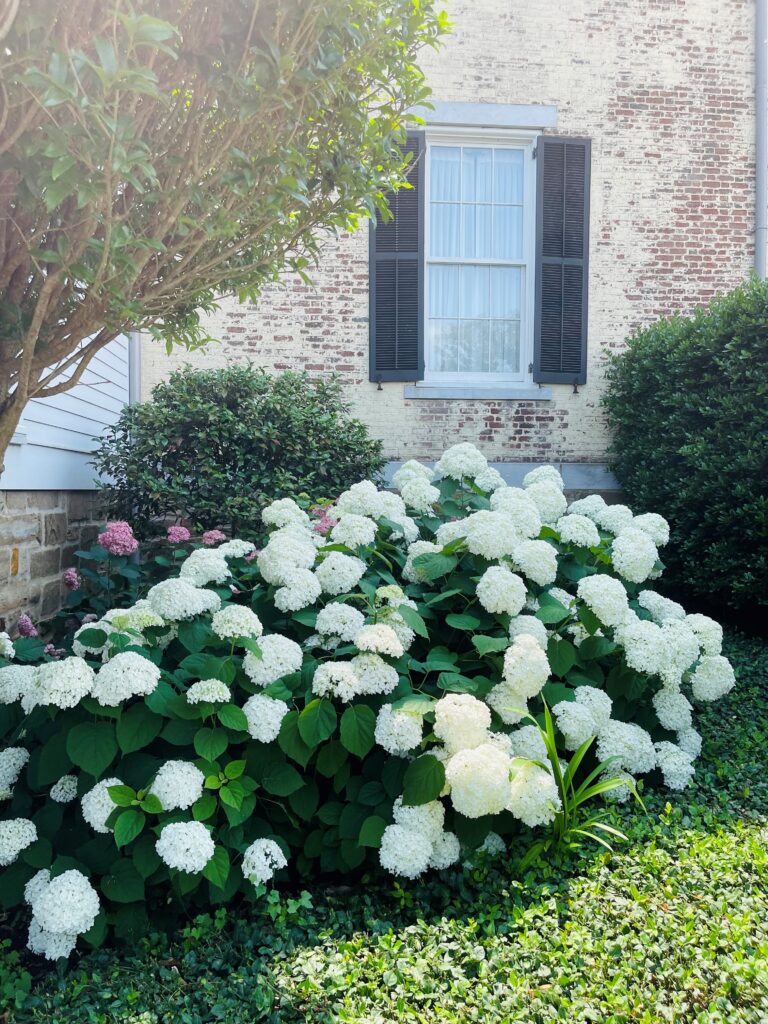 Reason 4. Unexpected Drying Rooms
Talk about blowing me away!!! I had never heard of a drying room. Yes, I have dried herbs before, but a whole room?!?
Wait, there are two drying rooms. They were beautiful. Dreamy, actually. Bill thinks I'm crazy, but I want a drying room.
One will do. LOL!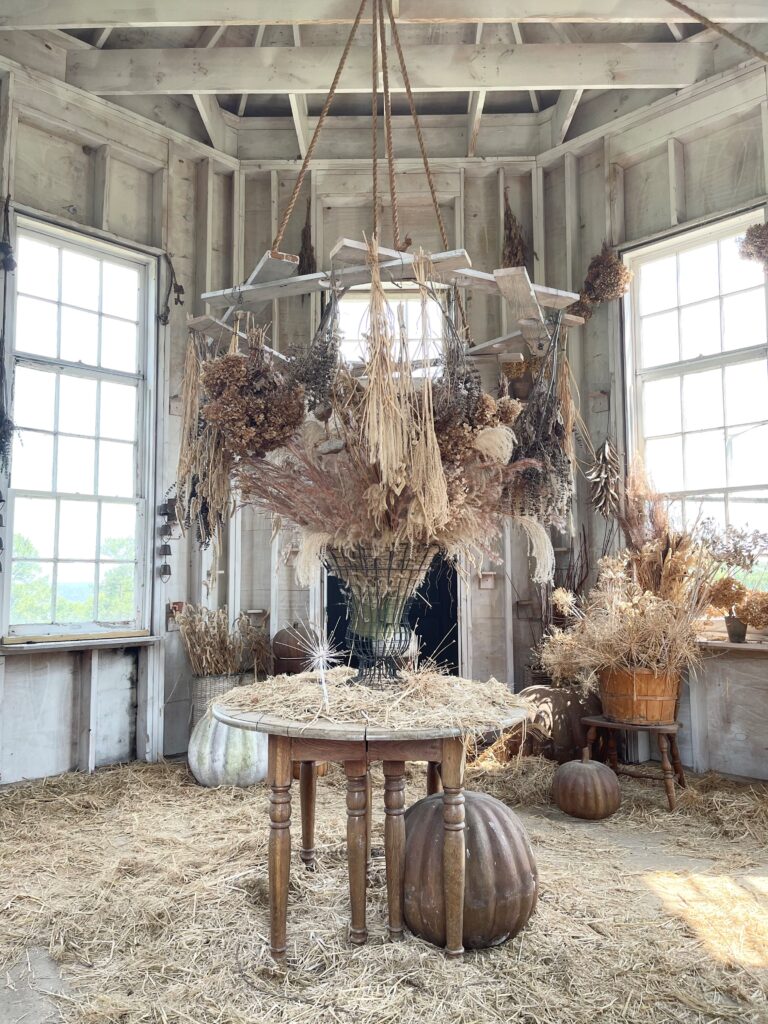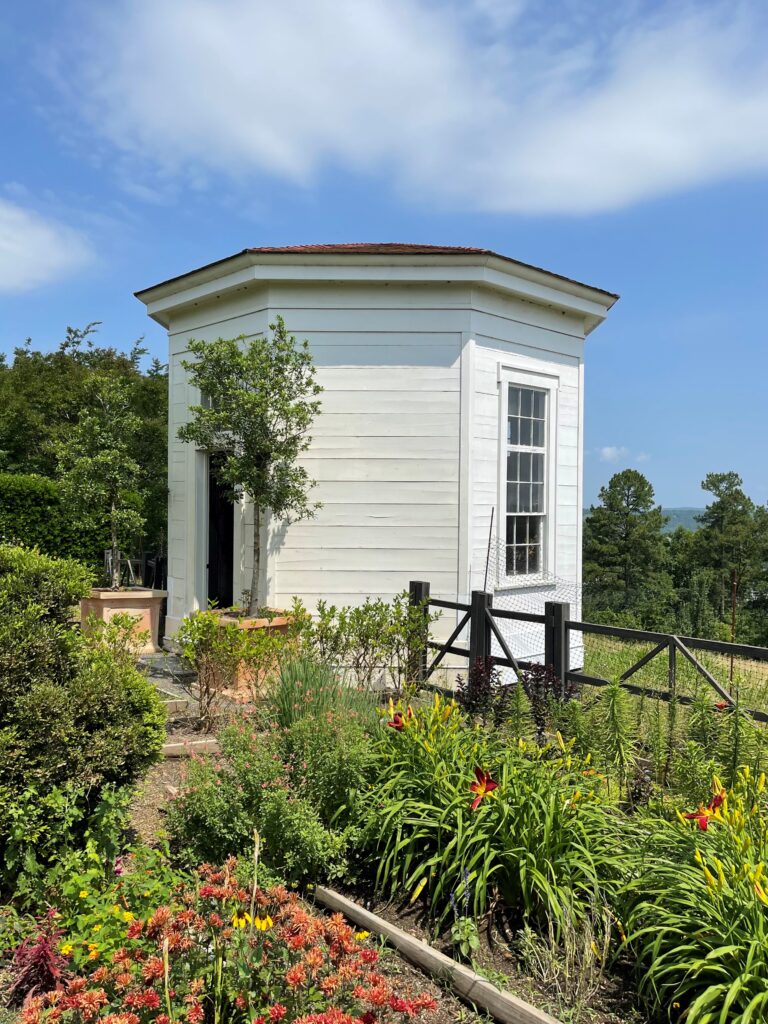 The Home Tour
Reason 5. P. Allen Smith's Home is Perfect
The house was spectacular. I love the pale yellow on the exterior, the decor was incredible, the books and art made my heart sing, and the sleeping porch was so inviting.
The kitchen though…it made Bill's heart sing. We loved the marble counters, farmhouse sinks and the professional oven reminded us of our own kitchen.
Bill and I both spend a lot of time in our kitchen and we have thrown around the idea of updating our kitchen for years. Well, the kitchen at Moss Mountain Farm was the final push that we needed. We're remodeling. I'll share more soon. Thanks for the push, Mr. Smith.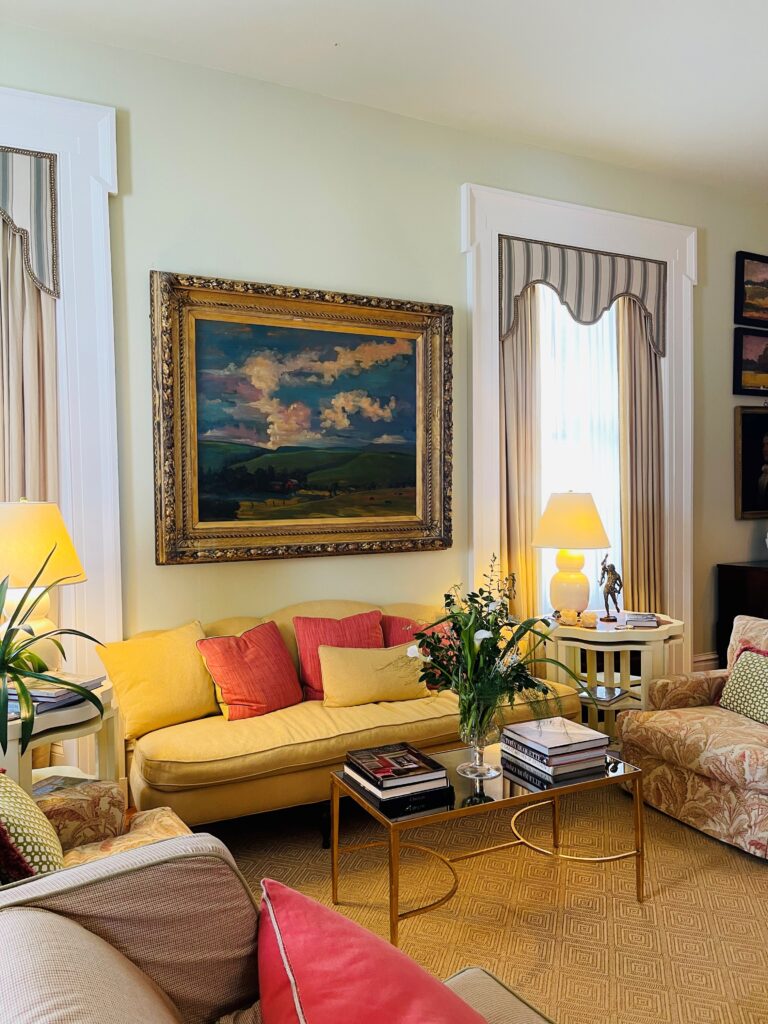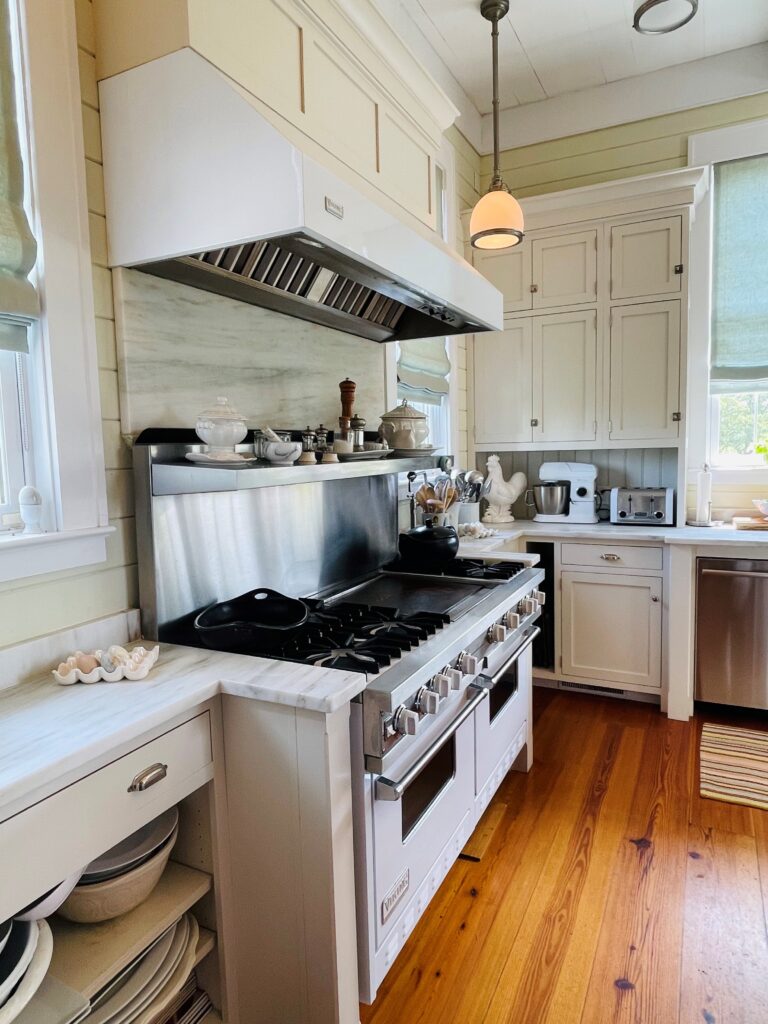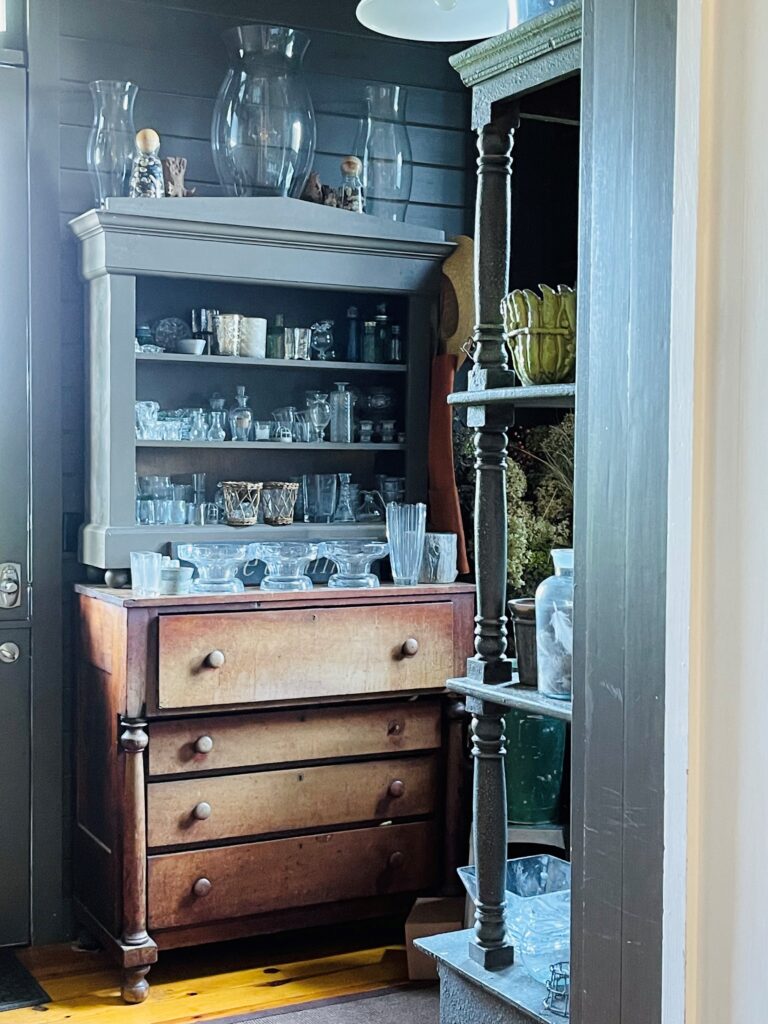 Lunch under the Tent
Reason 6. P. Allen's Smith's Homemade Pie
Our tour included lunch and lunch included homemade Buttermilk Pecan Pie. I caught a glimpse of the freshly baked pies waiting for us in P. Allen Smith's cooking cottage.
I'd like to have a piece right now! You have to try this pie!
And, if you want to enjoy a little bit of the tour before you're able to schedule a trip to Arkansas, then make this pie. I've linked the recipe from P. Allen Smith himself here.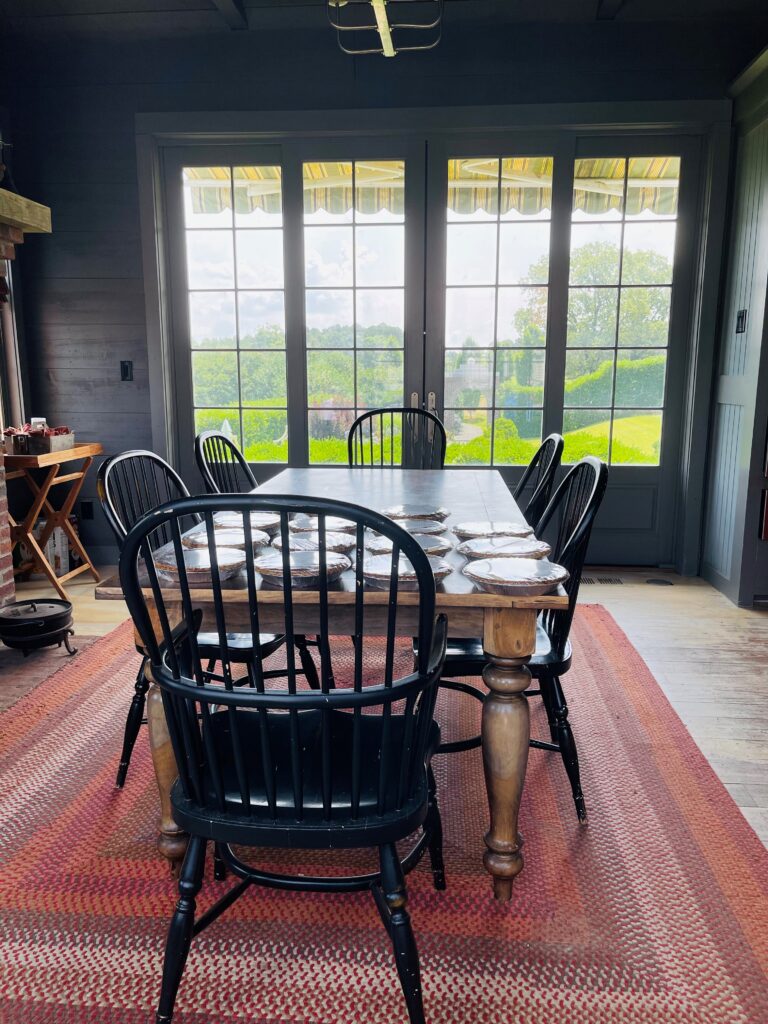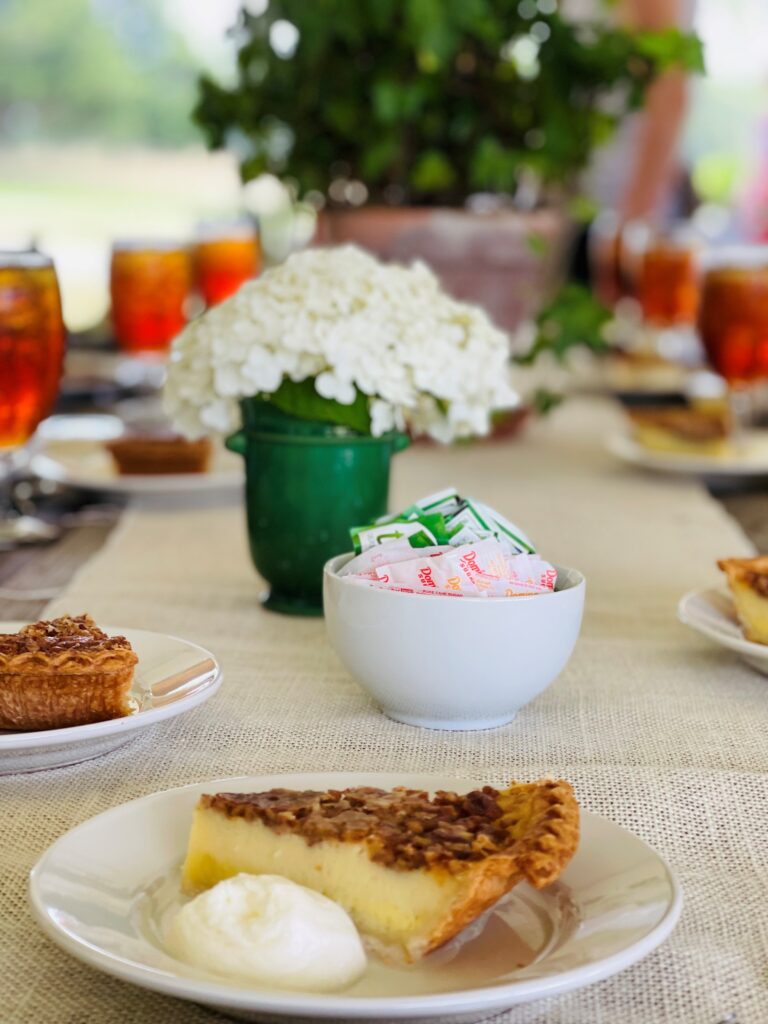 Tour Tips and Basic Information
Home and Garden Tour Tickets
You can purchase tour tickets for Moss Mountain Farm online here. Also, if you're looking for discount codes, Bill found one in an email he had received from Gilbert H .Wild.
Checking-In & Other Basics
Our tour started at 10am and ended at 2pm. Gates opened 30 minutes before start time. There is plenty of field parking, check-in was quick and there are bathrooms available at the check-in location. There was also a gift shop.
The Weather
We were expecting rain and were told that the tour would not be cancelled in case of rain. So we came prepared with umbrellas and appropriate wet weather shoes.
It didn't rain. Instead, it was hot and muggy. The good news is buckets of cold bottled water were provided at check-in. Each of us grabbed water as needed throughout the day.
I did notice that by the end of the day, the buckets of bottled water were empty. But, there was plenty of water and cups available in the tent where we had lunch.
The Home & Garden Tour is a Walking Tour
Keep in mind that this is a walking tour. I noticed several people seemed to struggle with the walking very early in the tour. Others were having a tough time due to the heat. I found myself searching for shade throughout the tour and was very happy to step inside P. Allen Smith's home for the air conditioned portion of the tour. Several of my friends that toured with us were wearing step trackers and tracked 2.5+ miles during the tour.
I was also very happy that I wore my gardening hat!
Lunch, the Perfect Mid-Tour Stop
Lunch was perfect. The set-up was beautiful and the food was excellent. We arrived at the lunch tent a little after noon. The tables were already set with iced tea, a niçoise salad and buttermilk pecan pie. One of my friends who has toured the gardens THREE times said that lunch is always the same. This works for me.
P. Allen Smith's Fall Home & Garden Tour
Guess what…we're going back in September for the Fall Farm Lunch and Tour. We had so much fun that we've decided to repeat our trip in September. I'm looking forward to repeating this fabulous home and garden tour.
We will be staying three nights, renting one of the cabins at Petit Jean State Park AND touring the gardens at Moss Mountain Farm AGAIN. I can't wait to see what it looks like in a few months.
BTW-If you've never seen photos of our home, I've linked a home and garden tour of the Weeks Farm here.
Happy Gardening
X Penny Pennington Weeks