Bill and I spend a lot of time in our garden and look forward to creating a colorful summer garden each spring when our local garden shops are filled with new flowers and other plants. Over the years we have found a few favorite annuals that we eagerly add to the garden each spring. One of our favorites that continues to make the cut is Wave Petunias.
The beauty of Wave Petunias combined with their easy care and ability to tolerate our hot summers keeps us searching for the pink Wave logo each year as we strive to create a colorful summer garden.
Note: The post is sponsored by Wave Gardening. We are thrilled to be working with a brand that we have used in our garden for years.
Adding Colorful Wave Petunias to Your Summer Garden
My borders of wave petunias are brimming, and my containers are overflowing. All summer long as I look around the garden, I can count on our Wave Petunias to be in bloom. Today I'm sharing how we use and care for our Wave Petunias.
Creating a colorful summer garden with Wave Petunias is easy with these tips and tricks. But first, let me share specifically WHY we plant so many Wave Petunias.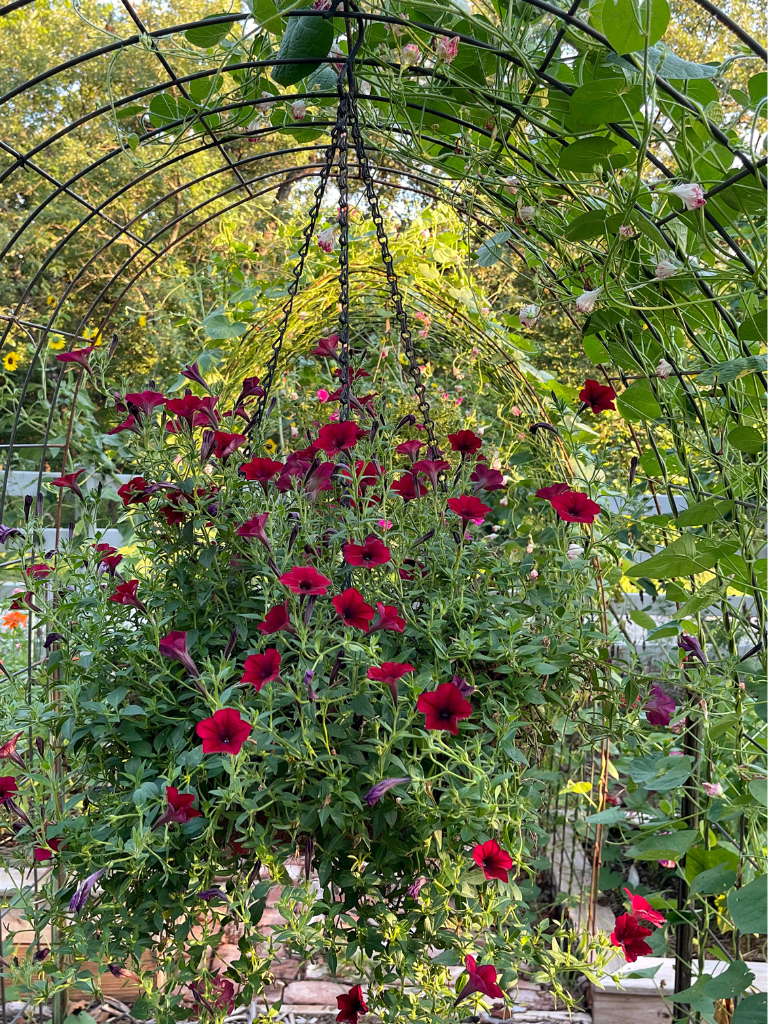 Why we Plant Wave Petunias
We have tried lots of summer annuals and each year we become a bit more discerning about which plants continue to garner space.
Our gardening zone is 7a and we look for plants that are easy to care for and can tolerate our summer heat. We also love color and plants that spread quickly. Wave Petunias fit the bill.
Check out a few of the reasons why we plant Wave Petunias:
Sun-loving-We have lots of sunny spots around the garden and want pops of color around every corner. Wave Petunias need about 6 hours of sun each day and can tolerate our harsh temperatures.
No deadheading-We have lots of chores around the garden and deadheading is one of my least favorite. Our Wave Petunias don't required deadheading to bloom all summer long. Major plus in my garden journal!
Lots of color choices-Wave Gardening's plant family includes Wave Petunias, Easy Wave Petunias, E3 Wave Petunias and Tidal Wave Petunias. Each offers a variety of colors to create a colorful summer garden that will bring a smile to your face.
Spreading color-I love color and want plants that provide an abundance of gorgeous color. My Wave Petunias spill out of their containers, are known for easy spreading, and create the most incredible borders.
A Little Care Goes a Long Way
For an annual to make it into our garden year after year, we have to be confident (based on previous experience) that we can grow a plant to its full potential. With four easy steps, we have learned that we can successfully grow vibrant, long-lasting Wave Petunias.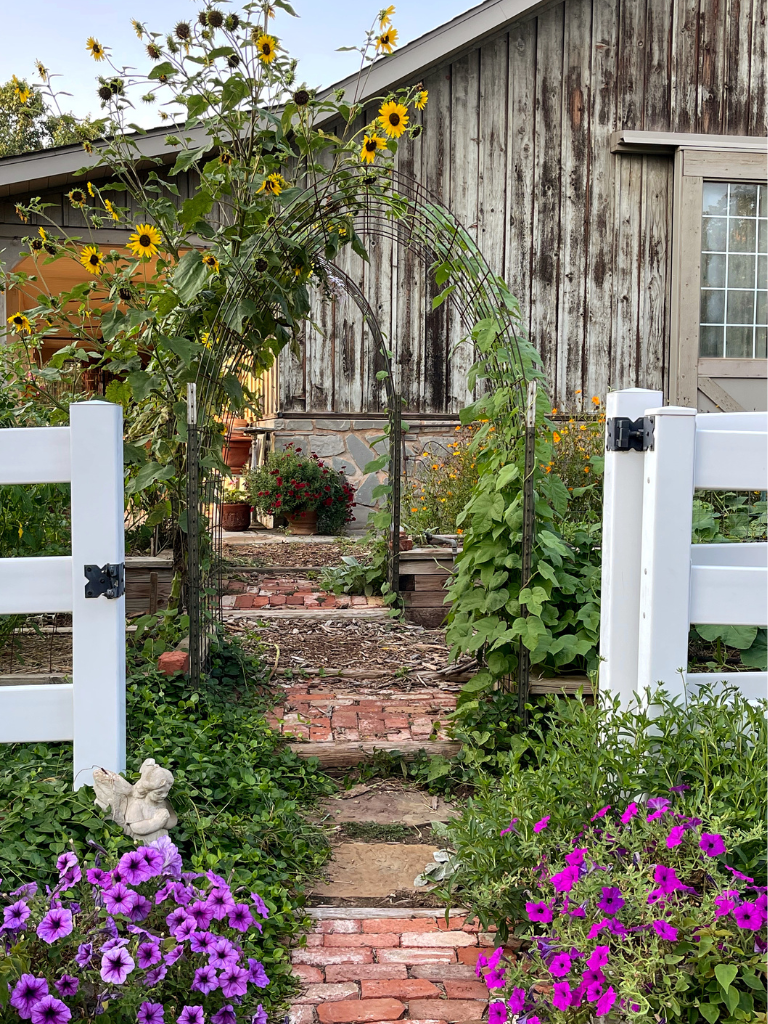 A Sunny Spot
To guarantee success, we start with a sunny spot. Wave Petunias are sun-loving and require six hours of sun each day. A warm spot will help insure beautiful blooms all summer long.
Fertilizer
When planting our Wave Petunias, we add a slow-release fertilizer and follow-up with a nitrogen-based fertilizer about every 10 days. In addition to a sunny spot, proper fertilization helps our plants bloom all summer long.
Water
We water our Wave Petunias as needed, which in the heat of summer can mean every day. Our plants in containers and hanging baskets typically need to be watered daily while our Wave Petunias in borders need to be watered much less often, typically about once each week.
Mid-Summer Haircut
Just as our plants are starting to look a little leggy, we give our Wave Petunias a mid-summer haircut to rejuvenate our plants and encourage new growth. We typically cut plants back by about a third and before we know it, they have bounced back and are once again full of colorful blooms.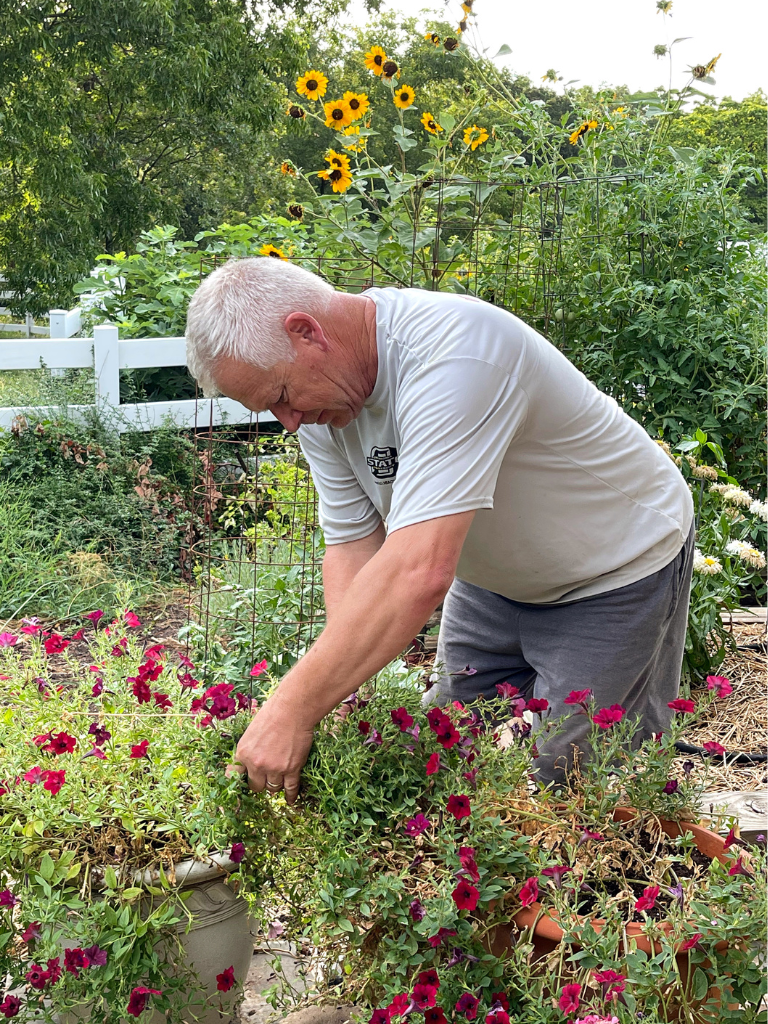 Where to Plant Wave Petunias
Each summer we add summer color to our garden by planting Wave Petunias in pots, hanging baskets and borders. They quickly fill out their spaces with lots of summer color. And they bloom all summer long guaranteeing us a colorful summer garden.
Creating a Colorful Summer Garden with Containers of Blooms
When we first started planting Wave Petunias, we would fill a few pots on our front porch and call it good. But after trying different summer annuals for our containers throughout the years, we have given more and more of our planters, including our hanging baskets, to Wave Petunias.
I love how Wave Petunias trail and spill over the edges of our pots and baskets creating lots of color. And the plants last all summer long up until our first winter frost. (Of course, that means it's time to replace our Wave Petunias with Cool Wave Pansies.)
This season we planted Easy Wave Plum Pudding Mixture in several vintage concrete containers. I love the pairing and I love hunting for vintage concrete pots at estate sales knowing that I will have more space to plant Wave Petunias the following spring.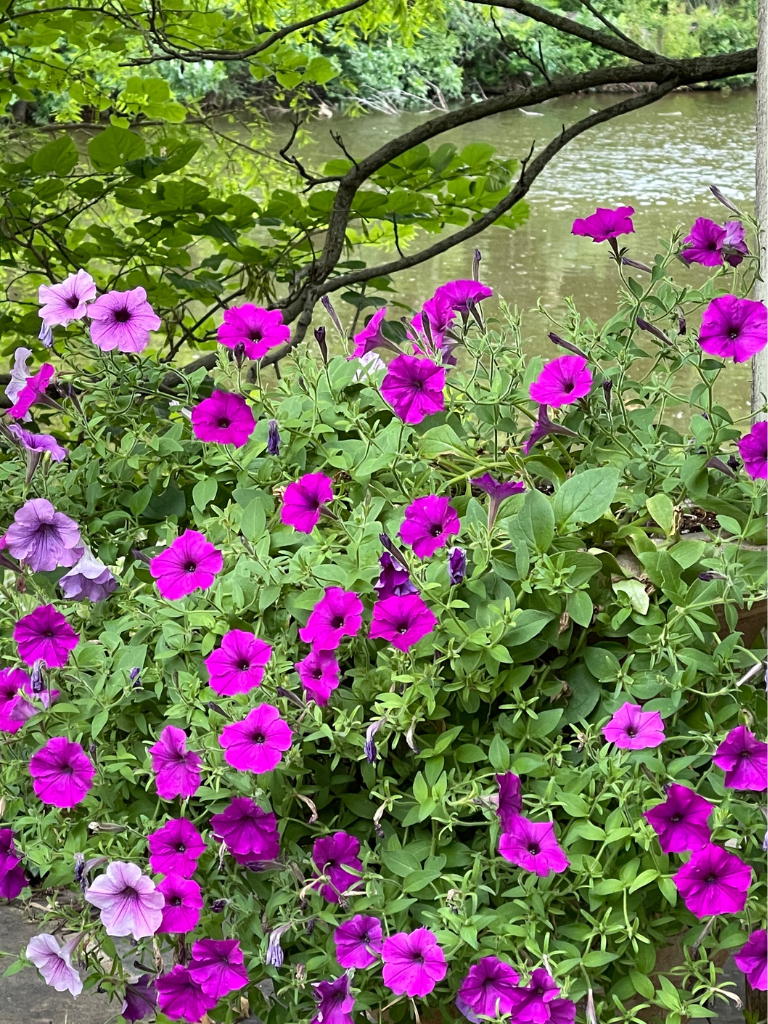 Creating a Colorful Summer Garden with Borders and Beds
Wave Petunias are known for their easy spreading color and create a carpet of color in borders and beds. Our new favorite spot to create a border of color with Wave Petunias is in our vegetable garden near our chicken coop.
We added Tidal Wave Red Velour Petunias this season and they are spectacular. They make a great ground cover with a full spread of 30-60″. I love having an abundance of colorful flowers popping up around the vegetable garden.
I'm hoping to add more borders next year with Wave Petunias. I particularly love the plant paired with rock borders.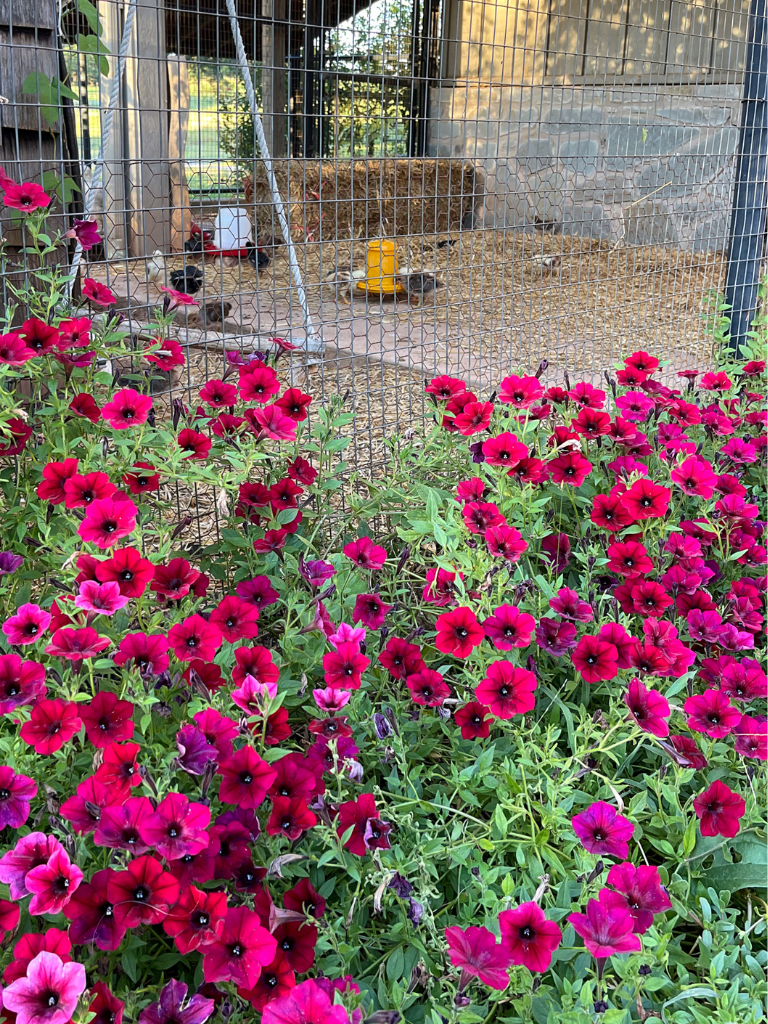 Adding Wave Petunias to Your Colorful Summer Garden
Creating a colorful summer garden with Wave Petunias is easy. When searching for Wave Petunias to add you garden, be sure to look for the pink Wave logo. And if you're looking for a place to buy Wave Petunias or to order plants and seeds online check out the Wave Petunias locater here.
As Always, Happy Gardening!
x Penny
Related Articles
Leaving in the Country Tour Revisited: A Gardener's Dream