Today I'm sharing 10 ideas to create a cozy fall for retirees.
As a retired educator, adjusting to fall at home has been better than expected. I was a bit worried that as soon as the first frost forced an end to summer gardening season that things around the house would get too quiet and dare, I say…boring.
As a retiree, learning to embrace a cozy fall at home has been a welcome task. Afterall, it means I can sit at home in front of the fireplace reading, drinking coffee, or whatever else I want to do rather than heading to the office each morning and sitting in front of my computer until the work whistle blows.
Retirement also means I have the freedom to do whatever I want to do throughout the day, like take a walk to enjoy the mid-afternoon sun, plan a day trip to do a bit of vintage treasure hunting or even plan a mid-week overnight trip to enjoy the fall foliage.
Gotta love retired life! Check our my printable below with ideas for retirees to create a cozy fall.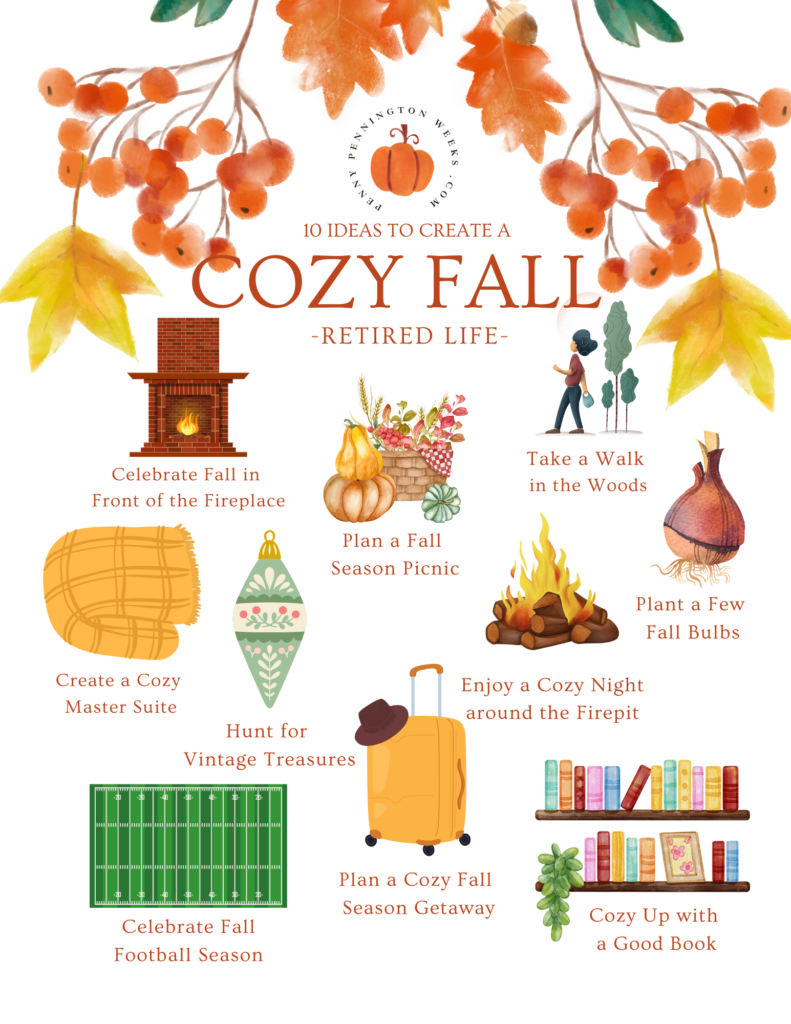 1. Celebrate Fall in Front of the Fireplace
Nothing says cozy like a fireplace. Most mornings, Bill wakes up earlier than me AND starts a fire in our wood burning fireplace. It's the perfect spot for morning chats and a hot cup of coffee or tea. Plus, it keeps the house warm throughout the day and long into the evening.
And if you don't have a fireplace, you can create your own bit of cozy with a grouping of candles. The warm glow is magical.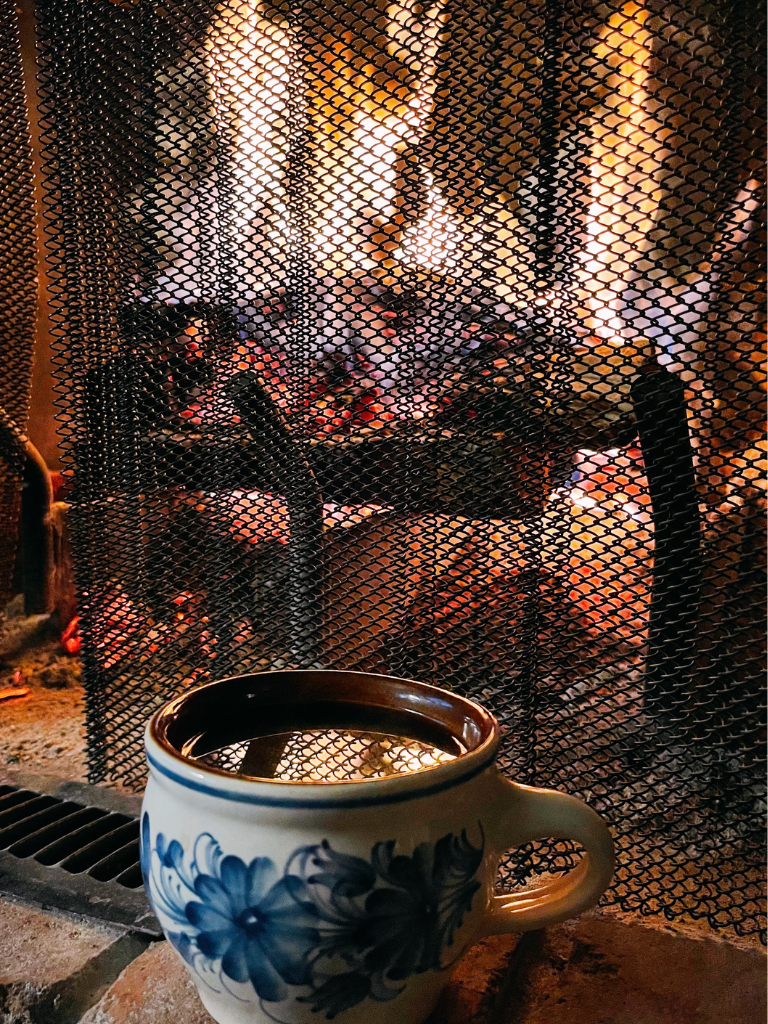 2. Take a Walk…in the Woods
My favorite time to walk in the woods around our property is in the fall on a sunny afternoon. The leaves are falling, the temperatures are nice, and it feels so good to take a stroll outside.
Any walk outside will do…if you don't live near the woods, you can simply head out your front door and enjoy the afternoon sun as you stroll your neighborhood. Cheers to a bit of vitamin D and a little leg work.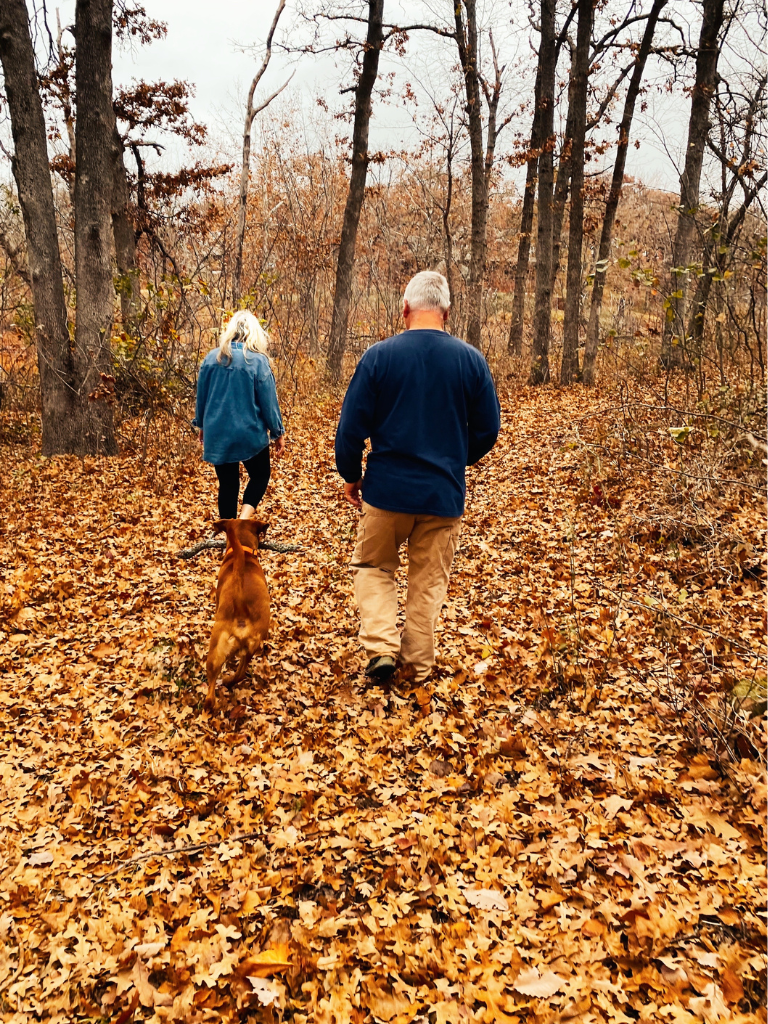 3. Cozy up with a Good Book
As retired professors, both of us have quickly discovered that one of the best perks of retired life is reading for pleasure as opposed to reading for our jobs.
Lately I've been on a Kristin Hannah kick and have learned that I love historical fiction. I started with Four Winds and just finished The Nightingale. Next, I will be reading The Great Alone, I just snagged a copy from our library. And, then I plan on reading Winter Garden. I have received so many recommendations for each of these books.
And it's not just me, both Bill and I tend to do a bit more reading when it's cold outside. Bill has been reading biographies lately, he just finished John Adams by David McCullough, is currently reading Leonardo Da Vinci by Walter Isaacson and next up is Alexander Hamilton by Ron Chernow.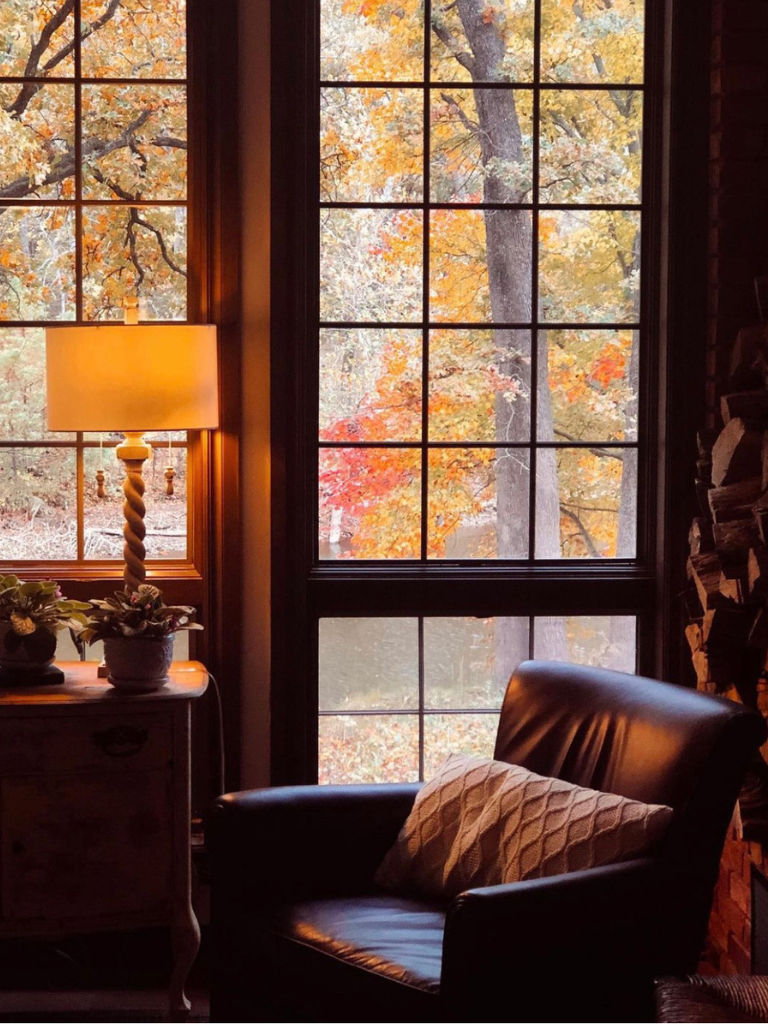 4. Celebrate Fall Football Season
We may be retired, but we still love watching our Oklahoma State Cowboys play college football. Years ago, we had season tickets and watched the game from (a bit too cozy) stadium seats. Now, we prefer watching the game from the comfort of our own home under a cozy blanket.
We also enjoy planning special food and drinks for each of the games. One of our fav combos is a craft beer flight and charcuterie board–no cooking required. For a mid-day game, jalapeno poppers are our go-to. And last weekend I made roast beef sliders that were amazing with a side of sweet potato fries.
When we were faculty members, several of our students were on the team and it was so much fun knowing the players. Bill even served as Honorary Coach at one of the games. We may not personally know the players anymore, but it's still fun spending a cozy afternoon together cheering on our team and eating good food.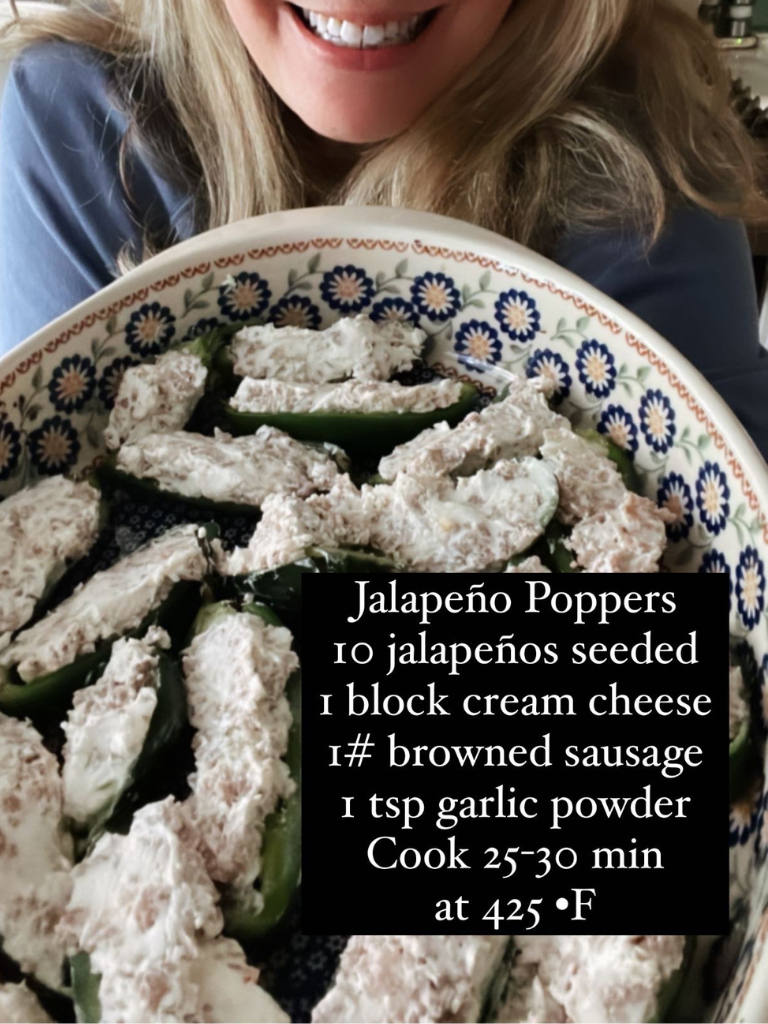 5. Enjoy a Cozy Night around the Firepit
As a retiree, one of my fav ways to create a cozy fall is by enjoying time around our firepit.
We're always on the watch for the perfect firepit night…no wind and a bit of chill in the air. If you're a fan of s'mores, bring them on. If not, we typically stick with a glass of wine while we enjoy the stars and time chatting around the glow of the fire.
One of the great things about firepits is they come is all sorts of shapes and sizes. You're bound to find one perfect for your outdoor space. I've linked our copper firepit HERE. We also have the spark guard screen, it's great if the wind unexpectedly picks up. You can find it HERE.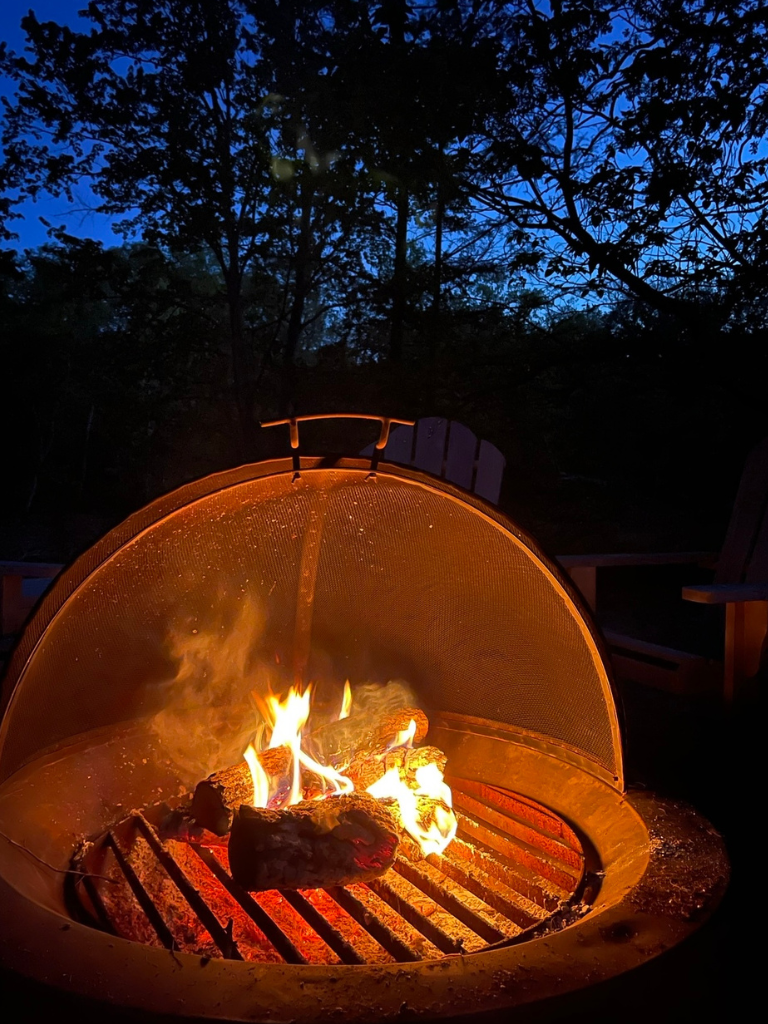 6. Plan a Fall Picnic
Really want to up your cozy game? Plan a fall picnic. I like to find the perfect setting and keep the food and drinks simple. Maybe a cheese plate and wine, or a dessert picnic with tea and cake.
A note on the setting, I'm not a throw out a blanket and sit on the ground picnic planner. I prefer a table for two and a couple of chairs. The picnic typically lasts a bit longer when you have a comfy seat.
Check out my post about planning a winter picnic HERE.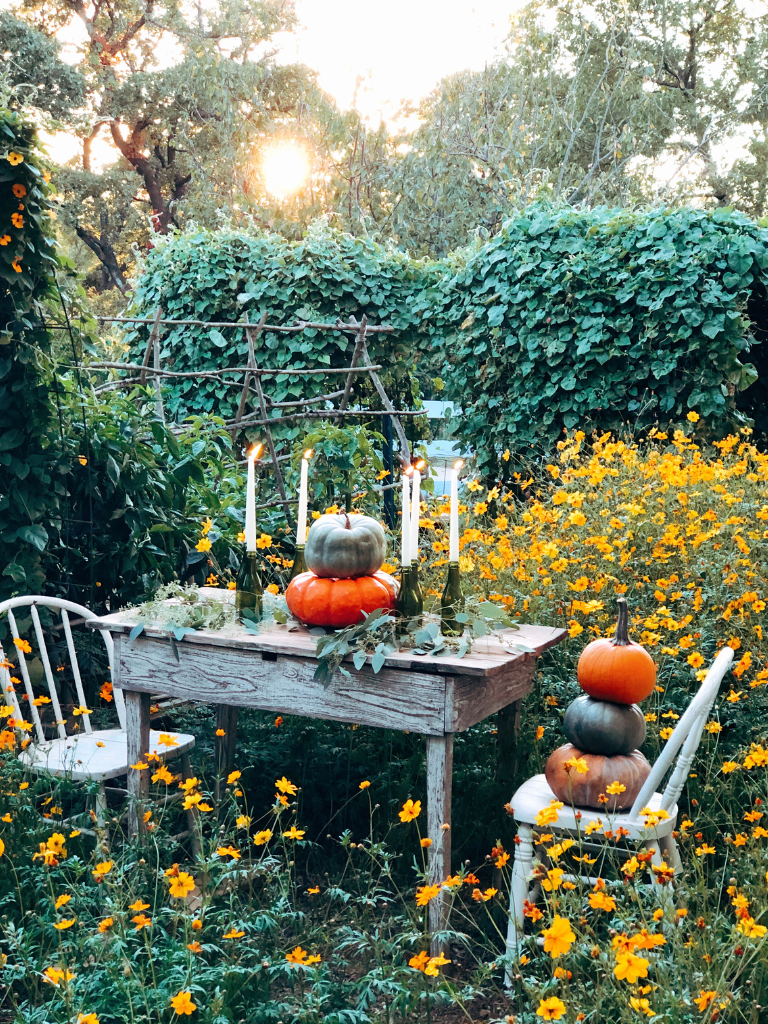 7. Plant a Few Fall Bulbs
Just because freezing temperatures have arrived, it doesn't mean that gardening has to be put on hold until next spring. Bill has cabbage, broccoli, cauliflower, and Brussel sprouts growing in his veggie garden right now. And growing greens (lettuce, spinach, kale, etc.) is a perfect way to practice your gardening skills year-round.
It's also a great time to plant bulbs. My tulips just arrived, and I will be putting them in their containers very soon. And as long as your ground isn't frozen you can also plant alliums, crocus, daffodils, hyacinths and other fall bulbs.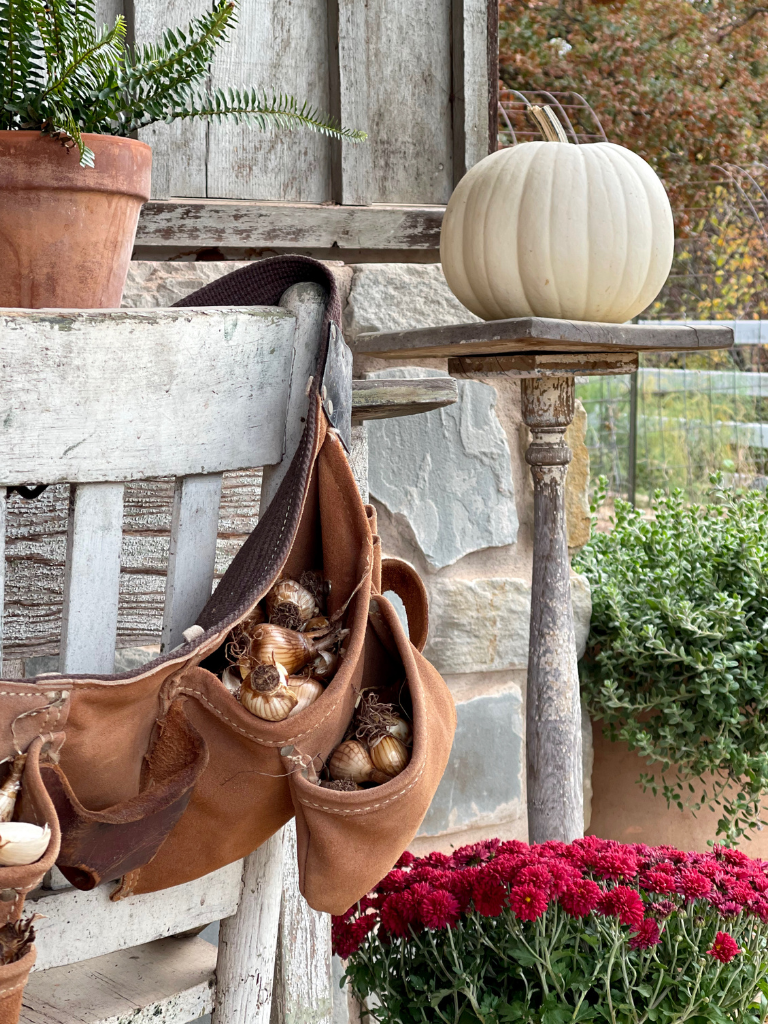 8. Hunt for Vintage Holiday Treasures
I love to hunt for vintage treasures at estate sales, antique shops and auctions. This is the perfect time to add a bit of vintage cheer to your home to celebrate the upcoming holidays.
Some of my fall favs include vintage turkey salt and pepper shakers and old brown bottles for Thanksgiving. It's also the perfect time to be on the lookout for your favorite vintage Christmas items. I collect vintage Santa mugs and antique Christmas ornaments.
Christmas items are very popular right now and typically sell fast. So, if you see something you love, grab it before the next vintage hunter has a chance.
Want to learn more about shopping vintage at estate sales? Check out my post HERE.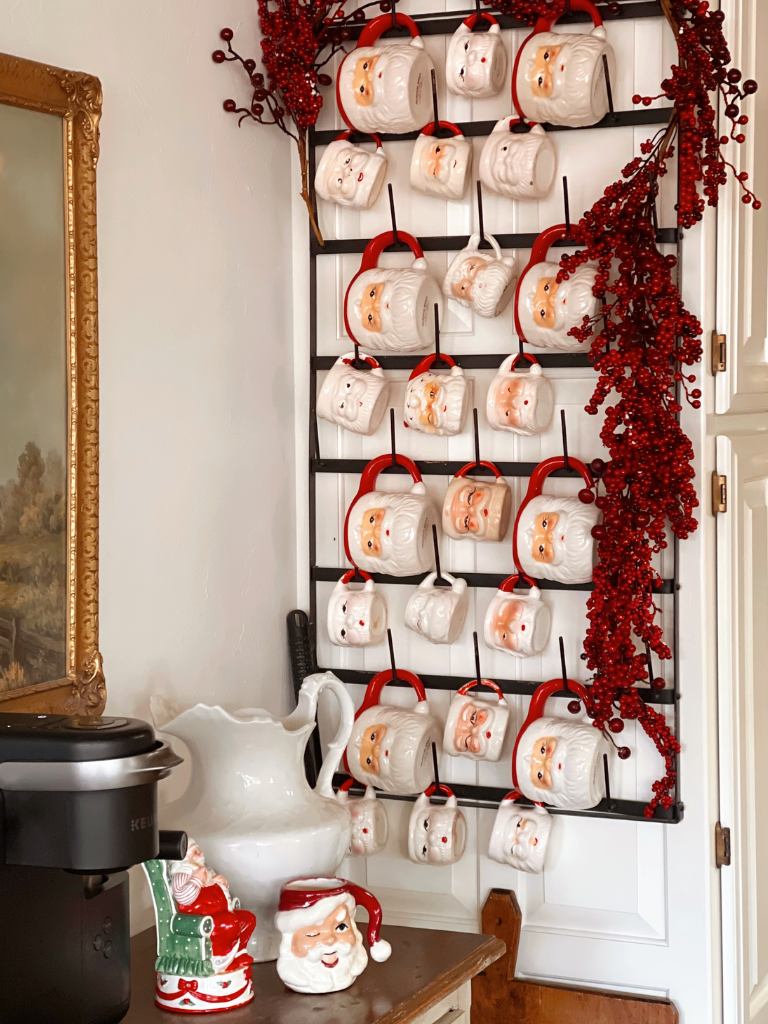 9. Create a Cozy Master Suite
This is the perfect time for a little refresh in the master suite. Start by adding a few cozy blankets to the bed, fresh towels to the bathroom and your favorite fall candles to the space to create a bit of coziness.
Want to do a bit more? As the temperatures dip and you're spending more time inside, expand your master suite refresh. You can paint the walls a new cozy color, upgrade your bed linens and declutter your space…start by removing electronics from your space to help ensure a cozy night's sleep.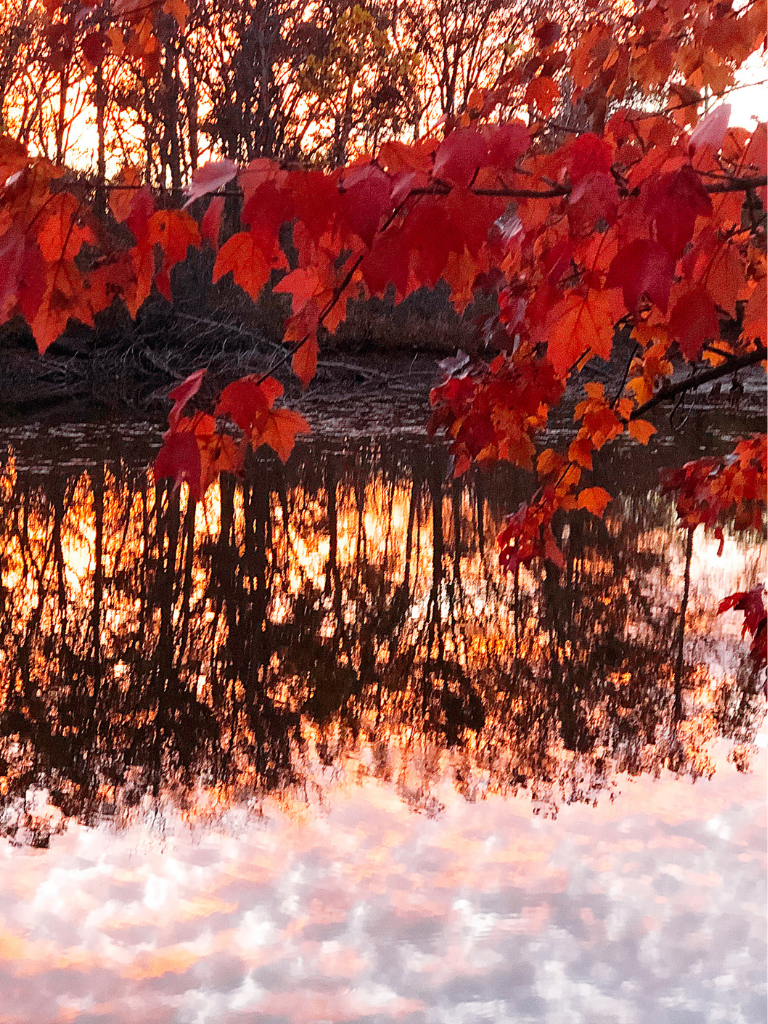 10. Plan a Cozy Fall Getaway
The first trip Bill and I took after retiring was to Petit Jean State Park in Arkansas. The quick getaway was perfect and very cozy. The weather was crisp, and the park was beautiful. We also stopped by the estate of P. Allen Smith and were welcomed by his annual pumpkin house. Too much fall fun!
If you don't have a fireplace at home, this is a great time to rent a cabin with a fireplace. And it's the perfect place to take an afternoon walk in the woods or even a bit of a hike if you're so inclined. You can also head outside for firepit time, most cabins include a fire pit and/or grill for cooking outdoors.
And now that you're retired, you can plan your cozy getaway during the week when everyone else is at work and cabins are less likely to be booked!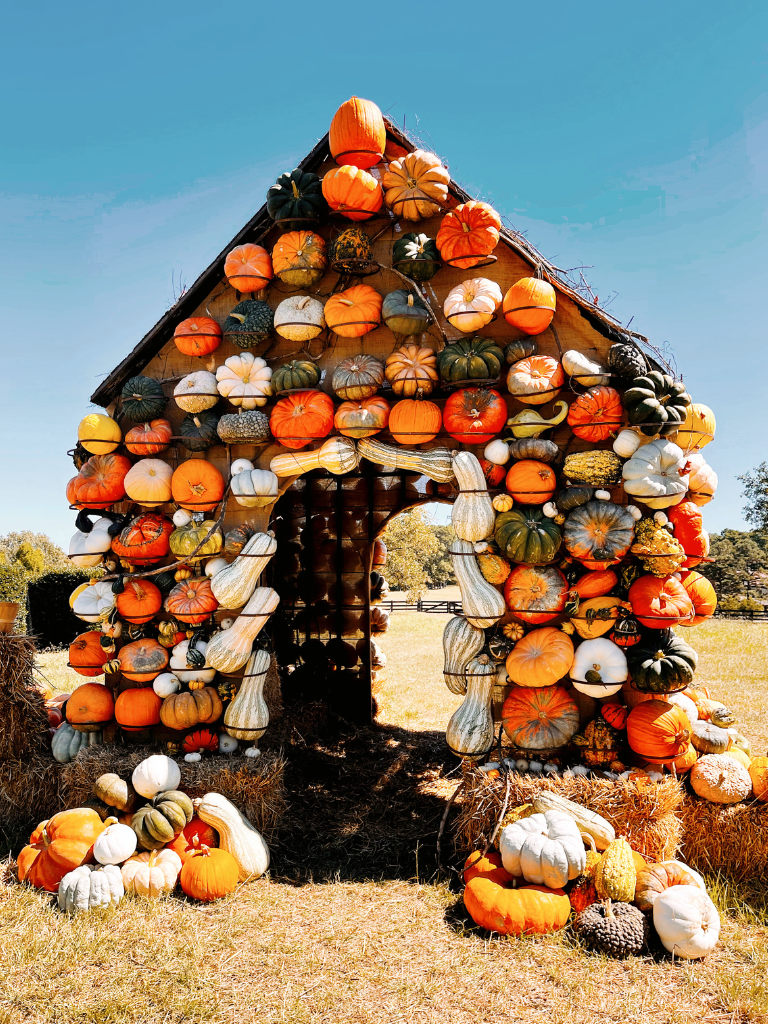 Create A Cozy Fall for Retirees Challenge
Interested in a bit of fun? I've created a PRINTABLE filled with ideas for retirees to create a cozy fall. Click HERE to download the printable then check off each of the ideas this fall. Hang it on your refrigerator or put a copy in your day planner. Have fun!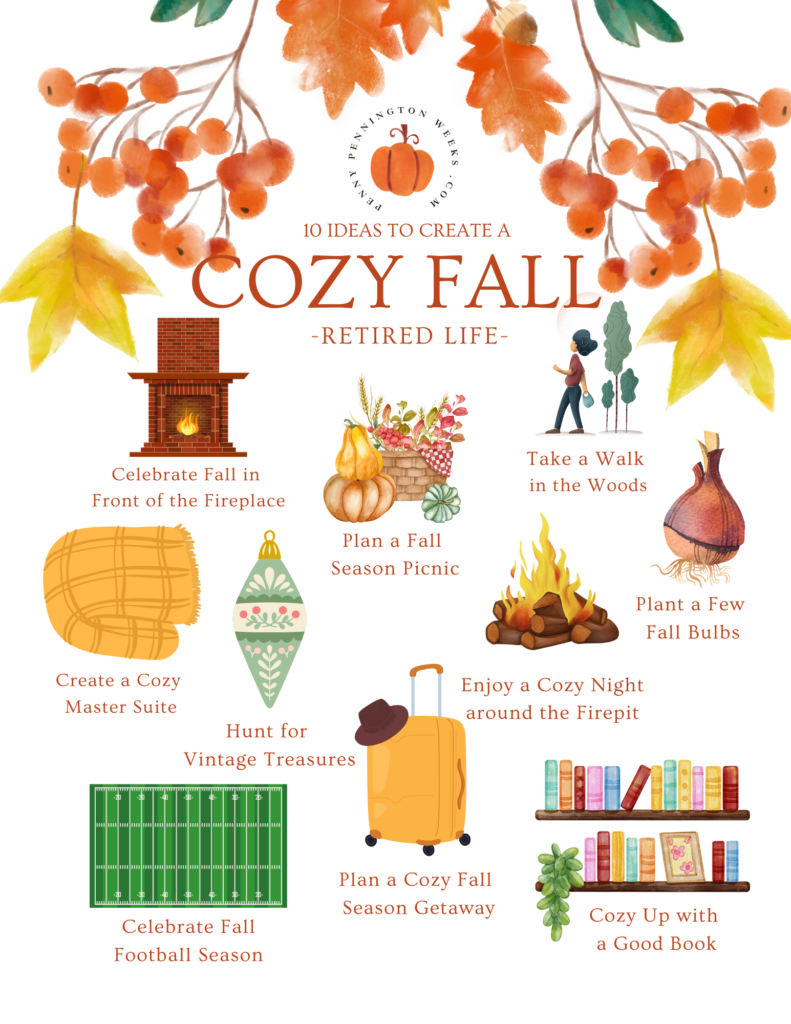 Cheers to Retired Life, and as Always, Happy Gardening!
X Penny Pennington Weeks
Related Posts
Retired Life
My First Years of Early Retirement and Four Lessons Learned
How to Enjoy Retired Life: Creating a Retirement Routine
Why You Need to Create a Retired life at Home that You Love
Other
10 of My Best Tips for Vintage Estate Sale Shopping
A Home and Garden Tour of P. Allen Smith's Moss Mountain Farm
Everything you Need for a Cozy Thanksgiving Holiday Celebration