Let's celebrate the 4th of July! Today I'm sharing 7 simple ways to celebrate the 4th of July. If you're anything like me, you love all of the beautiful images of 4th of July decor and menus popping up all over Instagram and Pinterest. Homes are decked out in flags, porches have been decorated for the 4th and the menus are abundant and beautiful.
All of these images make me think I need to buy more flags, bunting for all my porches and everything else red, white and blue. And to be honest, the beautiful food photos make me wonder if burgers on the grill and a bowl of ice cream and berries are fancy enough for the 4th.
Back to reality…the real me…
I like to keep the 4th of July simple. I don't feel the need to decorate my home for the 4th (like I do for Christmas). And, I don't feel the need to create a fancy menu good enough to be shared on Instagram.
Around here the menu is simple and the day is relaxed.
So, if you're looking to create a simple day to celebrate the 4th, then take a look at the 7 simple ways we celebrate the 4th of July around the farm.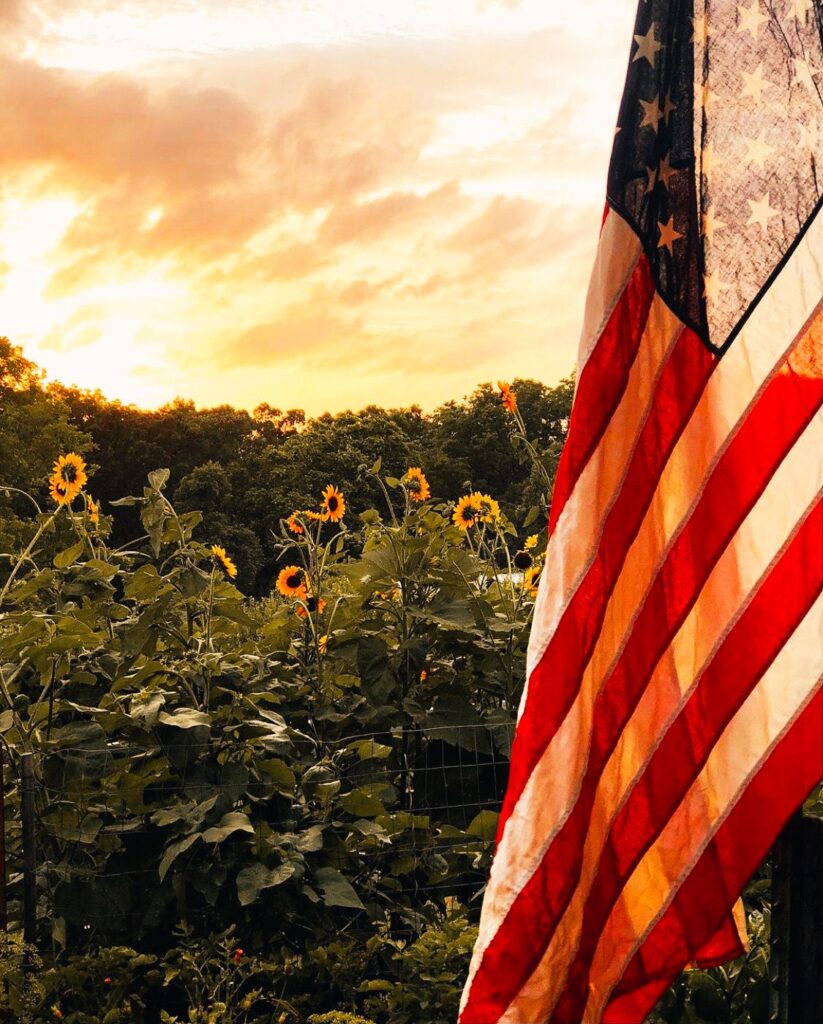 1. Bring out the American Flag
To celebrate the 4th of July, start with an American flag! All you need is one. I know, I know…that's not what you typically see in the picture perfect photos around the internet. But seriously, one beautiful American flag is all you need.
We hang ours out at the barn off of the porch. I love how it looks surrounded by all of the summer blooms.
Also, remember to take your flag down each evening and store it properly.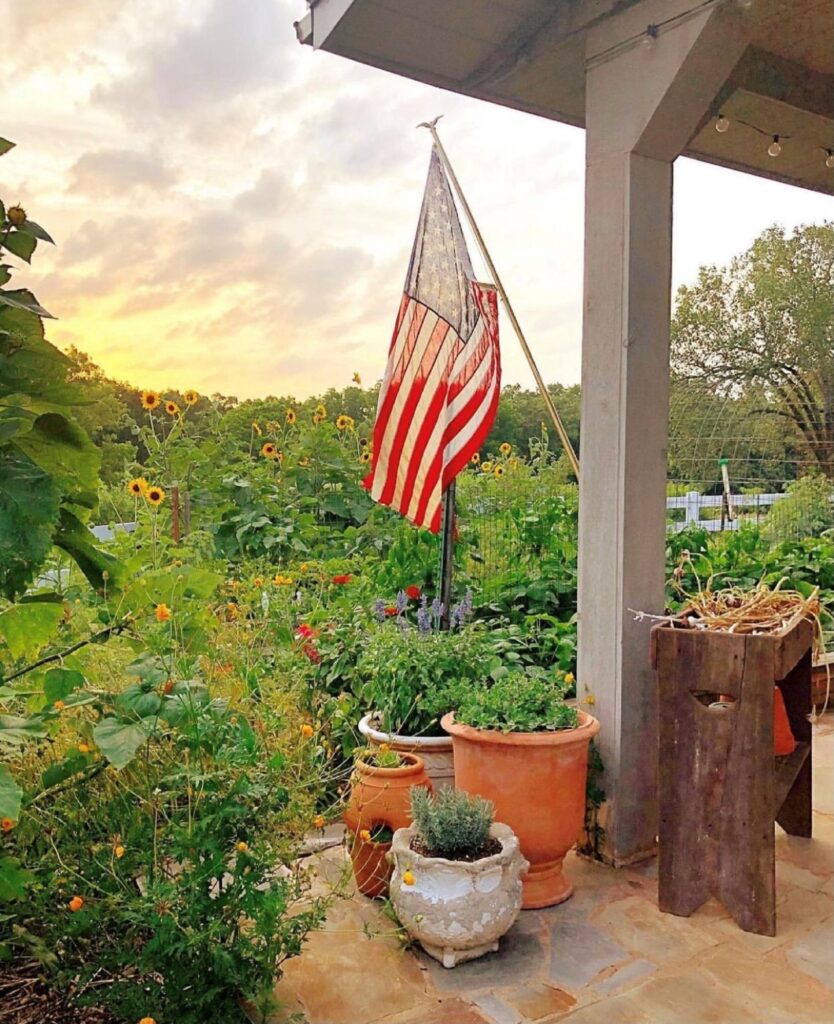 2. Celebrate with a Summer Bouquet
Ok, so you know there had to be flowers! To finish decorating for the celebration, add flowers. That's it. We're keeping it simple.
Grab a bucket, fill it with water and then head out to the garden and clip away. It's time to shop your yard for a summertime bouquet.
To create the bouquet, cut all of your stems approximately the same length and place the flowers back in the bucket of water. I don't worry about creating a formal bouquet. I love the natural look of a simple bouquet of fresh flowers straight from the farm.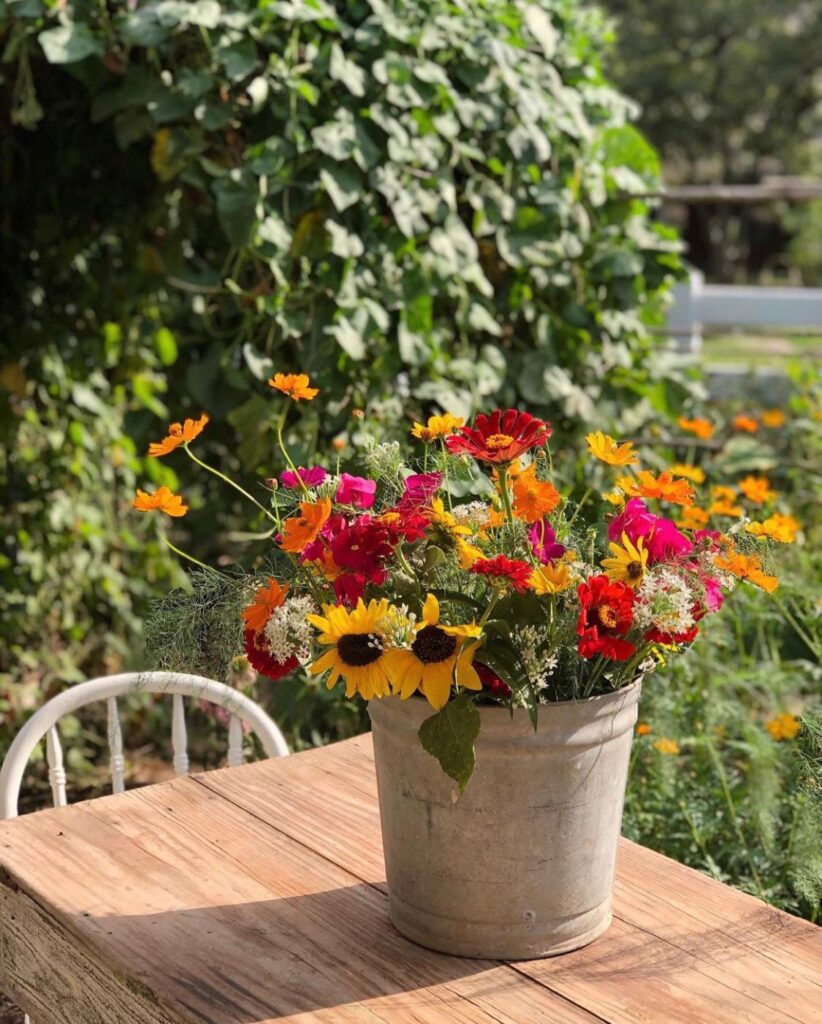 3. Go Fishing on the 4th of July
Bill loves to go fishing. And I do too…sometimes. My favorite thing about fishing is that it's on the water. My happy place.
Since it's July and most likely hot, I recommend that you wake up early, make your coffee and head to your favorite fishing hole. You don't have to stay all day, just for an hour or so and then head back home and grab a yummy breakfast.
Not interested in fishing? Grab a book and folding chair and enjoy a simple morning by the water.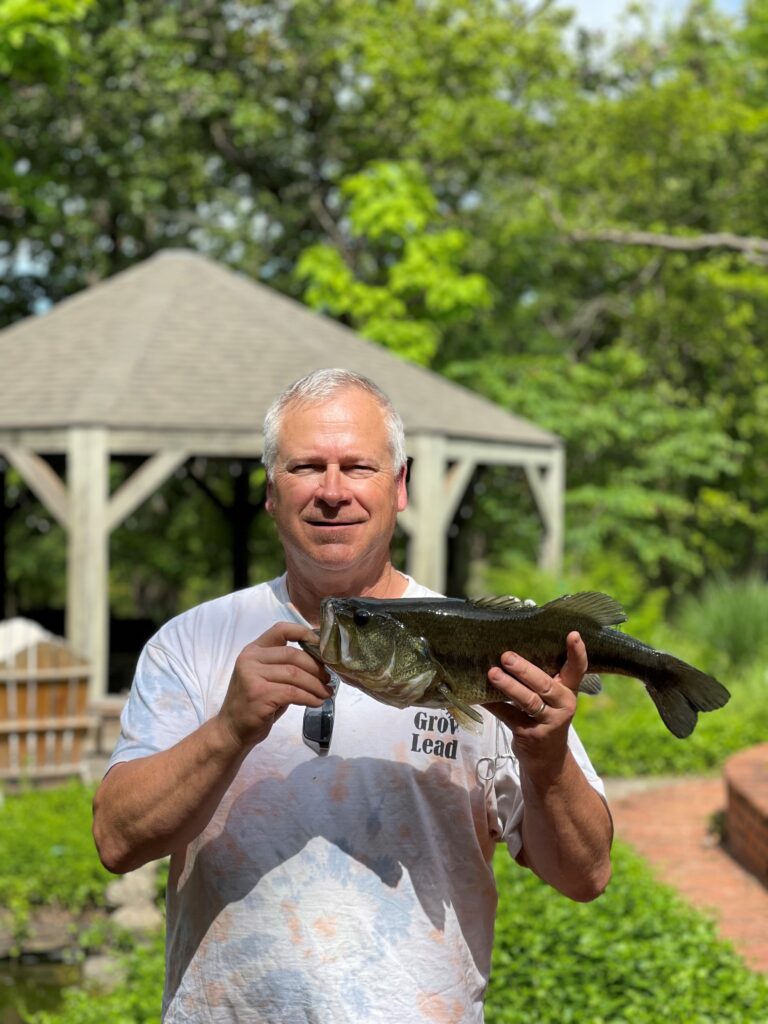 4. Keep it Simple with Sweet Corn
So it's time to think about the menu. Whether you're grilling hamburgers or steaks or whipping up something else, sweet corn is always a great side. It's amazing with butter and a little salt and pepper. So simple and so good!
We're serious around here about sweet corn. Bill and I typically bring feed sacks full of summer sweet corn back from his family's farm in Illinois each year. Then we eat as much as we can and freeze the rest.
Don't have a family farm to run home to? No worries! Stop by one of the local vendors selling corn on the side of the road. You can search Facebook Marketplace and typically find a local student organization doing a summer fundraiser. And if all else fails, pick up a few ears of corn from your local grocery store.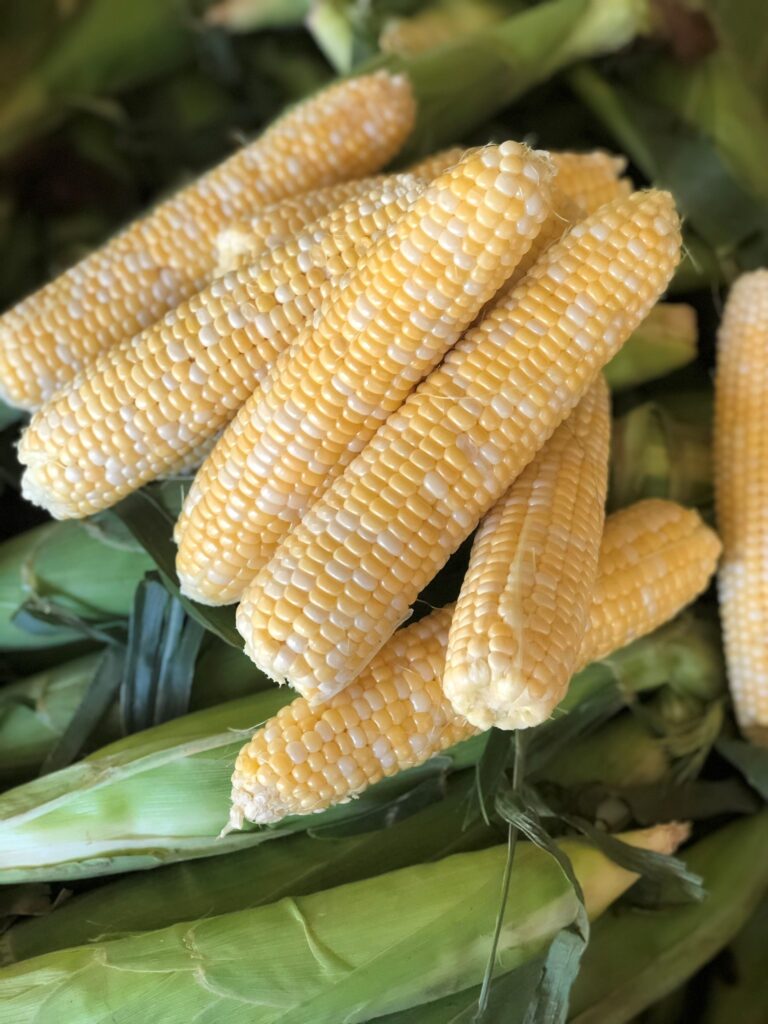 5. Play a Game on the 4th of July
As a kid I remember large gatherings around the 4th of July and lots of games…egg toss, horseshoes, 3 legged bag races. But games aren't just for kids.
Now that we're empty nesters, it's typically just Bill and me celebrating the 4th together. So the 4th is definitely a bit quieter but that doesn't mean the fun has to end.
If you're looking for a game for two, try corn hole (aka bag toss). Bill built a couple of boards for us a few years ago and we like to play on the front porch.
And our newest favorite game for two is a good ole' fashioned game of dominos. You can find the instructions here. Bill and I like to sip on martinis while we're playing dominoes. I'm a fan of chocolate and he likes pepperoncini. You can find the recipes here.
And for you vintage collectors out there, keep your eyes open for a set of vintage dominos. The quality is amazing and you might even run across a colorful set like the red set below.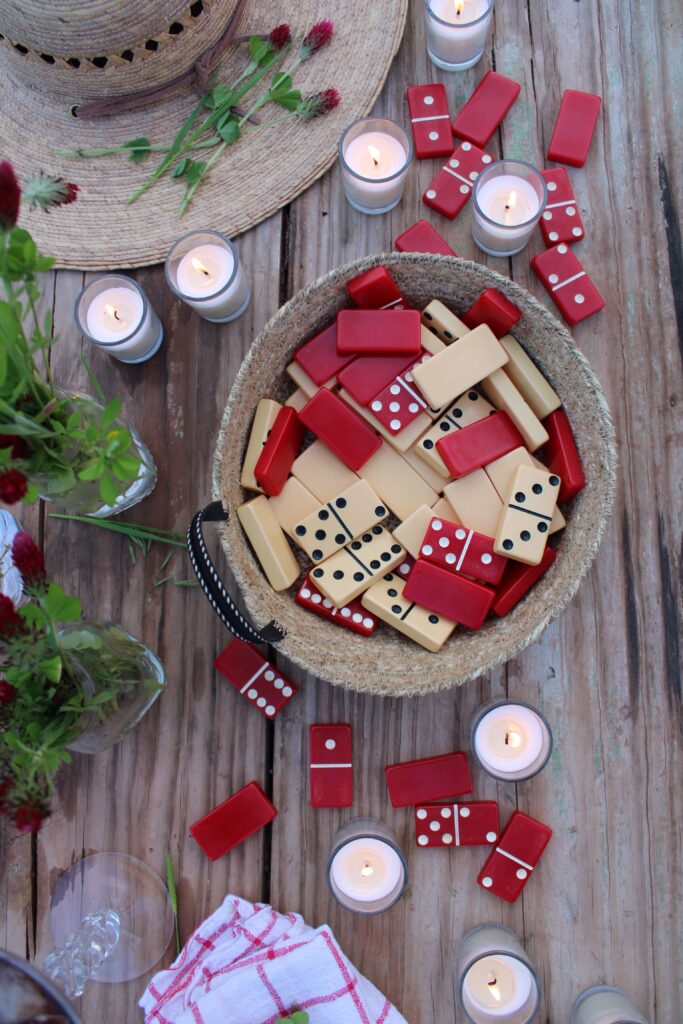 6. Don't Forget a Simple Sweet Treat
Before the day is over, be sure to plan a sweet treat. I think the 4th of July calls for two very simple treats…ice cream and watermelon. Neither requires you to turn an oven on and both are perfectly simple.
Top your ice cream with fresh berries or chocolate syrup or both. My favorite ice cream is anything made by Blue Bell. Of course, I'm from Texas so I might be a bit biased.
As for the watermelon, find the sweetest watermelon you can. Bring it home, chill it overnight and cut yourself a slice or two!
We sometimes save the watermelon for fireworks. We throw it in an ice chest, take a good knife with us and lots of napkins. Nothing like watching the fireworks and eating a thick slice of sweet watermelon.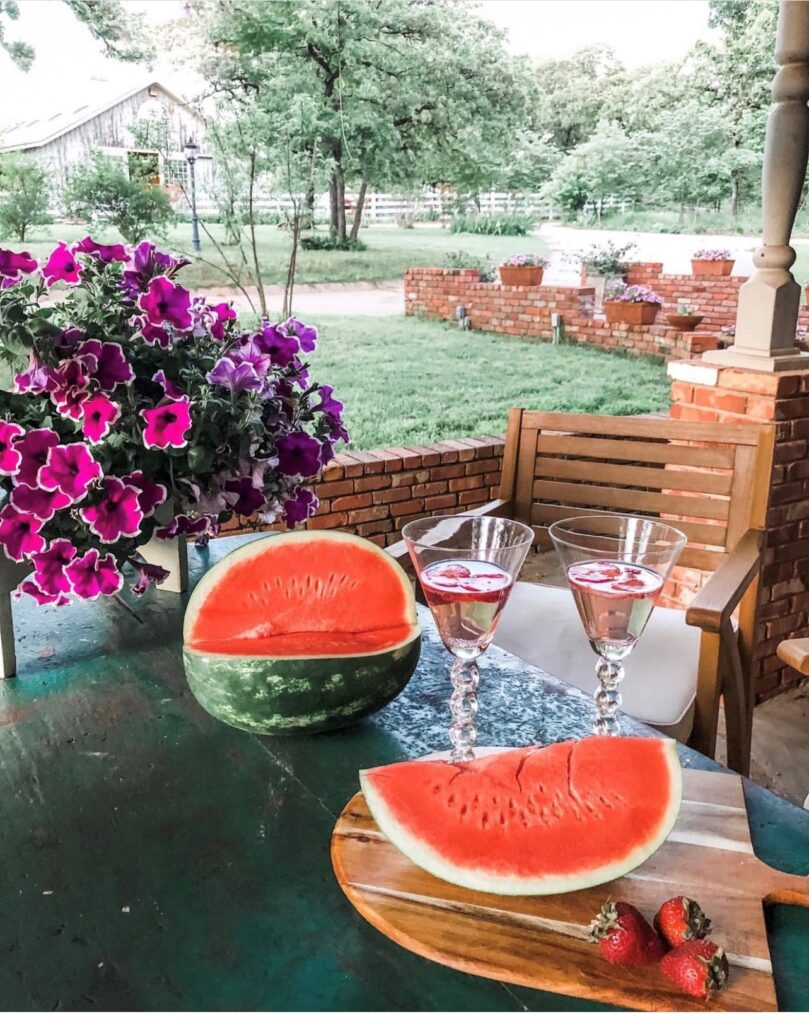 7. Enjoy the 4th of July Fireworks
Finally, it's time for the quintessential 4th of July activity, the fireworks. Fireworks are the perfect way to celebrate the 4th of July.
Grab a quilt, take a drive and find a local fireworks show. Keep it simple and let the professionals take care of the work and the expense.
Also, set your phone down and enjoy the moment. Trust me, unless you're a professional…you'll never truly capture the fireworks in a photo. Plus we all need to disconnect sometimes.
Holidays are the perfect occasion to be fully present. Happy 4th of July, friends!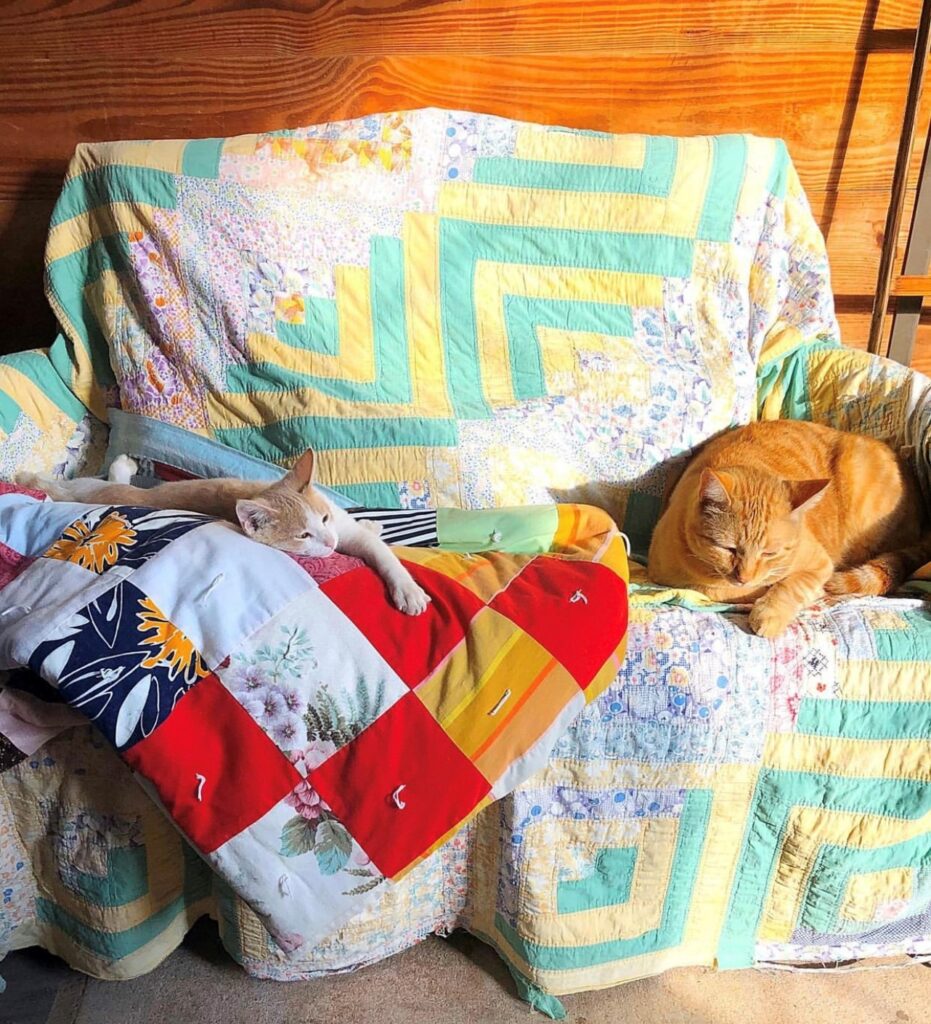 July on the Blog
A look ahead…now that I've officially taught my last class (not just for the semester, but of my career), I plan to share here on the blog on a more regular basis.
In July, I will be sharing simple summer travel ideas, garden updates, and lots of flock facts. You'll also find a few junking tips, cute coop inspiration from a few of my friends, and several summer berry recipes.
Happy 4th of July
X Penny Pennington Weeks