Here's what I learned growing strawberries for the first time. Keep in mind, I was growing the strawberries (not Bill). Bill has gardened almost his entire life. I, however, am a new gardener. Bill likes to call me a reluctant gardener. Maybe because we've lived on a farm for 10+ years and up until this past year, he has done 99.9% of the gardening. (Note: This post was originally shared July 2021).
But, I'm in good company. Lots of us have taken on gardening recently and are trying new things in the garden.
So, let's get back to the strawberries…it would be my project and my task. It would hopefully also be my success.
Spoiler Alert: The strawberries I grew tasted amazing!
This post may contain affiliate links. For additional information, please read my privacy and disclosure policy. Thank you for supporting my blog.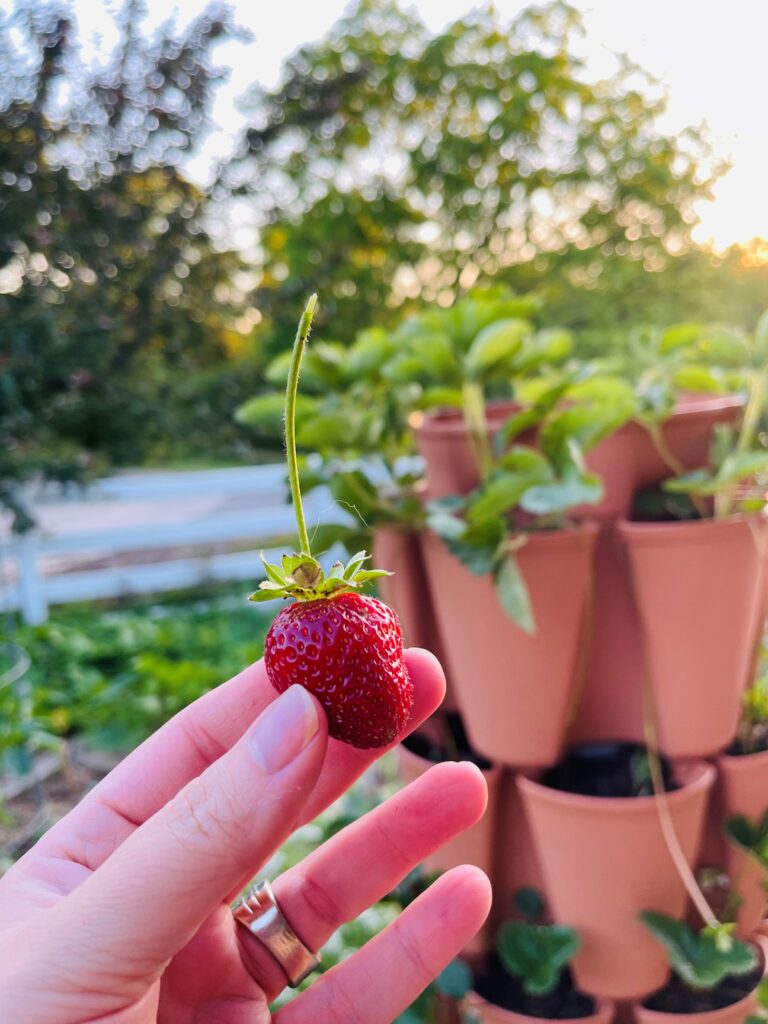 Growing Strawberries: What, Where, When, Why and How
Before I share the 5 lessons I learned growing strawberries for the first time, let's get down to the basics. As any good student would tell you, that means we start with the following: What? Where? When? Why? and How?
What?
I decided back in March that I was going to grow my own strawberries this season. Why not? After all, I love strawberries and how hard could it really be? I'm thinking there are a few basic steps: buy the strawberry plants (or bare root strawberries), water the plants, pick the strawberries, and eat the strawberries.
Where?
I decided that the strawberries would be grown on the barn porch in a tower of pots gifted to me by GreenStalk. Thirty pots to be exact. The tower was on wheels and could be moved under the porch overhang when the July and August heat was too much.
Of course, you can plant strawberries directly into the ground or a raised bed, but I was partial to the idea of using the tower.
The tower was designed for easy watering. I could water from the top and the built in watering system would then take care of the rest. This reluctant gardener was excited about the convenience and the possibility of creating a tower of beautiful strawberries.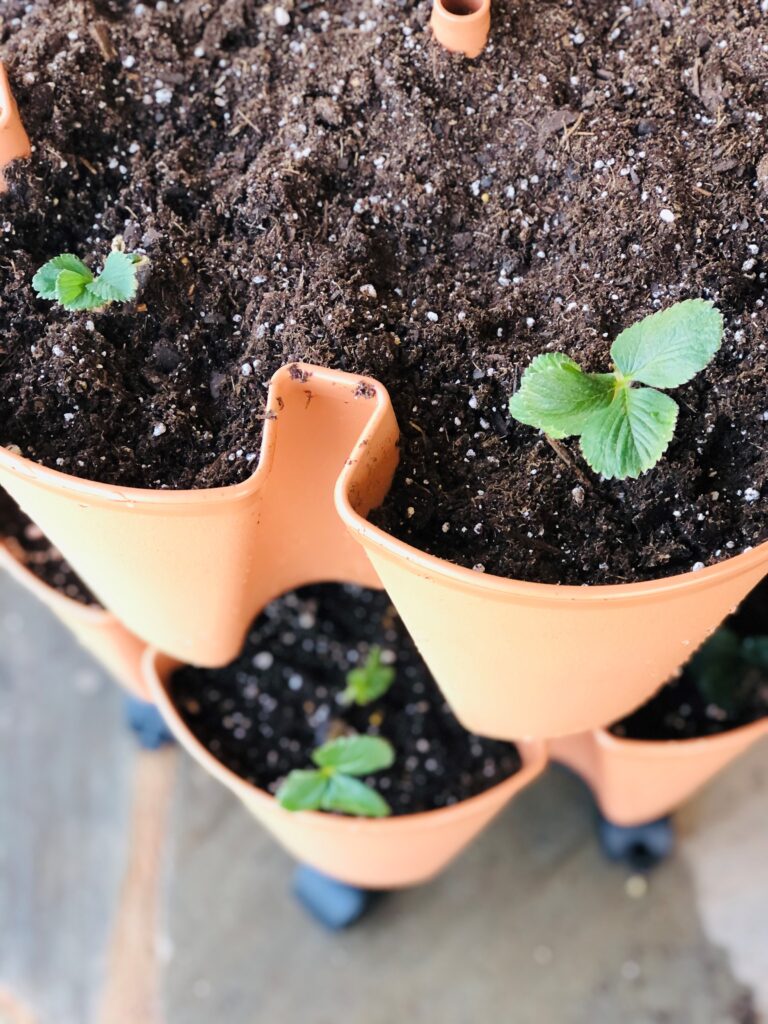 When?
I would plant my strawberries in April as soon as I found the strawberry plants available at one of our local garden centers.
(Note: In Stillwater, Oklahoma, we are in planting zone 7a. Be sure to base your planting on your zone and last average frost date).
Why?
I brilliantly thought that an abundance of strawberries would be a perfect addition to the farm. After all, they are a great addition to any meal…breakfast, lunch or dinner. They make a great snack and are the centerpiece of many beautiful desserts, like my strawberry galette (click here for the recipe). So, I decided to grow strawberries.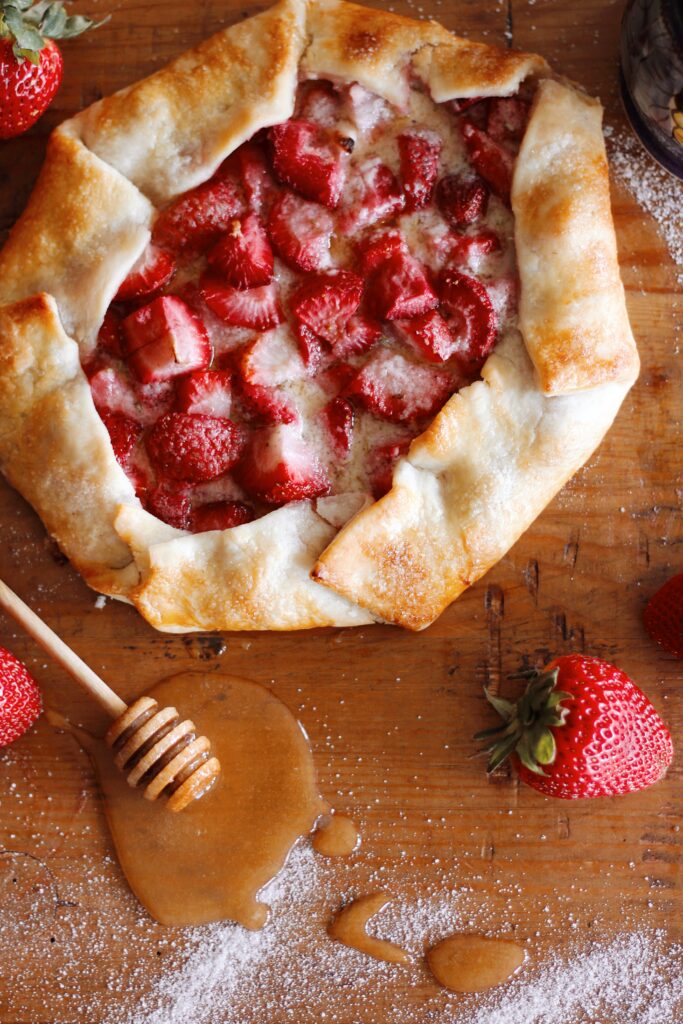 How?
My knowledge of planting strawberries was very limited…ok, almost non-existent. I knew I needed plants, my tower of pots from GreenStalk, soil and water. Plus sun and more water. I also knew that Bill had experience growing strawberries and was available for Q&A sessions if needed.
In early April, Bill and I spotted strawberry bunches (aka bare root strawberries) at our local mill. They were relatively inexpensive, $6.99 for a strawberry bunch. The bunch had 20 June-bearer plants, so I would need two bundles. I would also get only one crop of strawberries…sometime in June (hence the name).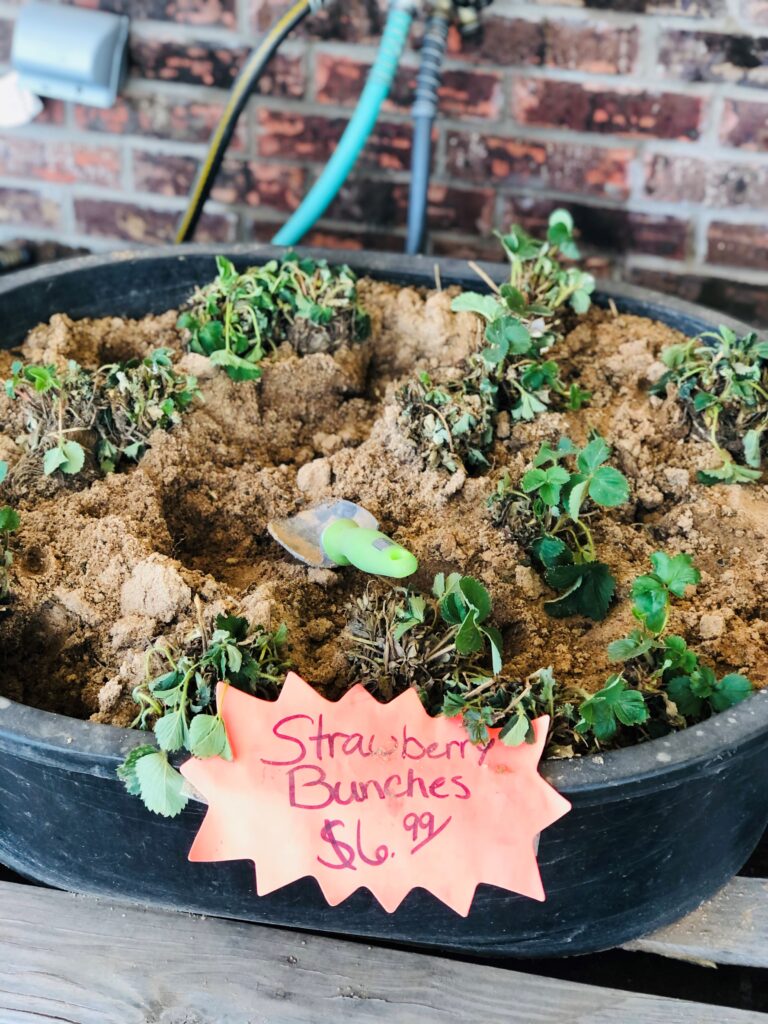 Back on the farm, Bill helped me fill the pots with soil and assemble the strawberry tower. Everything was rather heavy once filled with soil and I wasn't able to lift a tier of pots on my own.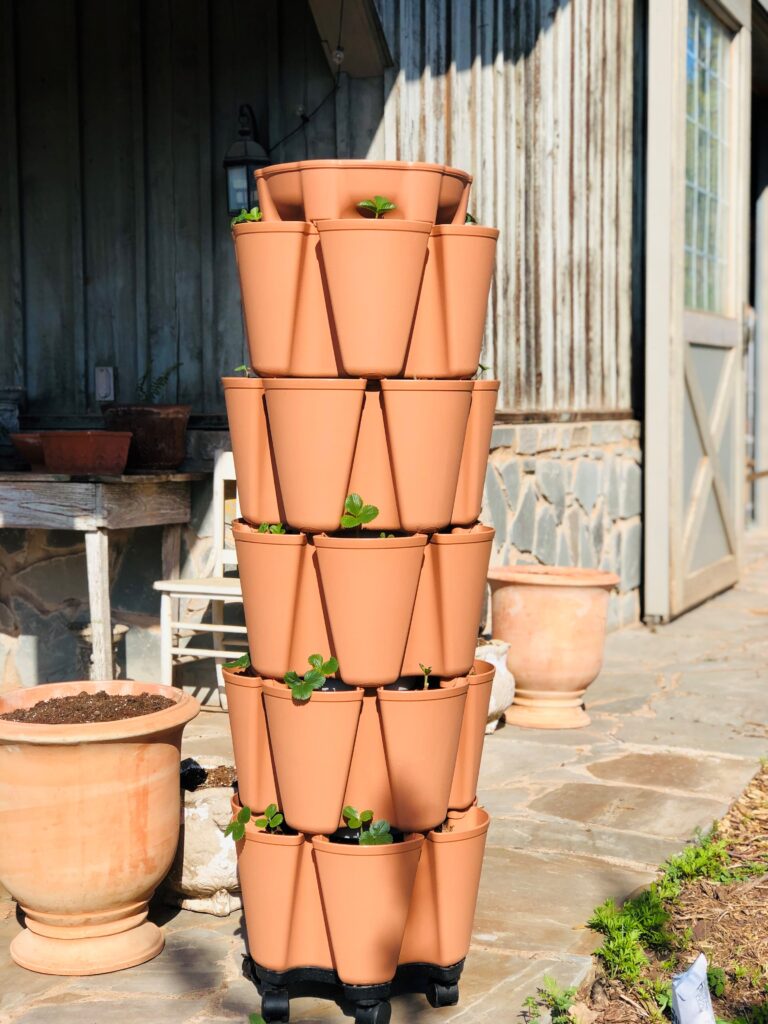 So…after the tower was assembled and filled with soil, the planting began. Bill shared a few planting tips with me and went off to tend to his garden.
I began work on my project.
A Few Tips for Growing Strawberries
plant immediately or wrap the roots in a wet towel and store in a cool location
soak the bare roots in room temperature water for 30 minutes before planting
trim the roots if they are longer than 4-5″
begin planting
fan out the roots and don't bury the crowns
and if you decide to order a tower of pots, use PENNY10 for $10 off your own GreenStalk Tower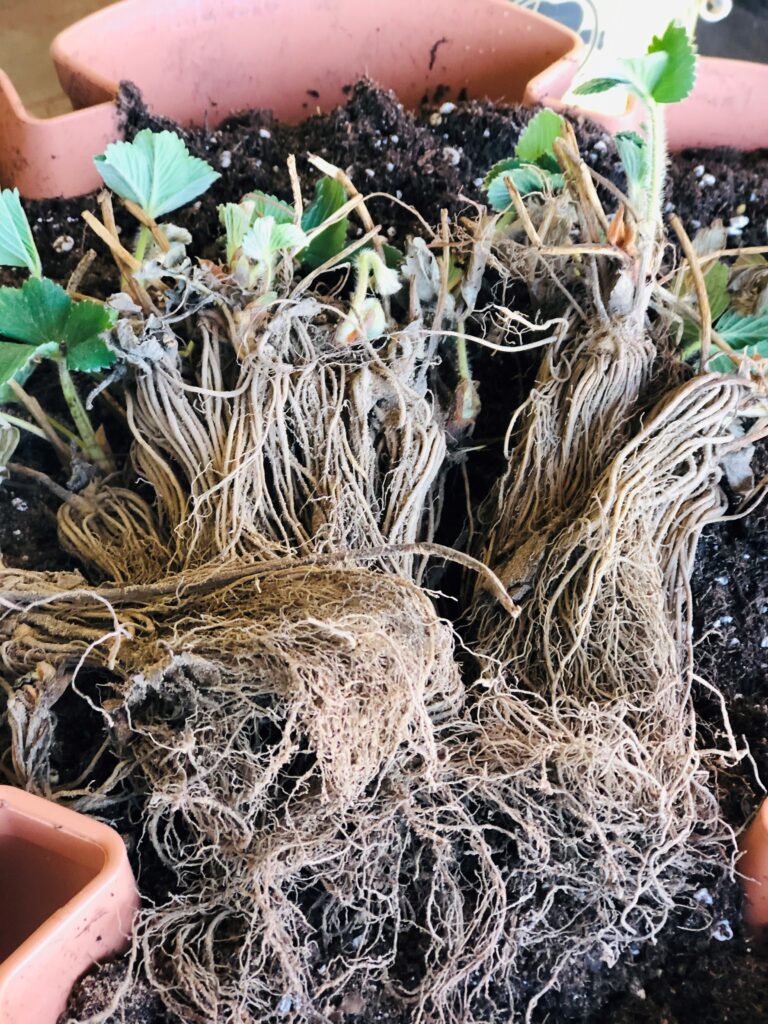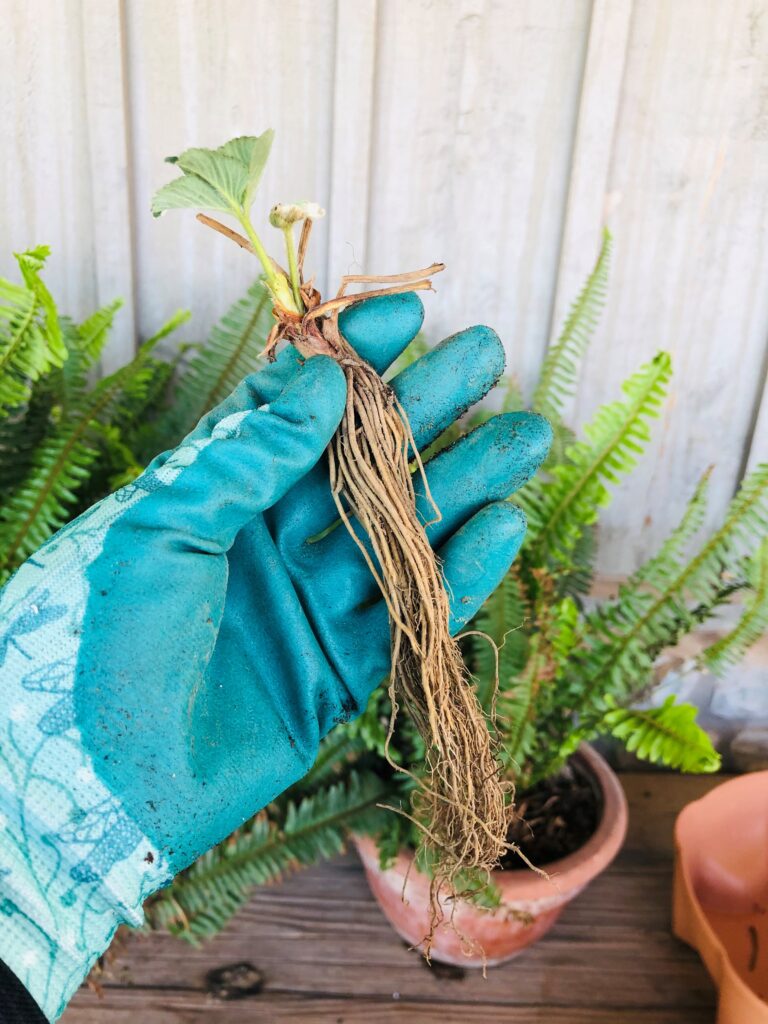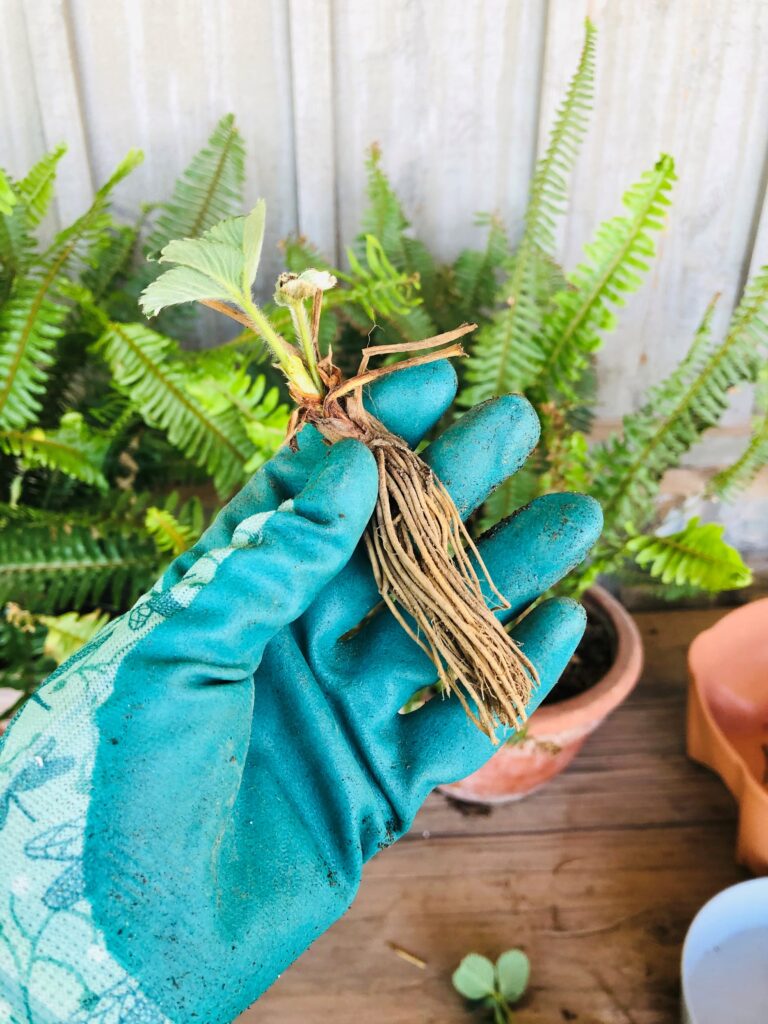 Lessons Learned Growing Strawberries
1. Don't bury the strawberry crowns
This is the number one tip that every expert shares when planting bare root strawberries. So…to get your strawberries off to a good start, don't bury the crowns!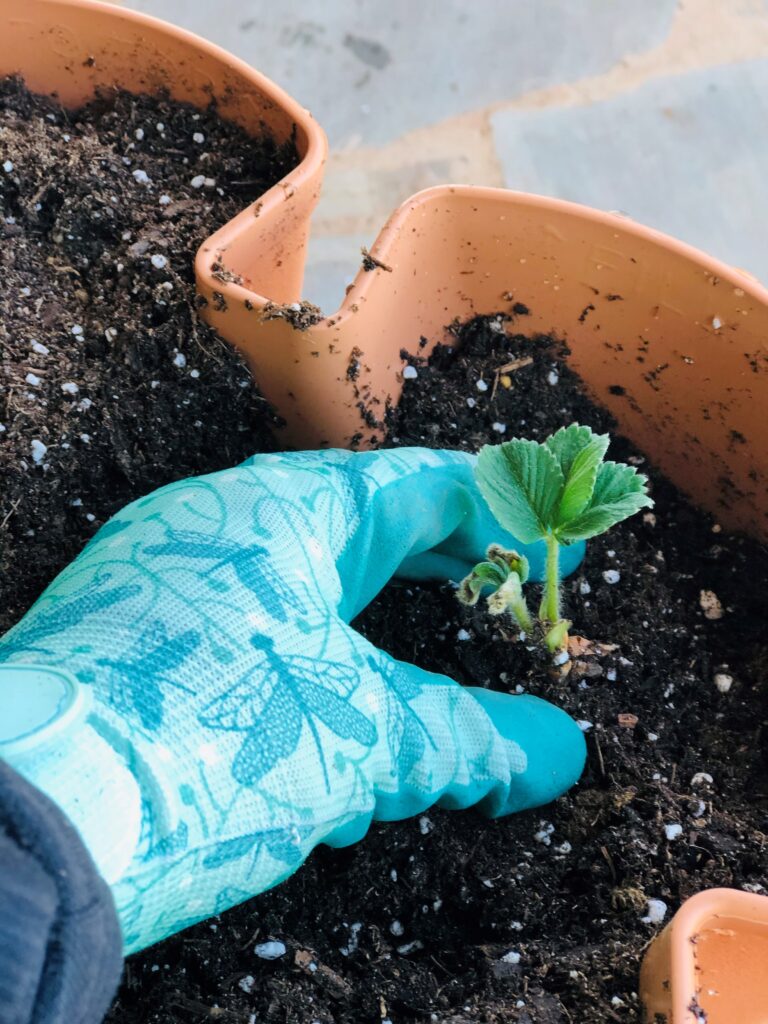 2. Strawberries are fairly simple to grow
I did it! I grew my first strawberry. And, oh my goodness, it was soooo good! The red was brilliant and the taste was perfection.
No special chemicals or weeding or anything. My plants simply produced strawberries.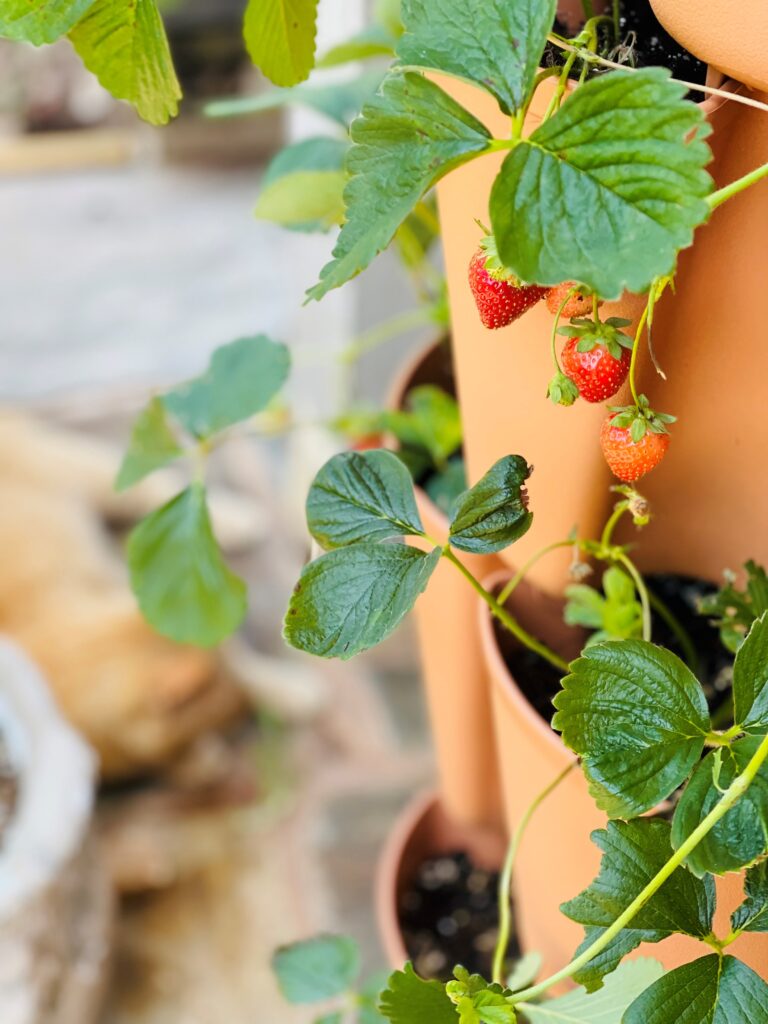 3. I didn't get an abundance of strawberries
I did not, however, get an abundance of strawberries. From 30 plants, I have grown about 2 dozen strawberries. And none of them made it in the house. We managed to pluck each one from their vine as soon as it was ripe and then immediately pop it into our mouth.
So good!
4. Strawberry plants create runners
My strawberry plants may have not created an abundance of strawberries, but they did create a ton of new plants by sending off runners (known as stolons).
Bill showed me how to simply tuck the new runner into the soil which then created a clone plant of the mother plant. My plants were reproducing. So cool!
Note: Some experts recommend cutting off runners during the first two years so that your plant will focus it's energy on producing fruit.
5. Strawberries are perennials
I found this bit of news out during a conversation with Bill one day, when I was talking about switching the tower to herbs after the strawberries were done. He then explained to me the true nature of strawberries. They're perennials.
Normally, I love a good perennial. After all, what's not to love about a plant that comes back each year? And, with all of the new baby strawberry plants, this was good news.
But there was a problem, I planted the strawberries in my tower of pots and I was planning to try something new in the tower after the strawberries. (Maybe I need a second tower.)
The good news…my tower of strawberries is super easy to water. Check out the video below. So taking care of the strawberries until next season will be a breeze.
Bill has also assured me that I will get lots more strawberries during year 2 of my strawberry endeavor.
Comment below and tell me if you've grown strawberries before or are thinking about growing a bunch next season.
Happy Gardening
X Penny (aka The Reluctant Gardener)