Welcome to the first installment of my monthly garden notes and ideas from our country garden. Before getting started, let me explain why I call myself the reluctant gardener.
I consider myself a reluctant gardener primarily because it took ten years of country living to decide that I wanted a piece of our country garden in which I was 100% responsible for designing, planting and tending to the space. Prior to my claim to a piece of soil, Bill (my husband) was the sole gardener and I just dabbled in a few container plants and herbs.
And secondary, in fairness to reluctant gardeners everywhere, I should confess that I'm not a fan of Oklahoma heat and pests (think mosquitos and ticks). Both tend to impact my level of enjoyment experienced in the garden, as well as my overall willingness to take care of my garden. (BTW, our plant hardiness zone is 7a. You can look your zone up here.)
But, the call of dahlias, zinnias and cosmos grew stronger and two years ago I pushed aside my gardening qualms and claimed a plot of land to create my first cut flower. It has been an incredible learning experience and has resulted in loads of colorful bouquets
As I begin to wrap up my second growing season, I have decided that it's time to keep a journal. I hope my notes, ideas and experiences inspire you to try something new in the garden or to create a garden to call your own. I will also be including sources and lists of what we're ordering for the garden, as well as notes from Bill's veggie garden and around the farm in general (as it relates to gardening).
And if you're wanting to create a gardening journal of your own, check out this journal by Emily Ley. It's a great planner and place to keep your gardening notes and ideas.
Our Country Garden: August 2022
August was more brutal than usual this year. July and August are typically hot, but this year our temperatures broke lots of records. It was so hot that I soon lost count of the number of 100+ days and just hid inside my air-conditioned home.
In all honesty, the heat made it tough for this reluctant gardener to stay motivated.
I did manage, however, to water my garden every two days and as a result it survived.
My Cut Flower Garden
Zinnias for the win! Seriously, the more I cut, the more they grow. They love the heat and the colors are amazing. And, they're still going strong. I have found a flower I can grow (even in the heat) and week after week they have made great bouquets for our home. They are definitely a keeper and have quickly become a mainstay for my annual cutting garden.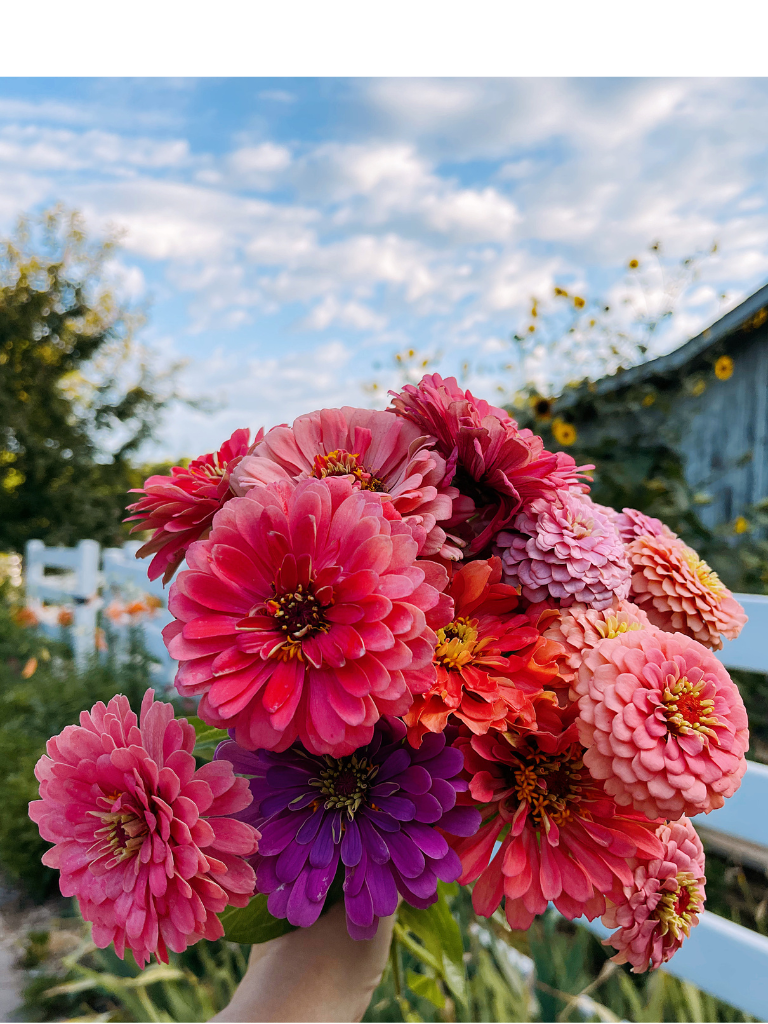 I also have Dahlias and Cosmos in my cut flower garden. The Dahlias bloomed early this summer and then took a hiatus during the heat. They are just starting to bloom again and they are glorious.
As for my Cosmos, I ripped out my Cosmos about a week ago in favor of fall pumpkins. The cosmos had grown really tall and I didn't trellis them like last summer. Big mistake! The good news, I now have room for my pumpkins to take off.
During August I babied the pumpkins I sowed on July 4th, hand watering them as needed. And, I kept the mounds protected with my garden cloche and the shade of the cosmos (before removing them). As a result, my pumpkin vines are thriving and my fingers are crossed that I will have loads of pumpkins this fall.
1. Both my dahlias and cosmos need a trellis system next year to help them withstand the Oklahoma wind as they grow taller and taller.
2. My Rubenza Cosmos (pictured below) were the star of the cosmos this summer. They are large and have a beautiful deep wine color. Definitely a keeper for next year. I'm also partial to both of the white varieties I grew this summer, Purity and Psyche White.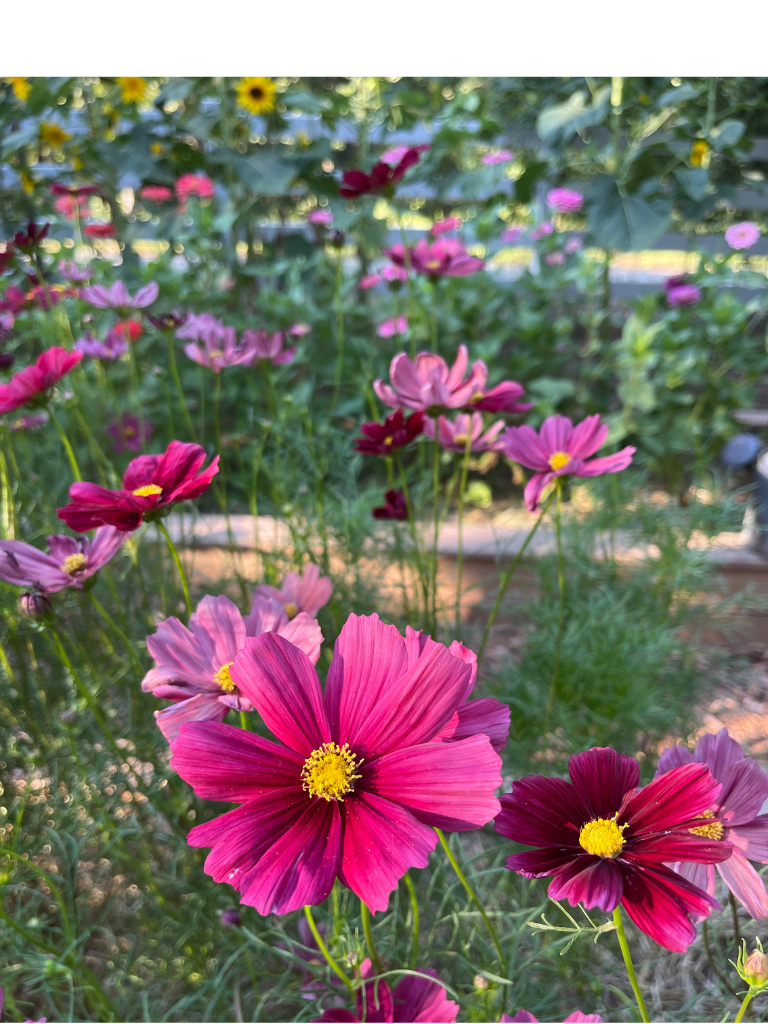 Bill's Veggie Garden
During August, we harvested lots of peppers, a few Japanese eggplant and a hand full of cucumbers. The majority of the cucumbers were bitter from the heat. And we had lots of very tasty honeydew melons. Unfortunately, we managed to beat the raccoons to only a few of them.
In addition to the melons, the raccoons have also eaten all of the apples on the farm before they were ready to pick. Bill has trapped three raccoons recently, but they really need to be trapped sooner next summer.
In very good news, it looks like the majority of Bill's tomatoes survived the August heat. Our tomato harvest was abundant in July, light in August and I'm very excited that we will have homegrown tomatoes again in September. In an effort to protect the tomato plants, Bill also spent quite a bit of time searching for tomato hornworms and serving them up to the chickens as a tasty snack.
In other good news, the veggie garden will continue to provide farm fresh goodness until our first frost. We will have another round of zucchini, yellow squash and green beans. Succession planting was successful and each is thriving. Bill used the hoops pictured below to add shade cloth to his veggie garden. The shade helped his seeds germinate during the extreme heat.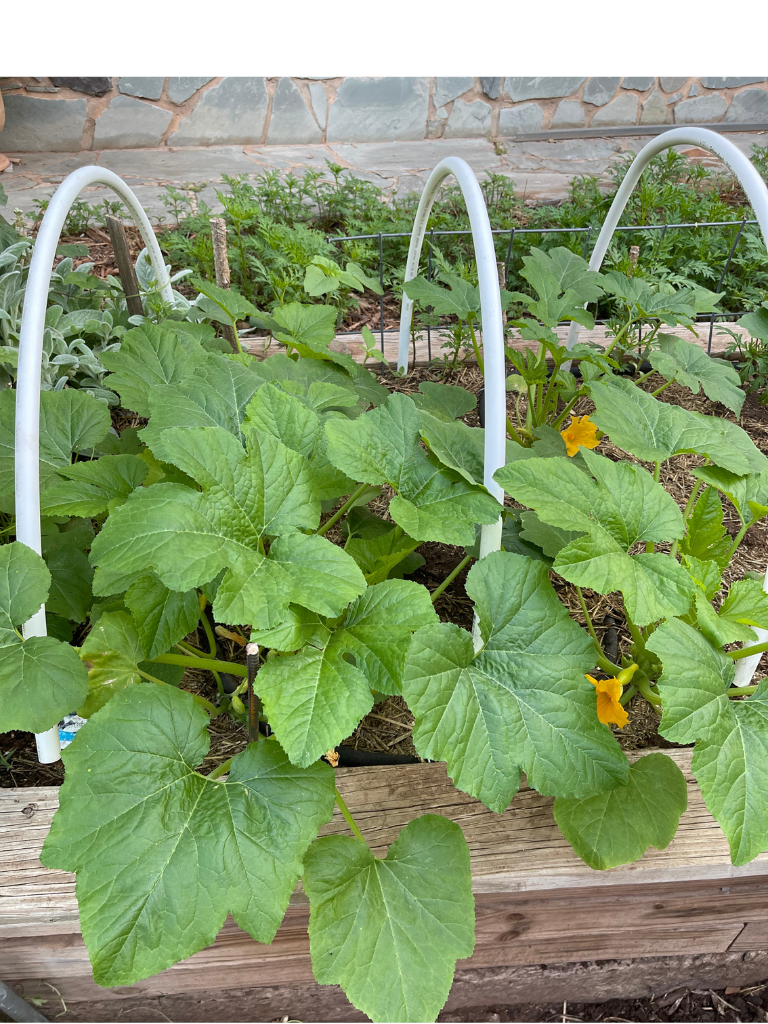 Around the Farm
There are two showstoppers right now: 1. the Bougainvillea and 2. the Crape Myrtles. Both love the heat and both are covered in brightly colored blooms.
Bougainvillea is my favorite sun-loving container plant. We currently have 10 potted bougainvillea plants: two in front of the barn, two in front of the house and six hanging plants at at the gazebo. Each is covered in blooms. Each requires daily watering. And each will have to replaced next summer as they cannot handle our winter temperatures.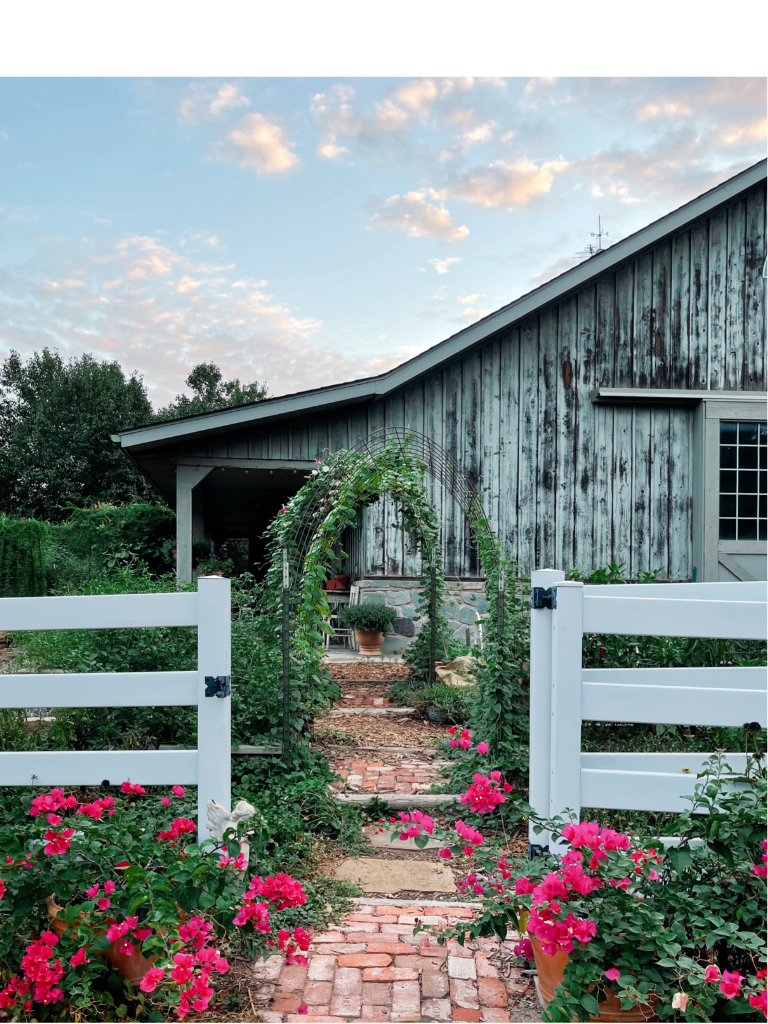 As a Texas Native, I grew up surrounded by Crape Myrtles. And they perform just as well in our Oklahoma Climate. We're in zone 7a and crape myrtles are partial to zones 7, 8 and 9. Our crape myrtles are in full bloom right now and I love how my copper birdhouse looks surrounded by the pink blooms.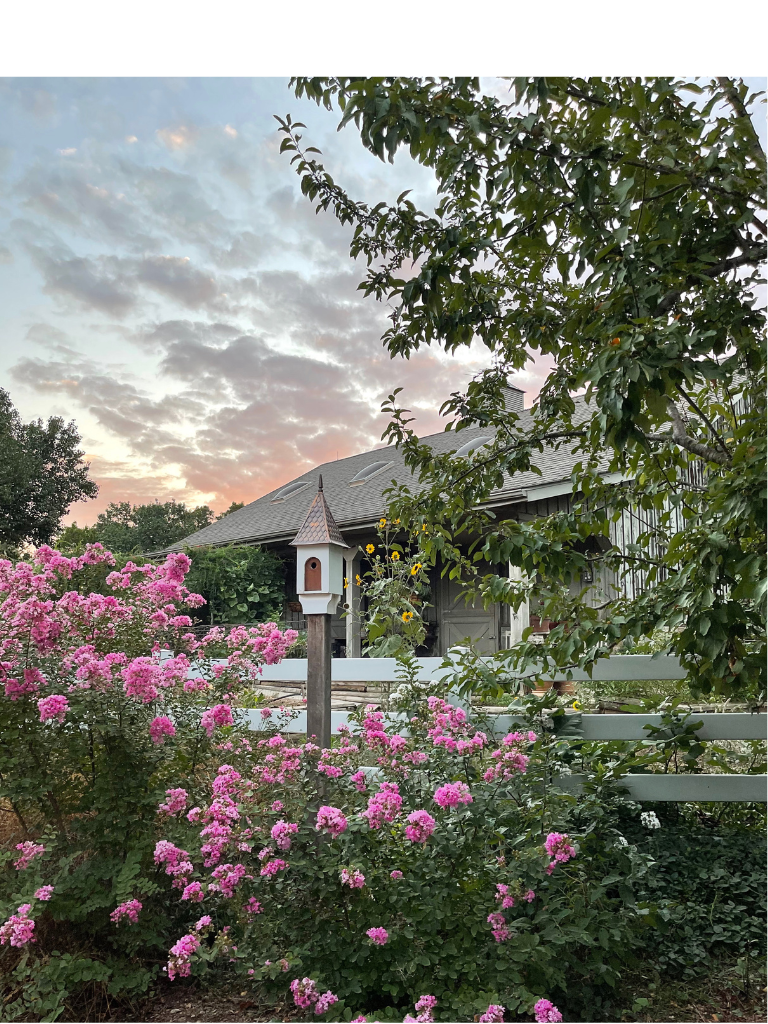 We have a few Crape Myrtles that volunteered and will need to be transplanted this fall.
And my herb garden is doing very well. Especially the basil. The plants don't seem to mind the heat. I whipped a batch of basil pesto last week that was fabulous.
Our Country Garden: Planning Ahead
As we look ahead to September, Bill is planning a few cool season additions to the vegetable garden including spinach, kale, and swiss chard (seed order information below). He will also plant broccoli, cauliflower and cabbage. Our local garden centers should have the plants available soon.
Spinach-Space Hybrid, Kale-Prizm Hybrid & Red Winter, Swiss Chard-Red Magic Hybrid
Source-Burpee Seeds
We are also starting to think about bulbs and other items needed for fall planting. Bill has ordered garlic and I have ordered alliums. I will be ordering tulips and daffodils soon, as well.
I have also ordered Amaryllis bulbs for Christmas and plan to order Paper Whites very soon before the varieties I'm interested in are sold out.
Garlic-Early Italian, Allium-Gladiator, Amaryllis-Christmas Gift
Source-Burpee Seeds
I'm also thinking about ordering a second bulb planter. We added hundreds of bulbs last year using this bulb planter and it would be nice for the two of us to be able to work on the project together this year.
We have also ordered nine peony plants to add to the garden this fall.
And one last note, I applied to become a Master Gardener. Classes start September 6. Can't wait. There is so much to learn.
That's it for now. Message below in comments if you have any questions. You can also reach out to me on Instagram @pennypenningtonweeks.
Related Country Garden Posts
7 Tips for Planting Hydrangeas in a Country Garden
5 Lessons Learned Growing Strawberries for the First-Time
How to Start Your Garden with Cool Season Vegetables
Until next time, Happy Gardening!
X Penny (aka The Reluctant Gardener)