I'm planning a winter picnic for two. Do you remember the first time you went on a picnic or planned a picnic? Was it at the beach, in a park or in your own backyard? What time of year was it? I think most people think of summer picnics as the ideal. But for me, any gorgeous day will work- spring, summer or fall are all great in my book for planning a picnic. But winter is a completely different game and until recently I had never considered a winter picnic.
The Motivator
I love our property especially when it's green and covered in blooms. I don't love when I look outside and everything is brown. About a month ago, I realized that I had been complaining about everything being so brown. And then an idea hit me. I wanted to find the prettiest spot on our property and plan a picnic.
It seems like when everything turns brown in Oklahoma, picnic season comes to an end. I tend to throw on my warm-ups, a cozy sweater, and curl up in front of the fire to wait for spring to arrive. If you follow me on instagram @pennypenningtonweeks then you know I spend lots of time curled up drinking coffee in front of our fireplace.
But not this winter, I was determined to find a reason to go outside and enjoy the outdoors even when the temperatures were a bit chilly. I decided a picnic for two was the perfect reason to head outside and Bill said that he was more than willing to join in on the fun.
So, I began planning my first winter picnic. And before I even got the wheels turning, I was rewarded with a gorgeous pink sky. Things were looking up, literally.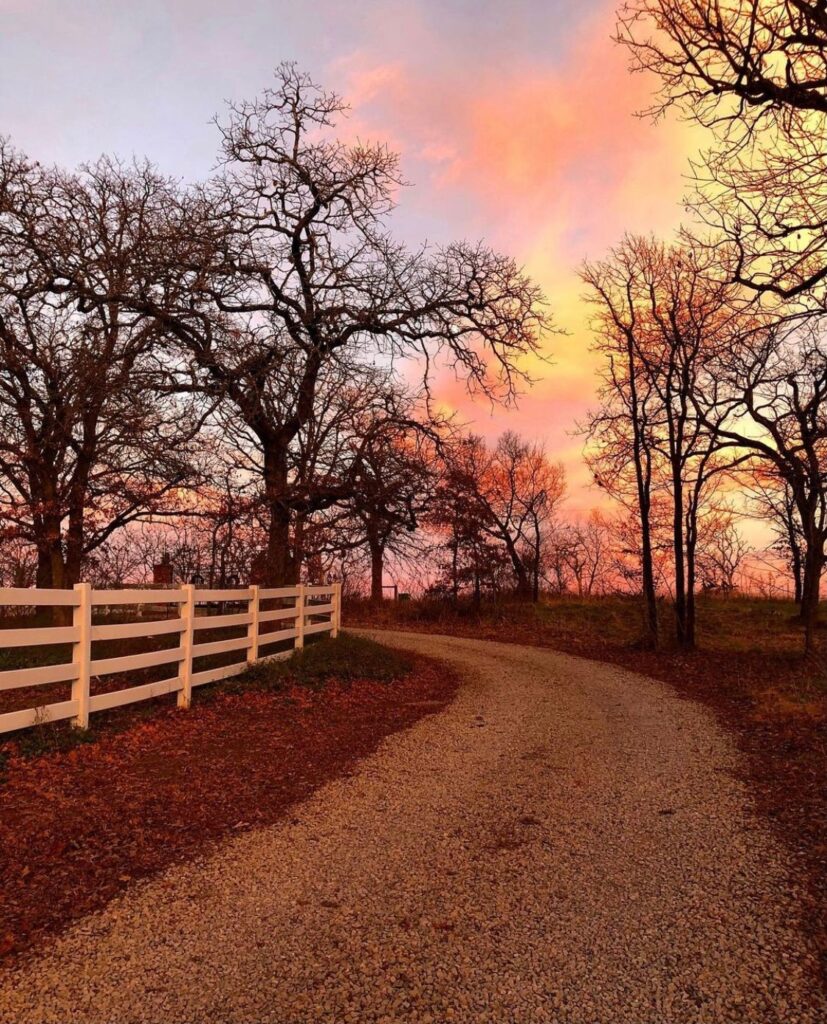 Winter Picnic in the Field
You might think picnics begin with the food, but for me that's the last thing I decide. For me, it's all about location.
Choosing a Location
First, I decide location and seating. The location determines what we will need or can use for seating. Sometimes a beautiful quilt or blanket is all that you need or all that you have available. On the farm, I am most likely to drag a table and a couple of chairs to the location of choice.
My first winter picnic required a bit of scouting, so Bill and I grabbed Pippi (our Kubota utility vehicle) to help us with our adventure. Since we would be driving around, I decided up front that we would use a small vintage table and two chairs for our picnic. The three pieces fit nicely in the back of Pippi. We tossed them in (gently of course) and began driving around the property looking for the perfect location.
I was in search of a bit of color, something not brown.
Our property has trails all over it, so it was fun to get out and drive around in search of the perfect spot. We bought Pippi at a farm auction last fall and can entertain ourselves quite easily by taking her out for a spin. She's also great for hauling wood, but that's another story.
Back to the search for a picnic spot for two. On the southwest corner of the property, we discovered a field that looked more golden than brown and decided that it would serve as the perfect location for our winter picnic.
We dropped off the table and two chairs, headed home and I began planning our winter picnic for two.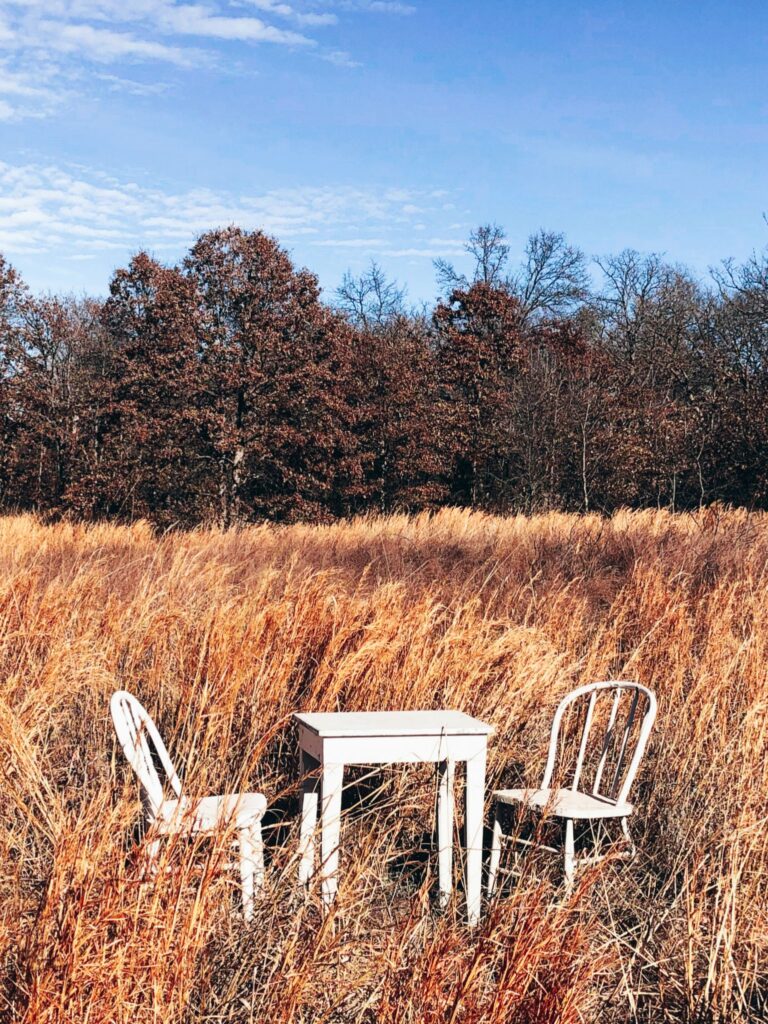 Setting the Picnic Table
Flowers
Now that the location had been determined, it was time to think about how I might set the table. In addition to food (which I'll get to), in my book picnics need flowers, linens, candles and pretty dishes-pretty vintage dishes.
Since it was winter, I wasn't able to clip flowers from around the property. So, we went off to Trader Joe's in search of flowers. Trader Joe's is my absolute favorite spot for gorgeous flowers at great prices (not an ad, just a fun tip). I picked up white roses and greenery and headed home to finish planning.
Now that I was at home, I grabbed a vintage basket, three Ball jars that fit perfectly in the basket and began creating an arrangement. (Tip: Use a turntable to arrange flowers. It helps the bouquet look great from every angle.) When I was done, I headed outside and clipped some winter grass to add to the arrangement. Ta-da!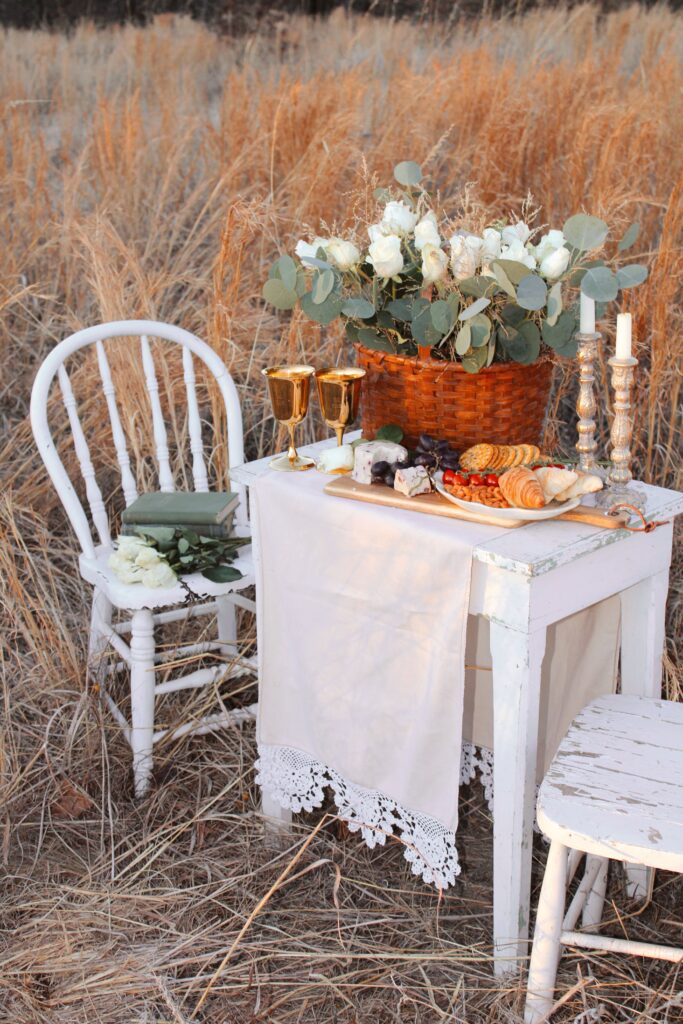 The Table Setting
Now that the flowers were ready, it was time to think about the table setting. Flowers typically determine what colors I will use and how I will set the table. With the flowers in mind, I decided to use golds, greens and neutrals for my color palette. It was time to begin rummaging through my vintage stash.
Let's start with linens, I pick them up at estate sales every chance I get. I grabbed my vintage linen table runner with crochet on the ends. I thought if I ran it in the opposite direction from what was intended, then the runner would work perfectly as a tablecloth on my small vintage table. Score!
Next up, glassware. I pulled out a pair of gold goblets. Any guesses where I found them? Did you guess an estate sale? If so, you're right. I fell for the gold goblets quickly and was hooked when I discovered that they had been engraved with TLC Club. How perfect for a winter picnic. Nothing like taking special care of yourself when it's cold and dreary outside.
Next up, a few gold candlesticks and a stack of vintage books in shades of green. Now it was time to begin thinking about food.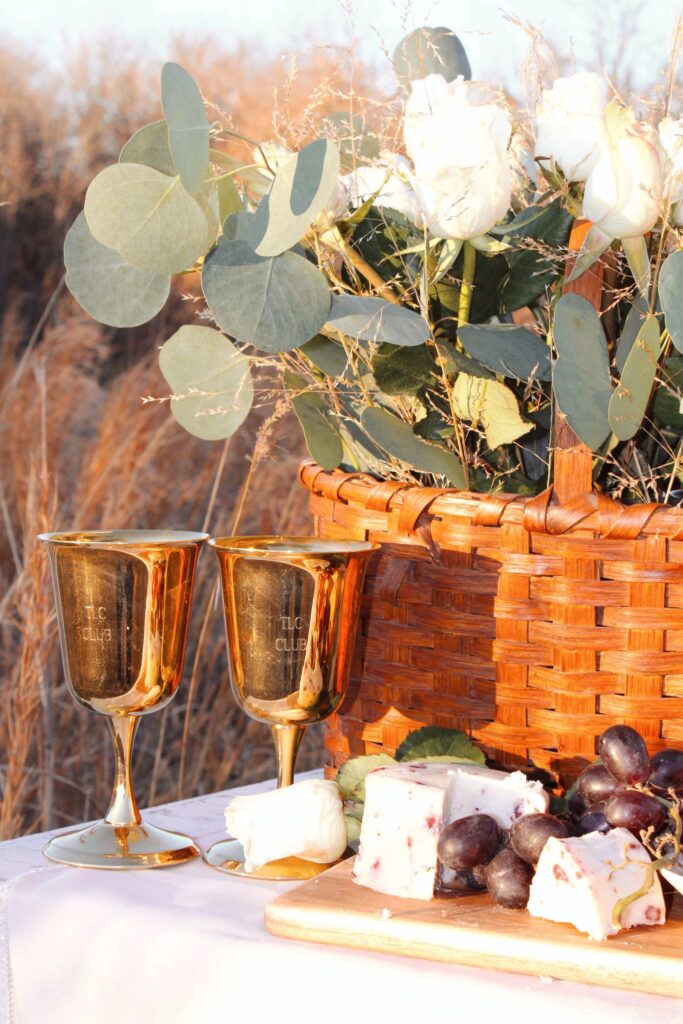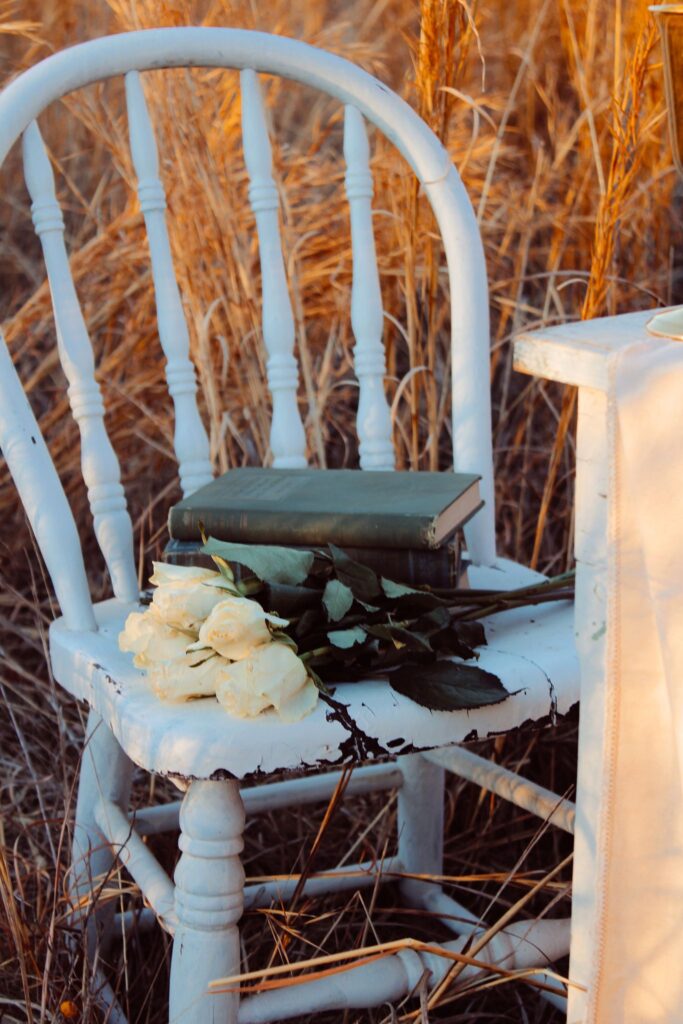 The Food
After I pulled out a few ironstone serving pieces and old cutting boards, I headed into the kitchen to prepare food for our picnic. I decided to keep it simple and create a charcuterie board for the two of us. I love the simplicity of charcuterie boards. They are so beautiful and as long as you fill them with your favorite foods, you can't go wrong.
Our menu included croissant rolls, Bill's favorite crackers, a gorgeous wheel of cheese, cashews, tomatoes, grapes and wine. I popped everything into a cooler, loaded up Pippi and it was time for our winter picnic for two.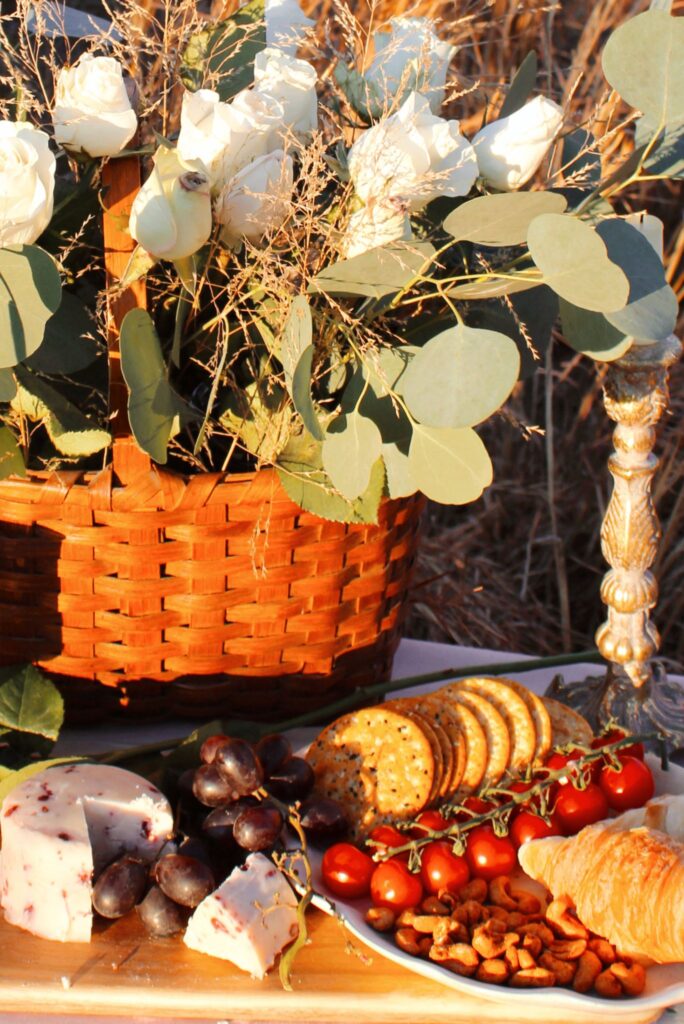 Our Winter Picnic
Bill and I headed out to our picnic spot about an hour before sunset. I brought my camera and all of the picnic goodies. Bill brought his loppers. While I set up the picnic and took a ton of photos, Bill did a little work. Clearing cedar trees is an ongoing project on the farm and Bill works very hard to manage the property.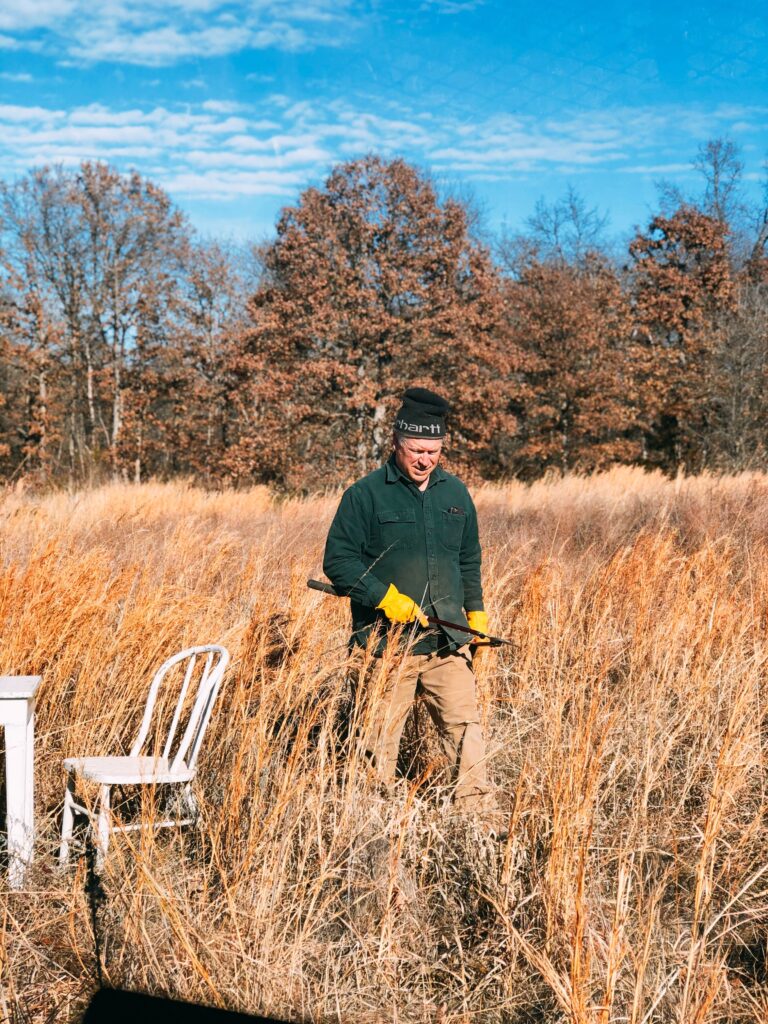 After both of us worked up an appetite, we sat down to our picnic table. We decided lighting the candles wouldn't be such a good idea and then we celebrated together over a simple meal. Life is good.