Are you ready to be inspired by some of the best custom chicken coops on Instagram? Have you been thinking about adding to your flock or bringing chicks home for the first time? Well, before you bring the little fluffballs home, you need a chicken coop.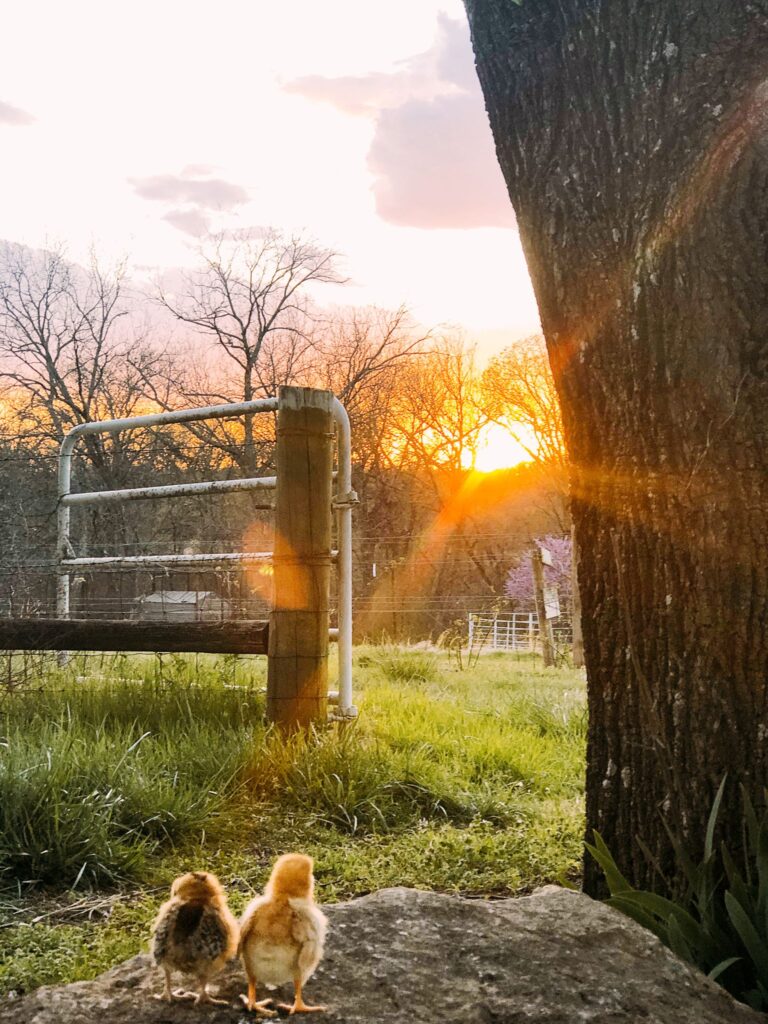 There are so many beautiful options for custom chicken coops, so I thought I would gather a few of my favorites and share them with you here on the blog. The coops I'm sharing today are all custom built and each of their owner's is telling you a little about their coops including their favorite feature.
Let's get started! Meet a few of my chicken lady friends, their chickens and their custom chicken coops.
Emily of Eleven Gables
Meet Emily and her Chickens
Meet Emily of Eleven Gables. Emily is one of my Oklahoma friends and has been raising chickens for seven years. I love her chicken coop flanked by planters and topped by a gorgeous copper cupola and weathervane.
Emily shared with me that she started her first coop in 2014 with four silkies. Silkies are so adorable, but it didn't take Emily long to realize that Silkie eggs were both scarce and small. And with all the work that goes into chicken keeping, it was time to rethink the breed that would be living in Emily's custom chicken coop.
After a few changes to the flock, Emily's flock is now made up of Buff Orpingtons, Araucanas, Rhode Island Reds, and what Emily calls "a couple of misfits here and there." Fresh eggs are now on Emily's daily menu.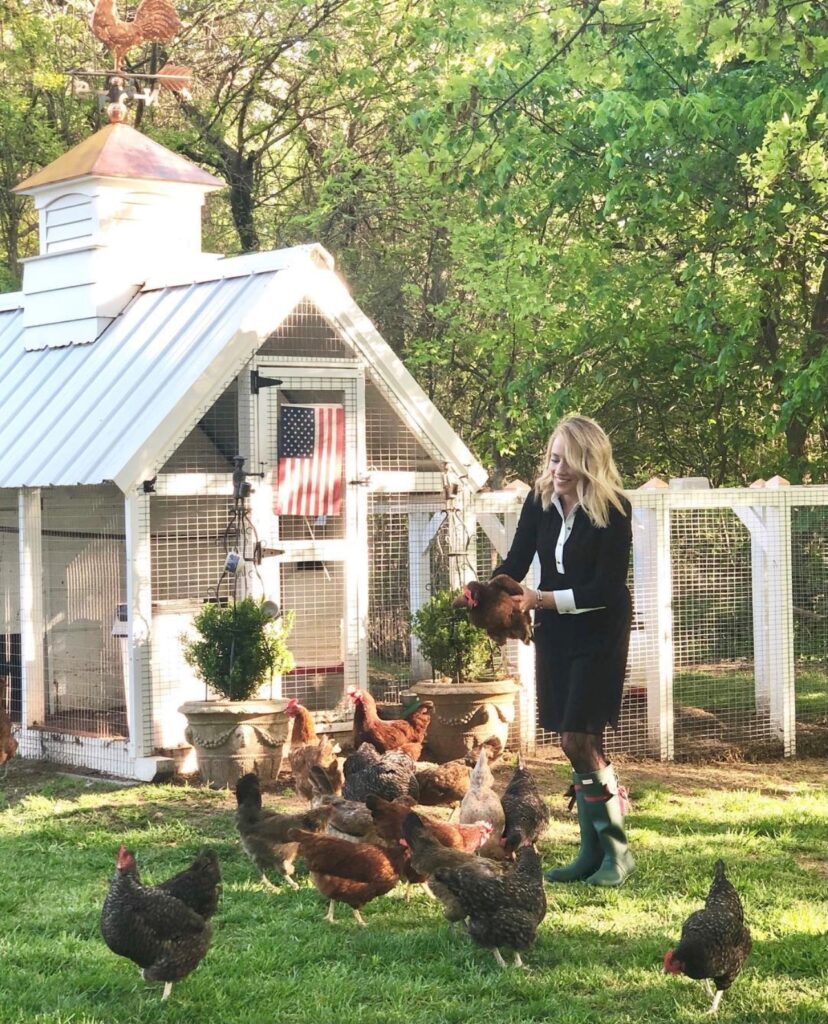 The Chicken Coop at Eleven Gables
The sweetest gift…Emily's coop was a mother's day gift from her husband. Emily and her husband searched out a local company to build their beautiful coop. They found an Oklahoma-based barn building company that also builds coops. They special ordered the coop from the local builder and added on a large enclosed run a year later.
Now, let's talk about that gorgeous cupola on top of Emily's coop. It was originally purchased for their home from a shop in Maine. But the cupola came down off the home when a new roof was installed and it was never put back up. Years later, Emily looked at her coop and said, "Hey! I'm gonna put that cupola on top! It will be the perfect cherry on top!"
Emily says there is one thing she would change about her coop if building again, "the actual retrieval of the eggs isn't my favorite but it works. I would prefer a side bump out to collect eggs outside." The current design encourages the hens to sit on top of the nests, leading to lots of clean up.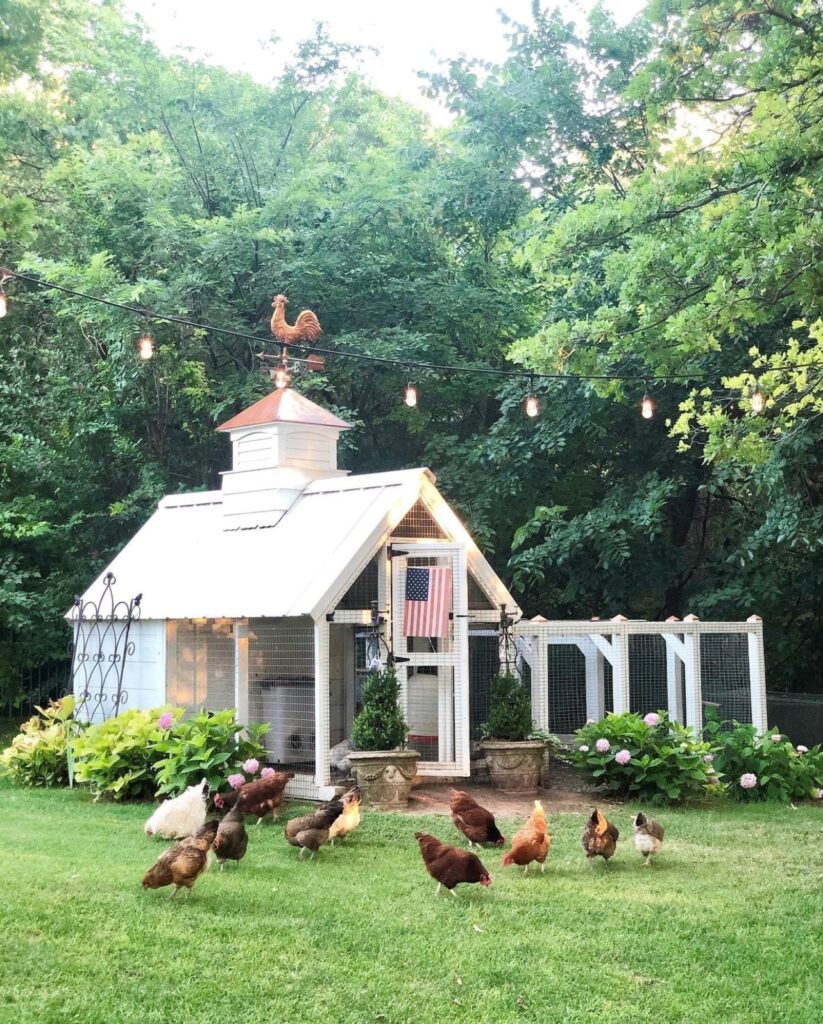 Stay in Touch with Eleven Gables
You can follow Emily on Instagram @elevengables and her blog where she not only shares her chickens, but all things faith, family, American living, traditional interiors and gardening.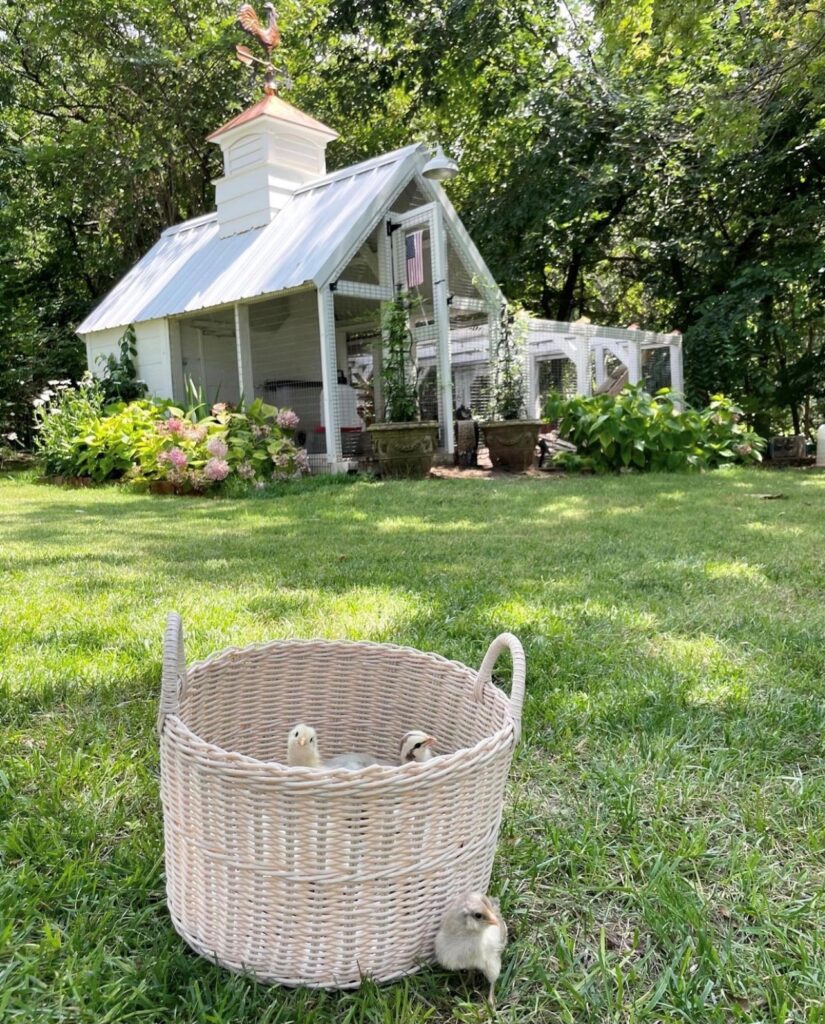 Jade B. of Rosewood Farmhouse
Meet Jade and Her Chickens
Jade and her husband, Nick, live on a 3-acre hobby farm in the Pacific Northwest. They raise goats and equines, and a variety of birds that include chickens, ducks, turkeys, swans, and emus.
Jade and Nick have kept chickens for six years and currently have 20 chickens in their coop. Jade says "I find 20 to be the right number for us. Most were bought as chicks, or hatched from friends. One is a rescued chicken from the egg-industry. And we also have taken in young roosters from folks in the city who could not keep them."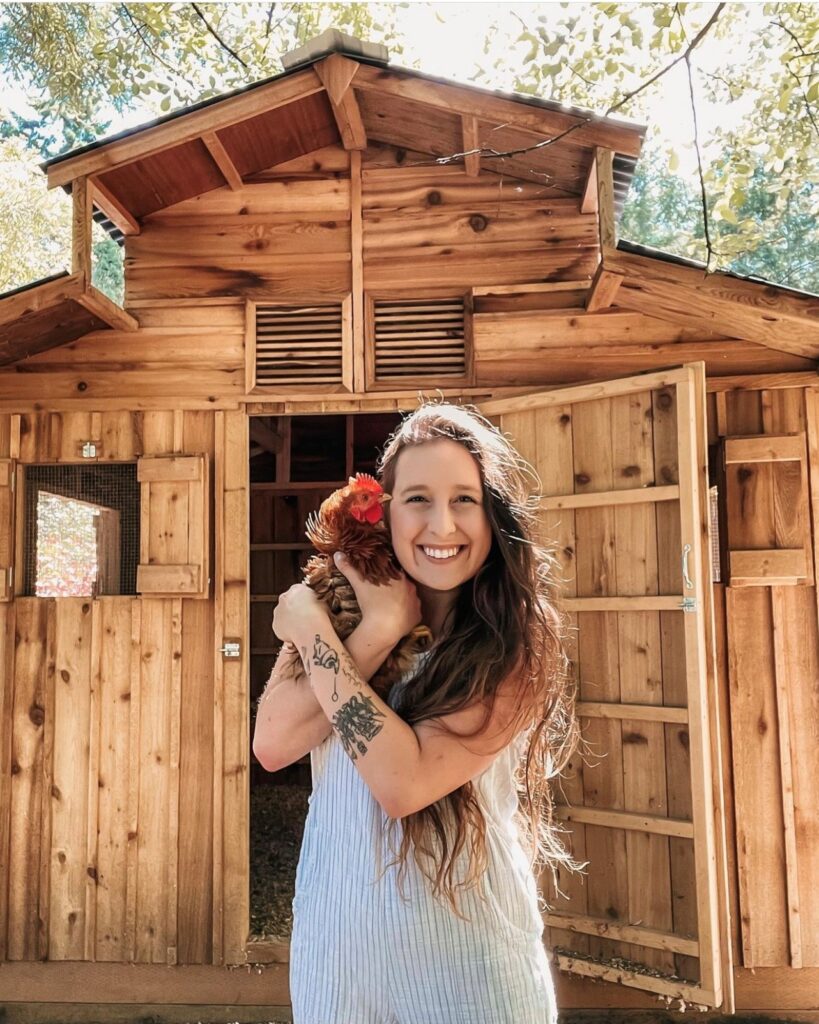 The Chicken Coop at Rosewood Farmhouse
The chicken coop at Rosewood Farmhouse is a 8×10' custom-built cedar shed, with a raised roof, 12×10' attached run, all hardware screening, vents for air flow, working custom shutters, and eight nesting boxes. It was designed, constructed, and delivered by The Original Chicken Man who builds custom coops, barns, and greenhouses all over the state.
Jade says the coop "can hold about 25-30 chickens that free range, but we like to give our birds extra room, so I never really recommend maximizing your head count. We collect eggs from drop-doors on the outside of the chicken coop, or you can also collect from within the coop."
I love the shutters on Jade's coop! Jade says "not only are they a beautiful feature, but they are functional and necessary. In the summer, we open the shutters to maximize ventilation, but in the winter it's incredible to be able to close the shutters to help keep the chickens warm on cold snowy nights. With the added ventilation from above, the shutters add a very welcome way to care for the girls."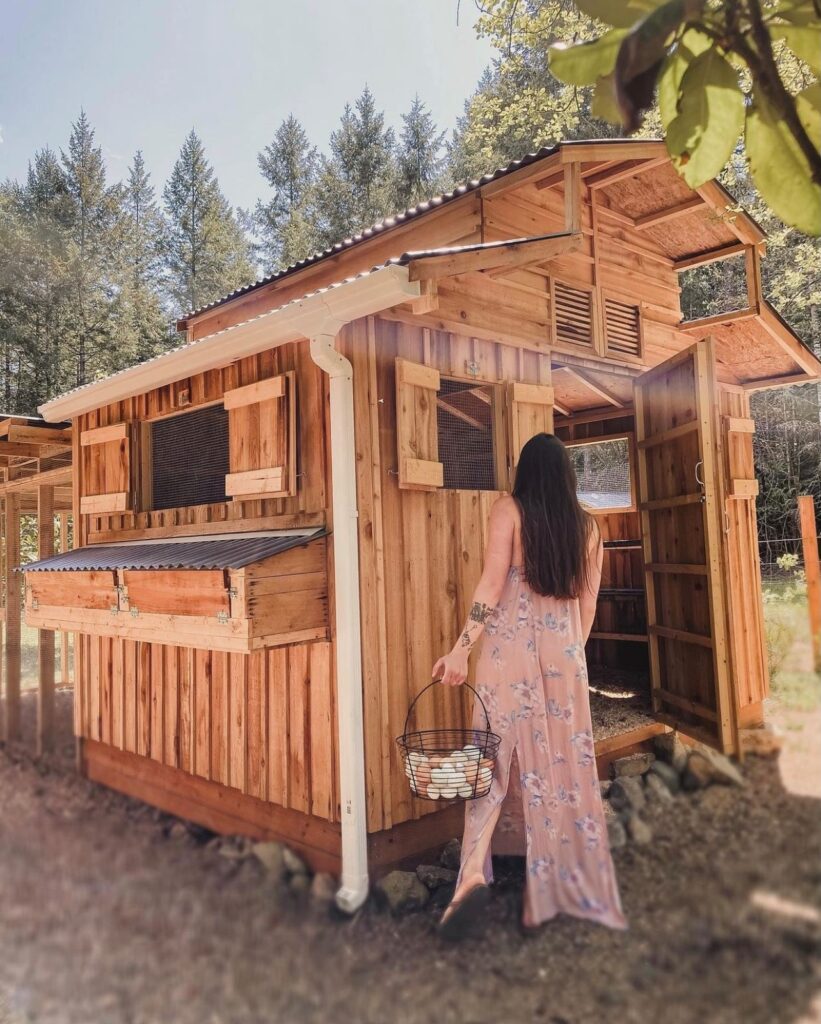 Stay in Touch with Rosewood Farmhouse
To see more photos of Jade's coop, you can follow her on Instagram @jademblock where she focuses on cultivating happiness for her farm and garden.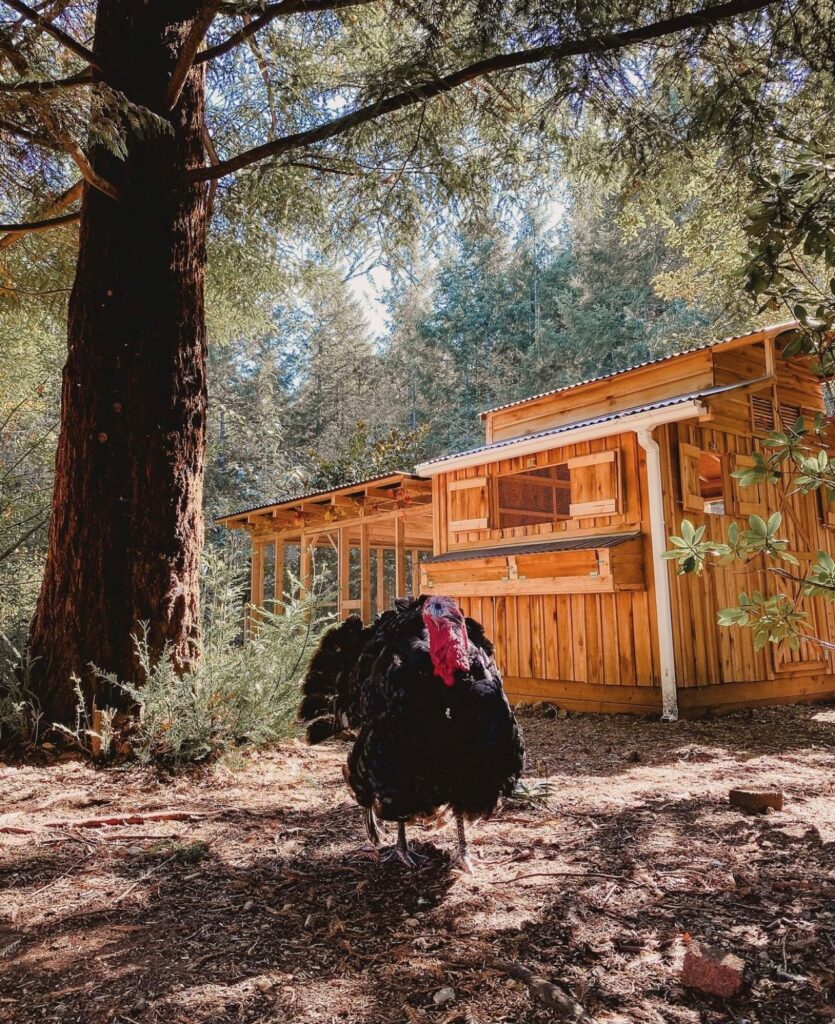 Lindsey of Kirkland Meadows Farm
Meet Lindsey and Her Chickens
Lindsey Kirkland and her husband moved to the country with their three kids about 2 years ago and they have never looked back. They have called Florida home their entire lives and love it. Lindsey says "we don't have any farming or homesteading background, so it's definitely been a learning curve. We're loving every step of the way!" They currently have 12 beautiful hens.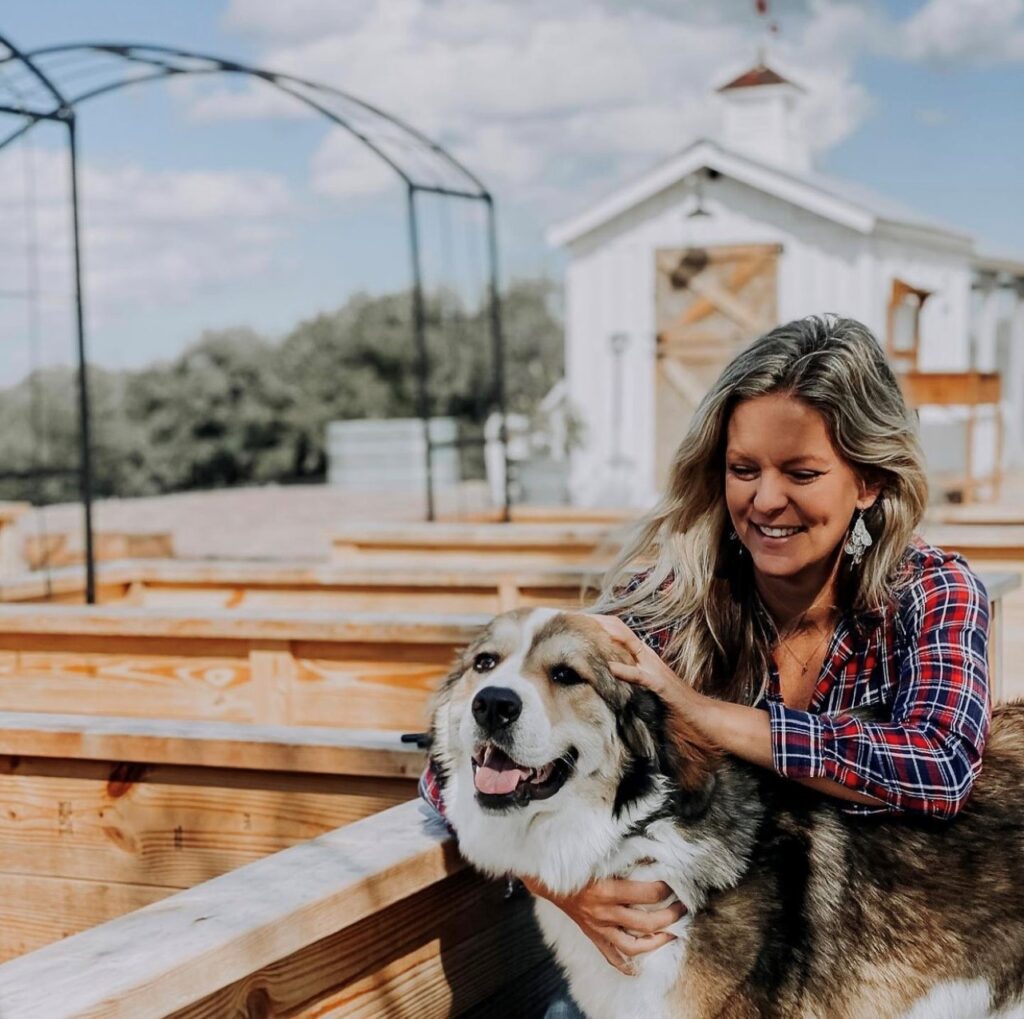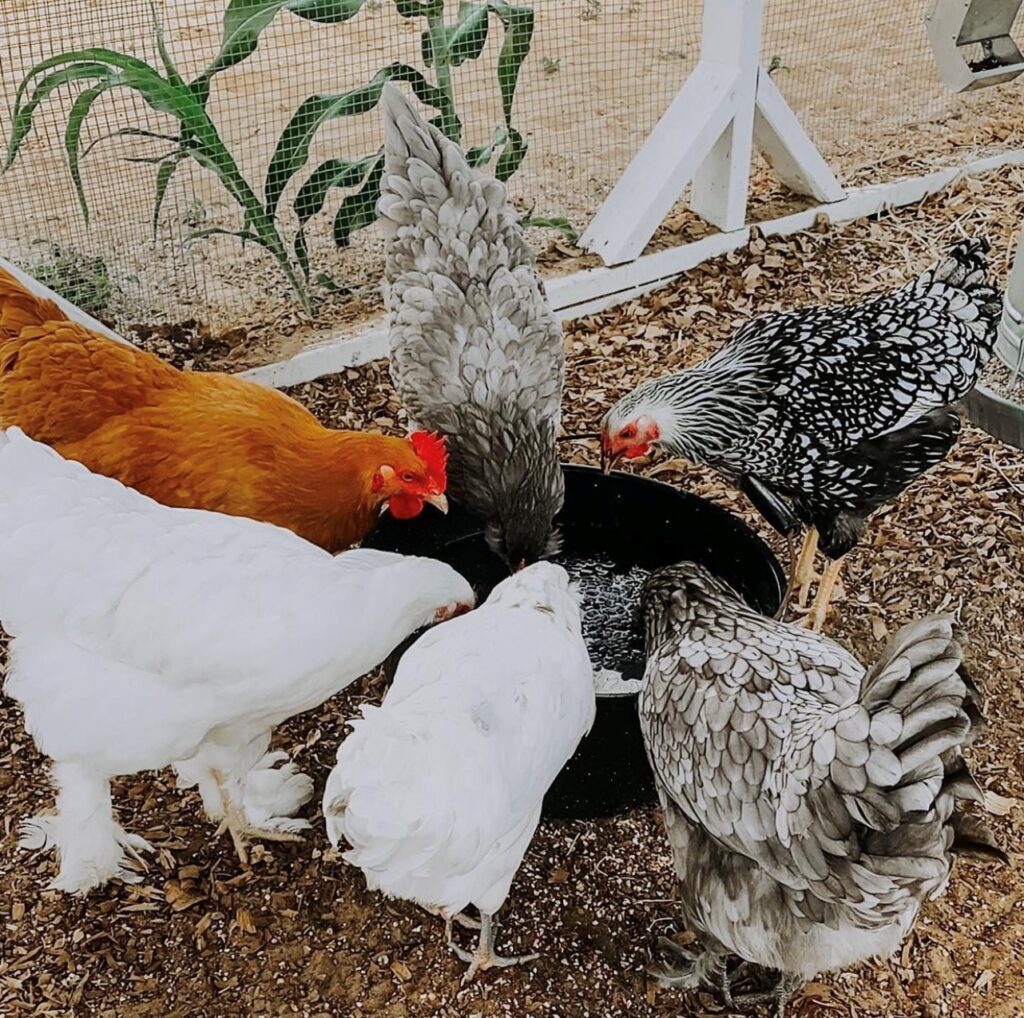 The Chicken Coop at Kirkland Meadows Farm
Lindsey and her husband designed their chicken coop and then had it custom built. They had the coop custom built by Safari Structures in south Florida. It's a 8'x24' structure with 4 nesting boxes. Lindsey says that her chickens argue over the same box, so 4 nesting boxes was more than plenty. So funny!
The Kirkland's added their beautiful cupola (from Good Directions) after the fact and just love the way it turned out. Lindsey says "it really made the coop come alive."
Lindsey also shared with me her favorite feature of the coop. She says "my favorite part of the coop is the storage space we get from it. Since we don't have a barn this is the only storage space we have for the garden and the chickens. It has come in handy for sure."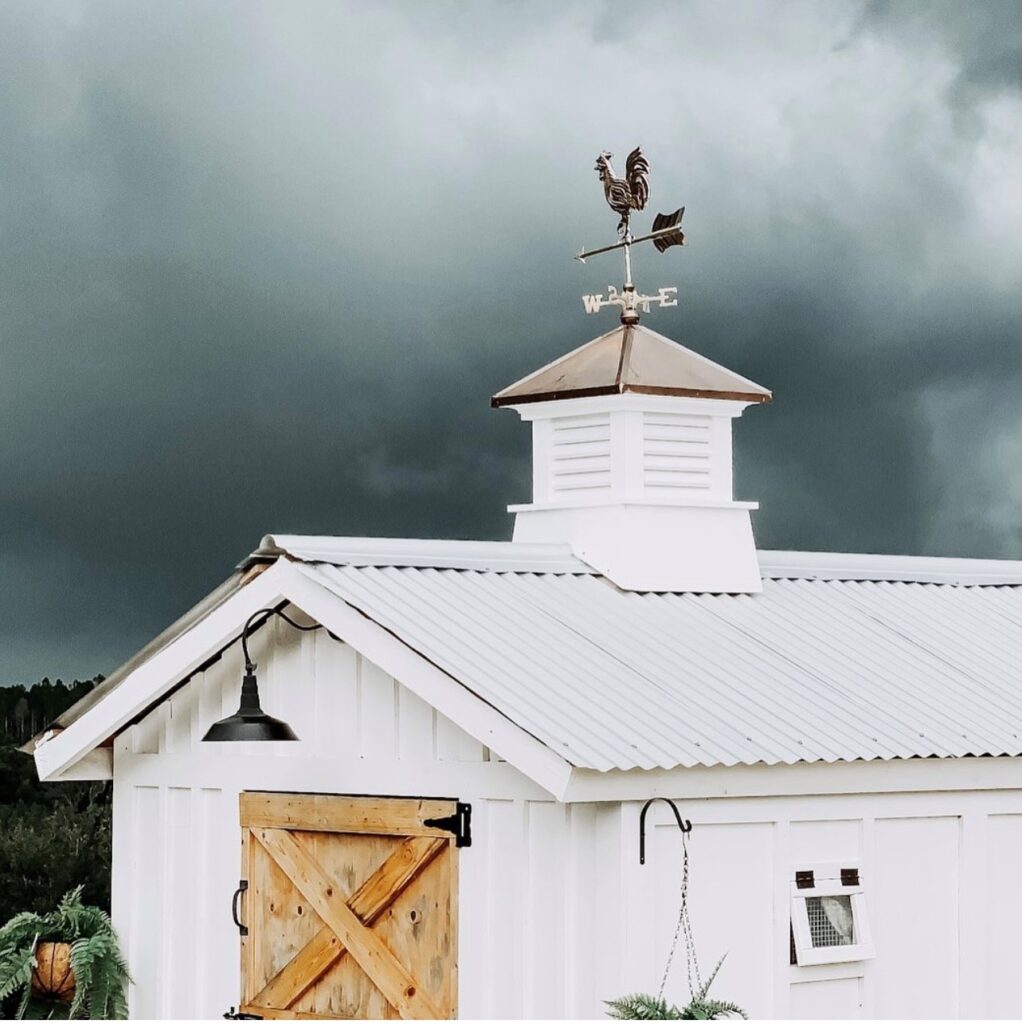 Stay in Touch with Kirkland Meadows Farm
You can learn more about Lindsey's chicken coop and farm by following Lindsey on Instagram @kirklandmeadowsfarm where she shares her Florida mountain homestead as well as her chickens, faith and garden.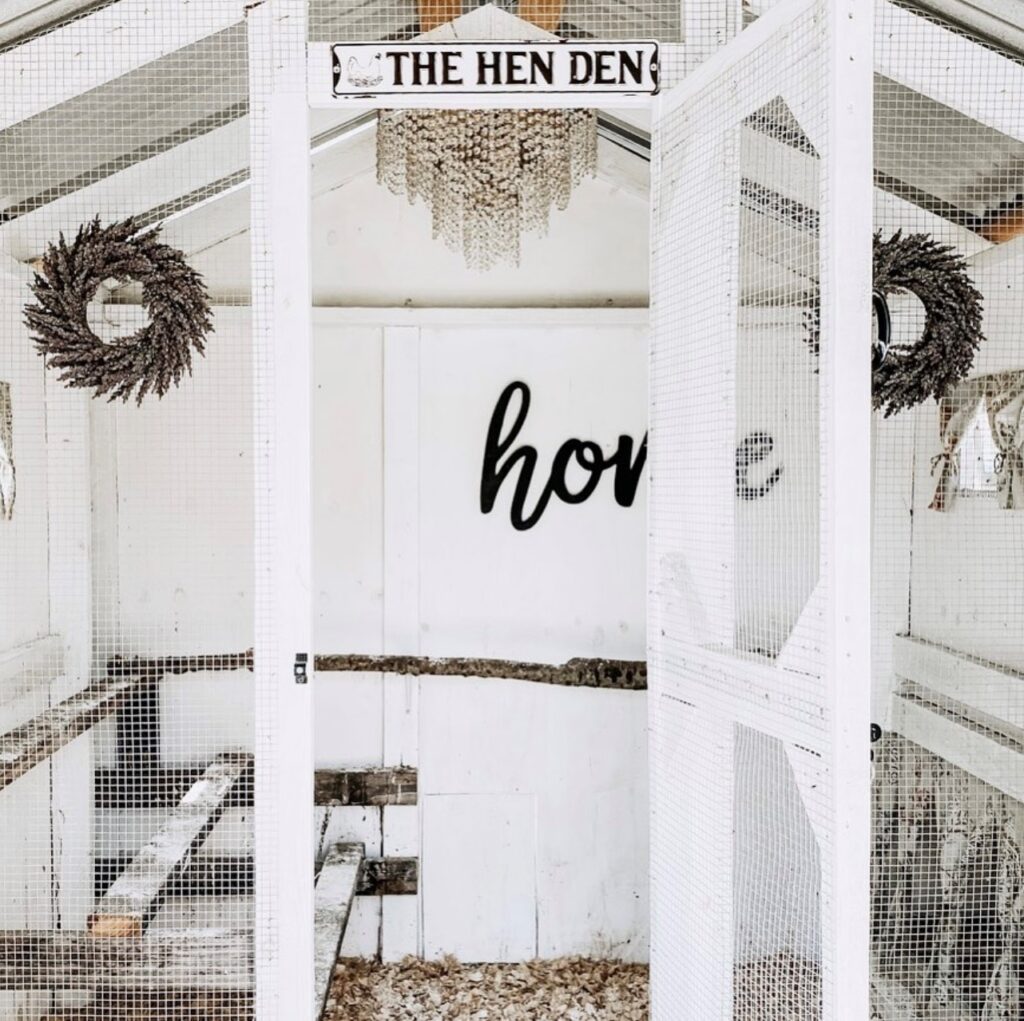 Our Chicken Coop
To wrap up, I thought I would share a few photos of our custom chicken coop. It was built as part of our custom Morton horse barn build. Basically, what would have been a horse stall was converted into two separate nesting areas. To collect eggs, we enter the nesting areas from inside the barn. Each has their own door.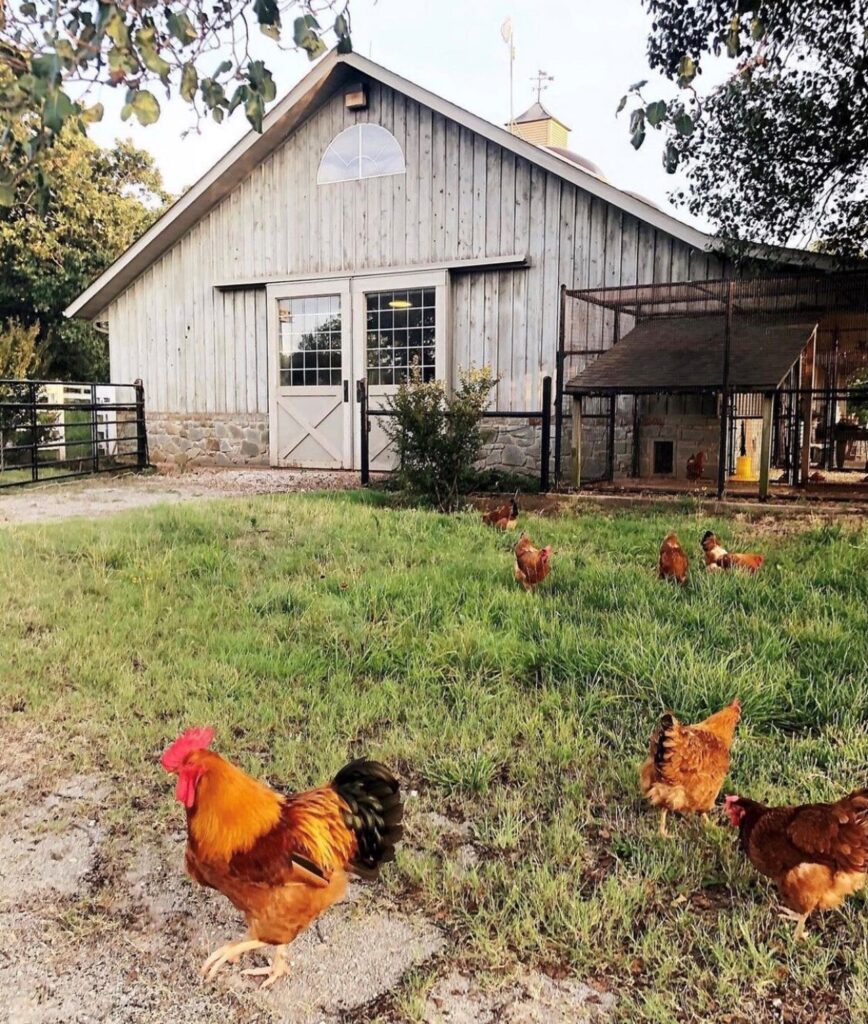 Each side also has it's own run and the two runs are connected to one another with a door (pictured open below). I love that the two areas are separated. It allows us to keep our younger flock separate from the mature hens until it's time to introduce them to one another. We've also used the second side for our Mallard ducklings.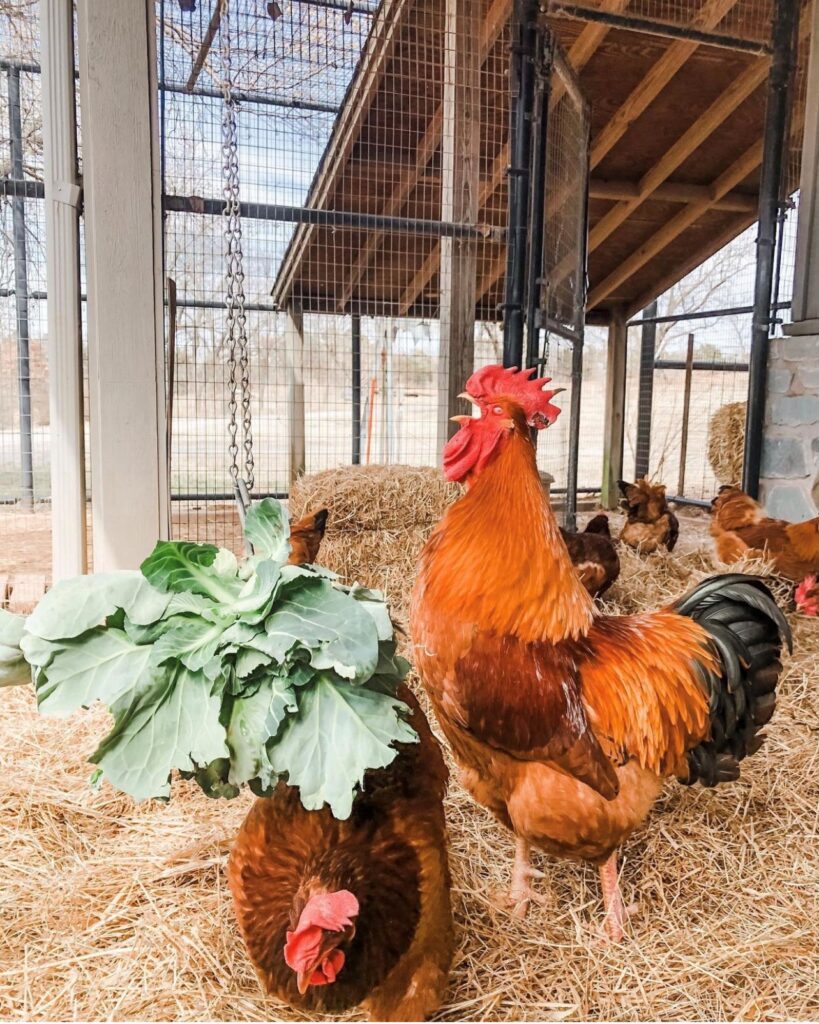 If you have questions about our coop, feel free to drop them below. Want to learn more about our flock. Check out these posts or follow me on Instagram @pennypenningtonweeks.
How to Care for Backyard Chickens: FAQs
Introducing Ducklings to Water: The First Farmhouse Sink Photo
Happy Homesteading!
x Penny Pennington Weeks